This week's New York Times Magazine centers on its "The Way We Live Now Poll," surveying the American public on a variety of questions and asking celebrity writers to analyze the data. Some articles, like McSweeney's editor Dave Eggers writing on the reduction of true love in society, are winners. Sadly, pulp fiction writer Elmore Leonard's take on the religion questions leaves something to be desired. He falls back on the old "does God (or, in this case, Mary) care about football" conundrum that really doesn't have anything to do with the polling data. In a separate article, Alan Wolfe, director of the Boisi Center for Religion and American Public Life at Boston College, does a much better job. "Paradoxically, Americans have a specific distaste for the theological doctrine that has informed our national morality from the beginning: Puritanism," he writes. "Americans want a capacious God who smiles on everyone, not a jealous God protective of one particular version of his teachings." He concludes that "there is a moral majority in America; it just happens to be unwilling to follow anyone's party line about what morality ought to be." The survey questions, answers, and analysis are all fascinating, and will no doubt provide many months' worth of sermon illustrations.
The current issue of The New York Times Magazine also includes a profile of Johnny and June Carter Cash's holy bathrooms. Johnny's includes an extensive library with every translation of the Bible, June Carter's serves as a prayer closet. "Every writer has an upper room, and this is mine," says the Man in Black.
"Like so many things in our culture—from violin lessons to computer software—religious school is now being tailored to fit even the youngest children," reports Newsweek. "And as in any good nursery school, the learning takes place largely through stories, songs and crafts." The question before religious educators, however, is what to teach: specific prayers and texts or just attitudes and values?
The magazine's "On Society" commentator criticizes the school's "derecognition" of the Tufts Christian Fellowship when the group refused a leadership to a student on the basis of her beliefs on sexuality. "In framing the issue purely in terms of bias, the Tufts student tribunal glosses over the fact that it is punishing a religious group for failing to have the views of the dominant campus culture," he writes in the magazine's current issue. "Religious groups have to decide their own beliefs, not buckle under to a campus-approved theology. In effect, the student tribunal is now in the business of pressuring a group to deny its own reading of Scripture. … The broader problem is that the politically correct left now relies far more on coercion than on persuasion or moral appeal. The long-term trend is to depict dissent from the gay agenda as a form of illegitimate and punishable expression." (Another article in the issue looks at how religious doctrine over homosexuality threatens to tear apart the United Methodist Church.)
Every once in a while, a minister's prayer opening a state legislature somewhere makes the news. Usually it's because it's too "exclusive," (praying in Jesus' name and the like) or too "political" (mentioning abortion). Sunday's New York Times ran most of the prayer Donald L. Roberts, president and CEO of Goodwill Industries Manasota, Inc., offered at Thursday's opening of the Florida Senate. It's not that the prayer is controversial; it's just … unexpected. The New York Times article is no longer offered for free on the newspaper's site, but the prayer can be read on the Florida Senate's site (in PDF format). Or, better yet, here it is:
Holy and Eternal God, it must be great to be God, to get what you want—when you want it—how you want it. We mere mortals are not that lucky. We are always having to compromise to get what we want. We call the process "politics". You see, O Lord, we find Senator Jennings' priority number one is Senator McKay's priority number five and Governor Bush's priority number ten; and Senator Carlton doesn't even know it's on the agenda while Secretary of State Kathryn Harris is busy closing down shop. In the midst of all this "politicking" during Session, we know we are supposed to "Be still and know" your will for our lives and all the people of the State of Florida—with every lobbyist in the world bugging us to death. So, God, while we acknowledge you never said discipleship would be easy, we do call upon you to come and be in these Senate Chambers today. Thank you, Lord, the Session is almost over, the budget deal is cut, education got some more money, we cut a few taxes and in the end, most everyone in this chamber didn't get everything they wanted. And that's the good news. That's politics, Lord, and unless you want to move over and give us the job of being God, which some of us think is our birthright, we will have to muddle along being satisfied with being the best politicians you can create. It's the fun part of being human. In the name of the God of all things, even politics and politicians and in rare instances a lobbyist or two, Amen.
Related Elsewhere
See our past Weblogs: May 5 | 4 | 3 | 2 | 1 April 28 | 27 | 26 | 25 | 24 April 19 | 18 | 17 April 13 | 12 | 11 | 10 April 6 | 5 | 4 | 3 March 31 | 30 | 29 | 28 | 27 March 24 | 22 | 20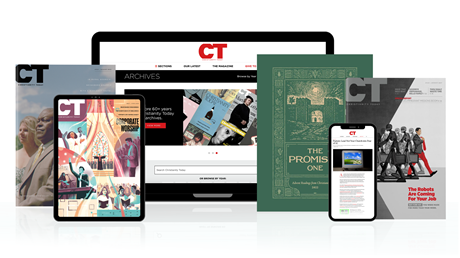 Subscribe to Christianity Today and get access to this article plus 65+ years of archives.
Home delivery of CT magazine
Complete access to articles on ChristianityToday.com
Over 120 years of magazine archives plus full access to all of CT's online archives
Subscribe Now
The Way We Believe Now According to The New York Times
The Way We Believe Now According to The New York Times