A Coptic Christian pharmacist plagued by mental illness over the past 10 years suddenly converted to become a Muslim in mid March, shortly after his release from the Egyptian hospital where he was undergoing psychiatric treatment.But the Christian family of Dr. Hanna Kamal Hanna Morgan, 37, have rejected the legality of his alleged Muslim conversion, declaring that a man diagnosed with paranoid schizophrenia is not mentally competent to make such a decision.The Coptic pharmacist was discharged from the Behman Hospital in Helwan on February 1. His hospital discharge paper states the patient was in stable condition when released, although his family, living in El-Fayoum, 70 miles south of Cairo, said they had not been notified of his expected release.Married with two young daughters, Morgan reportedly disappeared for 48 hours right after his hospital discharge. Soon afterwards, State Security officials in El-Fayoum informed Morgan's family that the pharmacist had converted to Islam.The Coptic mental patient's exact place of residence in El-Fayoum is not known to his family, who have been told he is "under the protection" of the local State Security department.Neither the pharmacist's wife, Dr. Iman Emil Kamal (a medical doctor), his two brothers nor other relatives have been allowed to meet with Morgan since his alleged conversion to Islam.In accordance with Egyptian law, however, the pharmacist was brought to a formal meeting at the State Security bureau with a Coptic Orthodox priest, who is allowed to try to persuade Copts converting to Islam to reconsider such a decision. Morgan reportedly told the priest who met with him, "I can't come back (to Christianity), or they will burn my pharmacy and me."According to Morgan's family, once the mentally ill Copt had signed an official declaration of conversion to Islam on March 12, he was issued new identity papers listing his religion as Muslim.The names of his two daughters, Mirna, 5, and Dina, 9 months, were listed as Muslims on their father's new documents as well. Morgan's family admitted that they fear local authorities are planning to take custody of the two daughters away from his Coptic wife.In a formal, written protest to the police authorities of El-Fayoum, the Copt's wife, two brothers and 75-year-old father demanded that Morgan's conversion papers to Islam be cancelled. On the basis of his diagnosed mental illness, the family argued, he cannot be considered legally competent to make such a decision.To date the general prosecutor has refused to set a date to hear this case, although the family's protest was registered as case No. 772 in El-Fayoum.The pharmacist's family said they had been forced to commit Morgan to psychiatric care several times, once after he had threatened his mother with a knife. "Whenever he refuses to take his medicines, this can lead to a relapse," a source close to the family commented.Morgan's two brothers declared they had been forced by State Security authorities in El-Fayoum to sign a pledge to never try to talk to their brother again.The pharmacist was described to Compass as "extremely Christian" by a Coptic monk who used to converse with Morgan at length during his visits to a local monastery. The monk said his last conversation with the pharmacist occurred just two months before his official "conversion" to Islam was filed at Al-Azhar."This is the third documented case of highly suspicious 'conversions to Islam' from the Coptic community in El-Fayoum in the past 14 months," a church source told Compass. "All of these alleged converts are from good families, some with high church connections. And all three of the individuals have a history of problems with mental illness."El-Fayoum is a base for several activist Muslim organizations, including the unlicensed El-Heidaya El-Islamya community. "They are very strong and very organized," one Copt from the region said, "and they are supported by the government."Within the local State Security department, Gen. Ismail Bekir handles religious matters and specific conversions to Islam. Morgan's case was said to be under the direct supervision of Gen. Samy El-Tanbadawy, a personnel department assistant to the director."We are afraid of these overt efforts to convert Copts in El-Fayoum," the church source admitted. "What is at issue is peace within our society. It is not fair to allow conversions to one side only."Under Egyptian law, Christians can freely convert to become Muslims, and an estimated 15,000 Egyptian Copts do so annually. Coptic Church sources admit such decisions are often made to gain financial and employment advances, or commonly to engineer a desired marriage or divorce.However, it is strictly forbidden for an Egyptian Muslim to become a Christian. Those former Muslims whose secret conversions and baptisms become known to the authorities are followed, harassed and blacklisted from leaving Egypt. If female, they are forbidden to marry men with Christian identity papers, although men of Muslim identity are allowed to marry Christian women. The children of such converts are required to maintain Muslim identities.Copyright © 2000 Compass Direct. Used with permission.
Related Elsewhere
See also other past articles about Egypt's Coptic church:Egyptian Priest Accused of Attempted Murder | Village cleric charged with 'provoking violence' in El-Kosheh (Feb. 11, 2000) Egypt's Christians seek answers after deadly riots | At least 21 Christians killed in clash with Muslims (Jan. 13, 2000) Church of the Martyrs | Copts thrive in the face of bloody carnage, legal restraint, and discrimination (Aug. 11, 1997) Did Carey Really Deny that Copts Are Persecuted? | Was the Archbishop of Canterbury misid? What did he really mean? (Dec. 20, 1999) New Coptic Church Forcibly Closed (Oct. 5, 1998) Extremists Kill Coptic Christians (Apr. 28, 1997) The U.S. Department of State and Freedom House have both issued reports criticizing the persecution of Christians in Egypt.For more news articles and resources about Egypt and the recent violence between Christians and Muslims, see Yahoo!'s Full Coverage site on Egypt.For more information about the Coptic church, see Coptic.net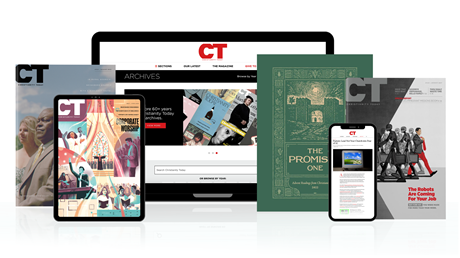 Subscribe to Christianity Today and get access to this article plus 65+ years of archives.
Home delivery of CT magazine
Complete access to articles on ChristianityToday.com
Over 120 years of magazine archives plus full access to all of CT's online archives
Subscribe Now
Family Disputes Coptic Pharmacist's 'Conversion' to Islam
Family Disputes Coptic Pharmacist's 'Conversion' to Islam