Seminaries are invisible to their communities, says a new study by the Auburn Center for the Study of Theological Education. "Many of the seminaries we studied are known only to a fairly small circle of insiders of their own religious tradition—denominational executives, clergy and the members of some congregations that are either large or located close to the seminary's campus," says the report. "Whatever the reason, seminaries are not viewed as civic assets in their communities or beyond. Nor are seminaries widely viewed as educational assets."
Ebenezer Pentecostal Church, predominantly composed of East Indian congregants, and Chicago Healing Evangelical Church, a black church, were both denied zoning approval by the zoning commission of Oak Forest, Illinois. "Why they were so adamantly against it?" asks the attorney representing Ebenezer Pentecostal. "I hate to think it's a racial thing, but it was always at the back of my mind." The head of the zoning commission responds, "To allege that denying the site plans for the two churches was racism at work is bull, just plain bull." The Chicago Tribune notes that other minority congregations in the suburb have had problems with racism in the community.
According to the British newspaper The Telegraph, Robert Jeffery, the Sub-Dean of Christ Church Cathedral, Oxford, says cases of sexual and financial abuse by clergy has worsened "with the rise of doctrinaire evangelical and charismatic brands of Christianity." Likewise, English vicar Stephen Parsons, who has a book coming out on church abuse, tells the newspaper, "Though there are many responsible evangelical and charismatic churches, there is a dangerous side to fundamentalism. When people reinforce their power with the devil and the Bible, anything can go wrong."
"Each year, up to 43,000 deaths in Canada could be attributed to low levels of spirituality, says Chandrakant Shah, an Indo-Canadian researcher at the University of Toronto." So reports The Times of India. "Spirituality has been shown to reduce stress, promote lifestyle choices and increase our feelings of belonging to a social network—all of which are associated with lower mortality, Shah says. (See more coverage of Shah's report in Canada's National Post.)
As a 68-year-old widow in Benano, Italy, opened her mouth to receive the eucharist, Father Claudio Menichetti stopped and denounced her as an adulteress. She returned the next day (!) and was again refused. The incident has sparked controversy around the country and has appeared in newspapers around the world.
A Baptist study guide published in England says evangelical emphasis on sexual prohibitions "sends out the signal that there is something cheap, tainted and unpleasant," and calls on Baptists to remember that sex is holy. And then it goes on to tell the churches to lighten up on homosexuality and divorce …
As the debate over Vermont's "civil unions" bill continues, Danes remember their country's debate a decade ago over the same issue. "Everybody can see that nothing happens. These people live nicely, and they deserve equal rights," says Bertel Haarder, then a leader in Denmark's moderately conservative ruling party who voted against the bill. Other European countries have followed suit.
The Creating Confidence in Clergy Wives course inGuildford, England, tells wives of church leaders to daily intone the mantra, "I am a strong, loving, creative woman and God loves me." "The Church has treated women very badly," says the 73-year-old leader of the course. "Christian women have been taught a lot about humility, subservience and human kindness to the umpteenth degree. But they have to learn how to say 'no.' … Clergy wives often have a deep sense of isolation and are often bound by the idea that they must not show favoritism in the parish by developing particular friendships."
Back in January, newspapers were filled with reports that 100,000 Southern Baptists would converge on Chicago like an invading army. The Council of Religious Leaders of Metropolitan Chicago said it asked Southern Baptists to refrain from visiting Chicago, warning that the plans could "unwittingly abet the designs of those who seek to provoke hate crimes by fomenting faith-based prejudice." The initial 100,000 count was unfounded and a result of miscommunication. Southern Baptist leaders in Chicago now say that at the height of this year's evangelistic efforts, about 5,000 volunteers will meet on the shores of Lake Michigan. Only about half of those will be from out of state.
Related Elsewhere
See our past Weblogs: May
2 |
1 April
28 |
27 |
26 |
25 |
24 April
19 |
18 |
17 April
13 |
12 |
11 |
10 April
6 |
5 |
4 |
3 March
31 |
30 |
29 |
28 |
27 March
24 |
22 |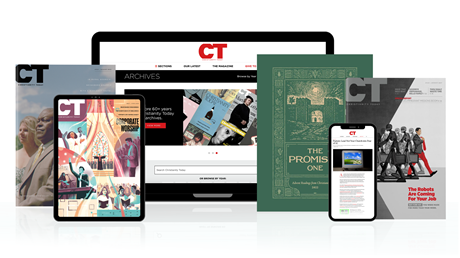 Subscribe to Christianity Today and get access to this article plus 65+ years of archives.
Home delivery of CT magazine
Complete access to articles on ChristianityToday.com
Over 120 years of magazine archives plus full access to all of CT's online archives
Subscribe Now
The Invisible Seminaries
The Invisible Seminaries