"The public can assume now that the more politicians trumpet their religious convictions, the less likely are they to live up to them," writes Scheer, contributing editor to the Los Angeles Times (and the conductor of Playboy's famous 1976 Jimmy Carter "adultery in my heart" interview). "Clearly [New York Mayor] Rudolph Giuliani could not have believed that his own adulterous behavior would somehow go unobserved by the God whose judgment he claimed to fear, and one is left wondering if the former prosecutor's public posturing on religion was meant as some sort of sleazy plea bargain with the Supreme Being. More important than the collapse of his political career is the reminder that the use of religion by politicians is a spectacle that inevitably is deserving of derision."
The American Civil Liberties Union of West Virginia filed a federal complaint against a Charleston, West Virginia, circuit court judge for bringing in a minister to pray before a May 1999 grand jury proceeding. The complaint claims that by asking the grand jury to bow their heads, Judge Thomas A. Frye Jr. violated the First Amendment of the U.S. Constitution. The ACLU is waging the battle on the federal level after the state's Judicial Investigation Commission dismissed by the complaint last August.
The ACLU also sued Richmond County, Georgia, this week, saying its Superior Court seal violates the First Amendment because it has an image apparently of the Ten Commandments. Not that there's anything written on the tablets like "Have no other gods before me": it's just two tablets with numbers on them.
The former Duke religion professor and author of The Black Church in the African-American Experience (1990) and The Black Muslims in America (1961) was 75.
The current issue of the journal Sexual Addiction and Compulsivity is devoted to cybersex addiction, which researchers say seriously affects at least one percent of Internet users. But use of online porn is far more widespread than these addicts; other researchers say as much as one in three Internet visits are to a sexually oriented Web site, chat room, or newsgroup.
John Shelby Spong, the heretical, retired Episcopal bishop of Newark, will write a column on religion and sexuality for soon-to-launch ThePosition.com. His first column for the sex site will ask whether the Ten Commandments are biased against women. (Assume his answer will be yes.)
Never before have such high-ranking Anglican and Catholic clergy met over ecumenism as they are in Canada right now. But don't expect a merger. "Gradually, step by step, we're trying to build a case with each other where unity can happen," Alyson Barnett-Cowan, ecumenical officer of the Anglican Church of Canada, tells the National Post. "But we're not about to do a theological deal."
A Philadelphia Daily News article finds all sorts of religious subject matter in the NHL's Eastern Conference final series. Rev. Edward J. Casey, a Catholic priest, hockey historian, and an unofficial chaplain to the Philadelphia Flyers, settles the issue over whether to pray for victory: "Praying to win the game simplifies it too much. It makes God the determiner, and it takes away the aspect of free will. God gives humans ability to make free choices and to go out there and play. That's the beauty of watching it." Meanwhile, other clergy weigh in on whether the New Jersey Devils have a theologically appropriate mascot.
Related Elsewhere
See our past Weblogs: May 16 15 May 12 | 11 | 10 | 9 | 8 May 5 | 4 | 3 | 2 | 1 April 28 | 27 | 26 | 25 | 24 April 19 | 18 | 17 April 13 | 12 | 11 | 10 April 6 | 5 | 4 | 3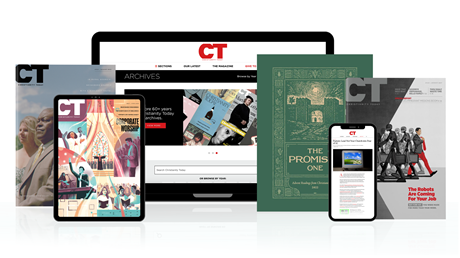 Subscribe to Christianity Today and get access to this article plus 65+ years of archives.
Home delivery of CT magazine
Complete access to articles on ChristianityToday.com
Over 120 years of magazine archives plus full access to all of CT's online archives
Subscribe Now
Are Publicly Christian Politicians Probably Sleeping Around?
Are Publicly Christian Politicians Probably Sleeping Around?