New York's Cardinal John O'Connor died of a brain tumor at age 80 last night. One of America's strongest pro-life voices, the former Navy chaplain was also a passionate defender justice for the poor, homeless, and others. The New York Times, naturally, has a very lengthy look at one of the nation's most prominent Christian leaders, with sidebars on how people are reacting to his death, how the Vatican will choose a replacement, and opportunities for mourning.
"To make the biblical narrative a more coherent and exciting read, I have intervened in bold print with words and sentences, even with full paragraphs, to put flesh onto the biblical bones," writes Sidney Brichto, a rabbi whose People's Bible will be published in England today. "I could not resist creating a love scene between David and Bathsheba and between Esther and Xerxes. I have also suggested what David might have been thinking when he sent Bathsheba's husband, Uriah, back to the battlefront carrying his own death warrant; also, what Ruth must have thought when Naomi, her mother-in-law, sent her to seduce Boaz when he was lying in the field drunk after his celebration of a successful harvest." He also says that he moved "sections that interrupt the storyline, such as genealogies or later insertions," to appendices, "where they can be read or ignored."
Pope John Paul II is no recluse from musical pop culture, reports The New York Times. He has shared a stage with Bob Dylan, hung out with Jon Bon Jovi and U2's Bono, and even produced his own CD of hymns. But at a May Day concert, he averted his eyes when scantily-clad Israeli pop singer Noa sang the theme from "Life is Beautiful." (She put on extra layers to shake the pope's hand, the newspaper reports.) He also shook hands with Alanis Morissette, but not Lou Reed. The concert, which ended with selections from "Jesus Christ Superstar," was reportedly planned with special attention given to which singers were invited. "We avoided inviting performers who might try exploit the media attention, brandishing crucifixes, or something," said the president of the company that organized the show. "I didn't invite Madonna, not because I don't respect her but because it would have been inappropriate. Madonna needs to exploit media attention to exist."
After the Vatican complained that the condom dispenser "took all the sense out of a Catholic education, took responsibility away from students and teachers alike, and legitimized behavior which was not acceptable," the secondary school in Paris' suburbs promised to remove the machine.
The film Notting Hill focused on the wrong couple, says Rowan Williams, the Archbishop of Wales. Instead of the "floppy" Hugh Grant and "neurotic" Julia Roberts characters, Notting Hill should have focused more on the film's married couple. "Look at his married friends, two prosperous young lawyers—but she is paralyzed and unable to have children. Yet every word and gesture they come out with is full of absolute mutual joy—far more erotic, I'd say, than Hugh Grant's clumsy courtship of Julia Roberts." Williams added that he really likes The Simpsons, which he finds "sophisticated," "amusing," and "very moral." (See more coverage of the sermon by the BBC.)
"Disciplines can change," says Cormac Murphy-O'Connor, who was just installed as the Archbishop of Westminster in March. "When a priest accepts celibacy when he is ordained that rule should be kept. But is [marriage] incompatible with priesthood? The answer is obviously no. I would not rule it out. The matter will come up again." ( Reuters also picked up the story.)
"SonicFlood is creating the biggest buzz right now [in Christian music], but they've done it almost invisibly," reports the Chicago Tribune. "You might call their approach 'rock 'n' roll church,' as the group sees its role as primarily to encourage audiences to worship God—not the band—at the concert."
Some time back, novelist Umberto Eco (The Name of the Rose) and Cardinal Carlo Maria Martini de la Serra debated religion for the Italian newspaper La Correra. The insightful discussion (so says the Japanese newspaper The Daily Yomuri) has now been translated into English.
Noting George Barna's statistic that 25 percent of Web surfers go online for some kind of religious purpose, National Public Radio's Morning Edition asks a rather conventional question of online sites such as Beliefnet and The Spirit Channel: can they be spiritually pure and still work with money? The comments of Tom Beaudoin, author of Virtual Faith, are insightful ("As we are building these new centers for people to gather online, we shouldn't expect that as a foregone conclusion that it's right to put these big banner advertisements in place where people will gather for spiritual conversation for spiritual growth"). And the assertion that for-profit sites can be more creative than nonprofits (like ChristianityToday.com) may be worth more analysis. But the God-and-mammon story has been done before. Several times. Far more interesting would have been to look at the actual content of these sites, not just whether they have ads. (Listen in 14.4 and 28.8 kbps RealAudio streams.)
Related Elsewhere
See our past Weblogs: May 3 | 2 | 1 April 28 | 27 | 26 | 25 | 24 April 19 | 18 | 17 April 13 | 12 | 11 | 10 April 6 | 5 | 4 | 3 March 31 | 30 | 29 | 28 | 27 March 24 | 22 | 20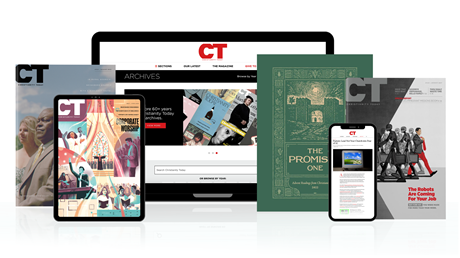 Subscribe to Christianity Today and get access to this article plus 65+ years of archives.
Home delivery of CT magazine
Complete access to articles on ChristianityToday.com
Over 120 years of magazine archives plus full access to all of CT's online archives
Subscribe Now
It's the People's Bible and the People Want More Sex in It I Tell You!
It's the People's Bible and the People Want More ...