"We have got to make sure that we thoroughly teach all citizens that Japan is a divine nation centering on the emperor," Yoshiro Mori told members of the Association of Shinto Shrines. The comment has been severely criticized by the country's political and religious leaders. "It is quite dangerous for us to have a prime minister who makes such a remark,'' says the director of the Social Communications Department of the Catholic Bishops' Conference of Japan, who noted that the history of emperor-worship and State Shinto is "largely the history of persecution and martyrdom" for Japanese Christians. (See more coverage in the Los Angeles Times, and The Washington Post.)
As ChristianityToday.com reported earlier this month, Pakistani military ruler General Musharraf promised major changes to the application of Pakistan's blasphemy law. Addressing a national seminar on "Human Dignity" in Islamabad on Good Friday, General Musharraf said blasphemy cases could no longer be registered merely by a complaint, but only after "preliminary investigation" by a deputy commissioner of police and a thorough scrutiny of the charge. But this week, when Islamic organizations threatened to protest, General Musharraf backed down. The BBC reports that there will be no change in the application of the country's blasphemy laws.
Authorities in southern China have closed down churches and arrested at least 10 leaders of underground Christian groups, according to religious freedom watchdog Christian Solidarity Worldwide. The Religious Affairs Bureau in Guangdong province confirmed to the Associated Press "that an annual investigation of local religious groups was under way."
Ellen Johnson, president of American Atheists Inc., was the first witness for the prosecution in the trial of Gary Paul Karr, charged with kidnapping and extorting money from atheist leader Madalyn Murray O'Hair and two members of the family. "She was totally distraught," Johnson said of her last phone conversation with Robin Murray O'Hair, granddaughter of the activist. "She wasn't responding. I was so upset, something was terribly wrong."
The Canadian Conference of Catholic Bishops issued a statement Tuesday that it "jointly reaffirm[ed] our support of the objectives of this year's World March of Women. These objectives are to end violence against women and poverty." But these objectives are also to support abortion and same-sex rights, and that has several Catholic bishops, including the Archbishop of Toronto, upset. The CCCB, however, doesn't see things that way. "One demand contains a reference to a woman's right 'to control her body and reproductive function.' [But] this is a broad demand including issues of forced sterilization and forced marriage. … We can agree with this demand, with the clear qualification that we do not support any use of this demand, or any aspect of any other demand, to support abortion."
Minnesota Gov. Jesse Ventura, who called religion "a sham and a crutch for weak-minded people who need strength in numbers" in the November Playboy, met with two dozen religious leaders to smooth things over. "I am walking away with the feeling that this governor does have a sense of the importance of the religious community," said the executive director of the Jewish Community Relations Council. But the Playboy interview reportedly went unmentioned.
Thomas Blanton Jr., and Bobby Frank Cherry, indicted Tuesday for the 1963 bombing of Birmingham's Sixteenth Street Baptist Church that killed four girls, turned themselves in to Jefferson County, Alabama, officials yesterday. They are expected to plead not guilty to the murder charges.
To solve acoustic problems, pastors of the church want to cover up the mural on the inside of the church's dome with a flat ceiling. Angry congregants have formed The Coalition to Save Angelus Temple and filed suit to stop the changes. Federal officials agree that the issues are serious. The national historic landmark coordinator for the Department of the Interior says the church might lose its landmark designation. But pastor Amy Stanton counters, "Do we keep the historical structures or do we want a functional church?" Angelus attracted 20,000 members at its peak in the 1920s, but only about 500 show up for Sunday services today.
Related Elsewhere
See our past Weblogs: May 17 | 16 | 15 May 12 | 11 | 10 | 9 | 8 May 5 | 4 | 3 | 2 | 1 April 28 | 27 | 26 | 25 | 24 April 19 | 18 | 17 April 13 | 12 | 11 | 10 April 6 | 5 | 4 | 3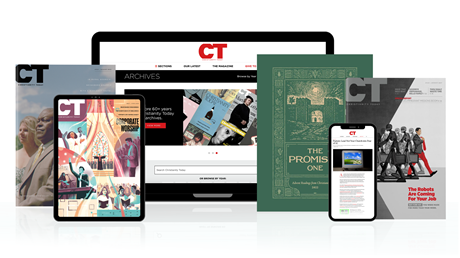 Subscribe to Christianity Today and get access to this article plus 65+ years of archives.
Home delivery of CT magazine
Complete access to articles on ChristianityToday.com
Over 120 years of magazine archives plus full access to all of CT's online archives
Subscribe Now
Japanese Prime Minister In Trouble For Religion Comments
Japanese Prime Minister In Trouble For Religion Comments