Popes, including John Paul II, don't usually celebrate birthdays. But Thursday's 80th birthday celebration for the man who was born Karol Wojtila wasn't just a celebration—it was a huge commemoration. He started the day celebrating Mass with 3,000 priests, 250 bishops and untold multitudes of cardinals in what is reportedly the largest concelebration (celebration of the Eucharist with more than one officiant) ever. See more on the celebrations here.
Sherrod Brown (D-Ohio) has asked the chaplain of the House of Representatives to bring in a Hindu priest to deliver a daily invocation. "There are hundreds of thousands of practicing Hindus in this country," he said. "We should fulfill our responsibility to represent the religious diversity of this country by including a Hindu priest as a guest chaplain." Though various Christians, Jews, and Muslims have delivered invocations, a Hindu has never delivered the legislative body's opening prayer.
Digital Entertainment Network, which attempted to attract Christian high schoolers to its online soap opera about spiritual warfare (other DEN shows aimed at gay teens, extreme sports fans, and other niche audiences), is out of money and has laid off its remaining 150 employees. See more articles about DEN's fall at Inside.com)
While the Globe's article, by staff writer Marcella Bombardieri, is a welcome acknowledgement of a growing movement, it puts perhaps too fine a point on the differences between Catholic and Protestant charismatics. "In Latin America," she writes, "it offers hope of competition against the explosion of Pentecostalism." But here in the U.S., she doesn't note, charismatic Catholics and Protestant Pentecostals have more often than not seen closer ties than between the groups and their noncharismatic counterparts. Still, Bombardieri seems to capture some of the attractiveness of the movement.
Nestor Vornicescu, the fourth-highest cleric in the Romanian Orthodox Church, died Wednesday at age 73. "He was part of the old guard who didn't have a real future (after the 1989 revolution), because he served the former regime," Dan Ciachir, the Associated Press's go-to guy on Romanian religion, tells the wire service. "Still, he was close to the Romanian people, a patriot and a good organizer."
When the Greek Data Protection Authority ordered the "religious affiliation" field removed from state identity cards, the Greek Orthodox Church mobilized as if the state had just made atheism the state religion. "We are not prepared to lay down our weapons and surrender bound hand and foot," warned Archbishop Christodoulos. Echoed Metropolitan Theoklitos, "Orthodoxy … is an indivisible part of our identity and we want it written on the identity cards." The Associated Press notes that the country is the only one in the European Union to require declarations of religious belief.
When the Canadian Broadcasting Corporation (CBC) aired Our Daily Bread, a television movie that shows a dog receiving communion in a Roman Catholic church, several Christians complained. But the CBC says the show wasn't disrespectful, and it won't apologize. The National Post's Ezra Levant sees a double standard: "In January, when the CBC aired a skit based on the arrest of Ahmed Ressam, a suspected Algerian terrorist, it promptly issued an apology for 'stereotyping' Muslims. 'We're big enough to apologize,' the CBC said back then. Not so last week, though, when the complainants came from Christians. 'It is the job of a public broadcaster not to shrink from engaging important subjects simply out of fear of giving offence,' wrote Ms. [Bonnie] Gold [an assistant with Audience Relations at the CBC]. But what important subjects were fearlessly engaged here? … The CBC is so sanctimoniously politically correct toward every group except Christians—a Canadian pattern reinforced last week when Dr. Laura Schlessinger was given an official dressing-down for advocating traditional, Bible-based morality."
On Tuesday, ChristianityToday.com Weblog noted reports of Jesus' face appearing on Palma Sola Presbyterian Church in Bradenton, Florida. An image of the church wall is available at the Sarasota Herald-Tribune's site.
National Public Radio's All Things Considered recently interviewed Jack Sallee, the pastor of the Church of God of Prophecy in Brownstown (ATC's Web site says Wyandotte), Michigan, who received a patent for playhouses that look like churches. They will have stained-glass windows, steeples, and CD players for hymns. He's still looking for a manufacturer, but says his market is Christian daycare centers and families. Kids, he says, love playing at preaching, marriages, funerals, and such. (For the record, NPR's Linda Wertheimer doesn't remember ever playing preacher when she was growing up.) ChristianityToday.com can hear the groans now: "Back in my day, we didn't have fancy playhouses. We had to use our hands and fingers. Our thumbs were the door, and the pinkies were the steeple. And they had to double as the congregants, too!" (Listen in14.4 and 28.8 kbps RealAudio streams.)
Related Elsewhere
See our past Weblogs: May 18 | 17 | 16 | 15 May 12 | 11 | 10 | 9 | 8 May 5 | 4 | 3 | 2 | 1 April 28 | 27 | 26 | 25 | 24 April 19 | 18 | 17 April 13 | 12 | 11 | 10 April 6 | 5 | 4 | 3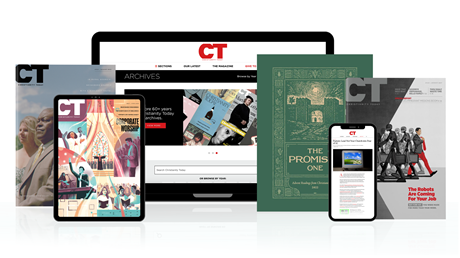 Subscribe to Christianity Today and get access to this article plus 65+ years of archives.
Home delivery of CT magazine
Complete access to articles on ChristianityToday.com
Over 120 years of magazine archives plus full access to all of CT's online archives
Subscribe Now
The Pope's Birthday
The Pope's Birthday