Church representatives from the European Union (EU) have voiced regret at the lack of reference to churches and faiths in a major new human rights document drawn up by the EU.
''This decision not to mention our religious heritage denies an aspect of Europe's history," said Keith Jenkins, director of the Church and Society Commission of the Conference of European Churches (CEC), which brings together most of Europe's Protestant, Anglican and Orthodox churches.
Jenkins was reacting to the text of the Charter of Fundamental Rights, agreed at an EU summit in Biarritz, France, on October 14. An acknowledgement of Europe's "religious heritage" had earlier been left out of the charter's preamble at the insistence of the French prime minister, Lionel Jospin, whose country has a long tradition of the separation of church and state.
The charter is intended to set out a common basis for the respect of human rights throughout the EU, although it is not expected to be legally binding on the EU's member states. The charter affirms the right of individuals to take part in religious activities, but it fails to acknowledge the role of churches.
Jenkins said that leaders of CEC's 127 member churches had been disappointed that the reference to Europe's religious heritage had been left out of the document, which was drawn up by a 62-member convention following a decision at an EU summit in Cologne in 1999.
"But this was just one government's response—we mustn't misinterpret it as being somehow a rejection of religion," Jenkins told ENI.
"Since the preamble tries to lay down the foundations of Europe's identity, some people naturally wanted a reference to religion. But it was recognized that Europe is now effectively multi-religious."
Besides reaffirming rights to association, property, education, health-care and political asylum, the charter states that the EU respects "cultural, religious, and linguistic diversity" and guarantees the right "either alone or in community with others and in public or in private, to manifest religion or belief, in worship, teaching, practice and observance."
In a letter sent in May to Roman Herzog, the president of the convention that drafted the charter, the CEC Church and Society Commission welcomed the charter's "respect for religious diversity," but warned that it failed to acknowledge the "corporate dimension of religious freedom."
According to a legal adviser to the Commission of Catholic Episcopates from the EU (COMECE), the failure to mention Europe's religious heritage could still be challenged when EU heads of state and government meet for a summit at Nice in December.
"We have to keep a low profile nowadays, and we know a direct reference to God would be hard for member states to accept," said the adviser, Silvio Marcus-Helmons, whose commission groups Roman Catholic bishops' conferences from the EU's 15 member states.
"But if labor unions and political parties are explicitly recognized, why shouldn't churches be as well? Religion constitutes one of the roots of West European culture—whoever denies this is guilty of revisionism."
The current 250-word preamble commits European nations to "a peaceful future based on common values," as well as to respect "the diversity of the cultures and traditions of the peoples of Europe."
"Conscious of its spiritual and moral heritage, the [European] Union is founded on the indivisible, universal values of human dignity, freedom, equality and solidarity," the preamble states.
Marcus-Helmons told ENI that an amendment mentioning the continent's "religious heritage" was tabled for COMECE by German delegates to the drafting convention, who had pointed out that Germany's constitution contained a reference to God.
But the proposal had met "strident objections" from Premier Jospin, who had warned it would infringe France's status as a "lay [secular] state" and pose a "major legal and political obstacle" to the acceptance of the charter. There had also been "strong pressure" from Italy and Spain not to accept the proposal, Macus-Helmons said.
"There's a movement in Western Europe now to reject everything religious as contrary to the new understanding of liberty," continued Marcus-Helmons, who teaches at Belgium's Catholic University of Leuven.
"We accept that church-state separation is written into some countries' constitutions, but this shouldn't bar us from acknowledging a historical fact. Whatever the present situation, it can't be denied that in previous centuries European culture was rooted, among other things, in Christianity."
Keith Jenkins told ENI that CEC and COMECE had approached the charter as "two voices in harmony, rather than in unison", but had agreed on all "general principles."
He added that CEC would make use of its "range of contacts" with EU institutions at a November meeting with officials from Sweden, which takes over the presidency of the European Union from France in January.
"I believe we are listened to, and that people are hearing what they want to hear - even if we don't always approve everything the EU does," Jenkins added. "Even within the Christian fold, there are a number of traditions which have to be respected - including predominantly Roman Catholic countries like Italy and mostly Protestant ones like Sweden and Finland. I don't think this latest setback signals a new hostility to the churches."
Copyright © 2000 ENI
Related Elsewhere
Visit the Conference of European Churches homepage.
Read up on the EU at the official site which offers description of all 15 members and listings of joint governing committees.
Other media coverage of the EU includes:
Europhiles find their voice for reform—The Scotsman (Nov. 9, 2000)
Blair tells ministers to talk up benefits of being in Europe—The Scotsman (Nov. 7, 2000)
EU Rapid Reaction Force—The Irish Times (Nov. 6, 2000)
Worshipping the European Union—Virtual New York (Nov. 1, 2000)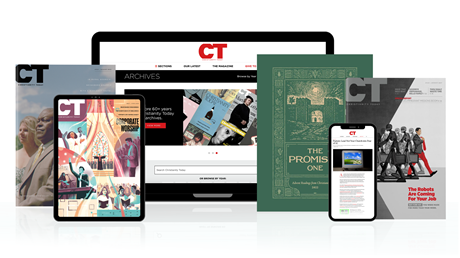 Subscribe to Christianity Today and get access to this article plus 65+ years of archives.
Home delivery of CT magazine
Complete access to articles on ChristianityToday.com
Over 120 years of magazine archives plus full access to all of CT's online archives
Subscribe Now
European Union Charter Omits Church History
European Union Charter Omits Church History