Dark and light spirituality filled movie screens this week, from the occultism in Book of Shadows and the undead in Little Vampire, to the spiritual metaphors of The Legend of Bagger Vance and the message of Christian forgiveness in Mercy Streets. Christian critics rarely agreed, though, on what response believers should have to such elements.
What's Hot
Charlie's Angels: goofy fun or brainless sexploitation? Christian critics argued passionately for one or the other, splitting pretty evenly in their reactions to this update of the '70s TV series. Phil Boatwright, the Movie Reporter, says "it may be the best time I've had in at the movies this entire year. ... This feminine and witty answer to 007, with a bit of Modesty Blaise thrown in for good measure, is loads of fun. The spoof never takes itself seriously, yet never belittles its characters." But Christian Spotlight guest reviewer Curtis D. Smith says it's all too eager to belittle: "A precariously demoralizing view of young women prevails in Charlie's Angels. It repeatedly says women are little more than sexual playthings—with few brains and even fewer inhibitions—who must prance around half naked in order to get what they want." Michael Elliott of Crosswalk.com also takes shots at the film's acting and script. "The three female leads offer little in the way of characterization, other than to play off each other in a giggling schoolgirl kind of camaraderie. ... Logic takes a long, long vacation as the 'angels' miraculously solve each piece of the puzzle without the benefit of clues, confessions or traces of any evidence." Other critics just settled in for the ride, treating the film as nothing more than the brain candy it aspires to be. The U.S. Catholic Conference calls it "a fast-paced escapist fantasy [with a] high-energy blend of comedy and action." Movieguide agrees that it's "a fairly entertaining, amusing action flick ... a good guy/bad guy cartoon caper that doesn't take itself too seriously," and compares the sexual content to that of "a mild, comical James Bond flick." Movieguide even notes a mild spiritual metaphor in the relationship between the heroines and their unseen boss, Charlie. "The movie often makes puns about angels. One of the final puns mentions the importance of having faith in a father-figure, i.e., the mysterious Charlie." However, J. Robert Parks of the Phantom Tollbooth had a far less appreciative take on that relationship: "As Charlie is talking over the speaker phone, all three actresses get these dreamy looks as if they have serious father issues to work through."
The Legend of Bagger Vance, the story of a mystical caddy (Will Smith) who gives advice that's as much about life as it is about golf, drew a wide range of reactions from Christian critics. Movies and Ministry's Doug Cummings found that Bagger Vance's advice to troubled golfer Rannulph Junuh (Matt Damon) holds spiritual significance. "Sure, it speaks its spiritual truths as vaguely as possible, but it never seems shallow or naive," Cummings says. "In Christian terms, Vance's character could be seen as an archetype for the Holy Spirit, prompting and suggesting, but ultimately leaving Junuh's spiritual journey up to his own decisions." Movieguide, too, praised it for spiritual value: "One of the best movies of the year, Bagger Vance is a wonderful parable about God. ... [It] not only gives viewers plenty of good spiritual things about which to think, it also extols the virtues of honesty, integrity and honoring one's parents." But Charles Henderson, guide to Christianity at About.com says its wishy-washy spirituality is more harmful than helpful. "Few Catholics, Protestants, Muslims or Jews are going to object to a movie in which an African-American plays the ... "spiritual guide." But how about Savior or Messiah? That is exactly what the Will Smith character is in this movie." Henderson believes that this type of movie encourages the development of personal spirituality separate from faith traditions. "The great news story of the twenty-first century will be the continuing migration of humanity's spiritual life from the world of organized religion, and its institutions, to the commercial world of the new media." (Supporting this theory is the fact that in Steven Pressfield's novel, Bagger Vance was revealed to be Hinduism's Bhagavad Gita, but in the film he is of no particular creed.) Not everyone took Vance's sayings seriously, though. J. Robert Parks of the Phantom Tollbooth says the film is crippled by asking "its audience to whole-heartedly believe that the cryptic sayings of a stranger could straighten out a golf swing, that a heavenly choir literally starts singing after a perfect golf shot. ... I can honestly say that there is something charmed about the sport; but I would never ascribe it to the good side of the Force, if you know what I mean." (Mainstream reviewers also scoffed at Bagger's wisdom; Lisa Schwarzbaum of Entertainment Weekly calls it "Chicken Soup for the Golfer's Soul," and Bob Strauss of the Los Angeles Daily News says "this vague allegory about playing the inner and outer game speaks to the peculiarly American secular belief in the possibility of winning both spiritual peace and material success.") Nevertheless, most Christian critics embraced the film for being relatively clean and thoughtful entertainment. Michael Elliott of Crosswalk.com says "The Legend of Bagger Vance may be old-fashioned hokum, but it is such a breath of fresh air that we can't help but be swept away with its apple-cheeked optimism regarding the resiliency of the human spirit."
What's New
Although Book of Shadows: Blair Witch 2 is ostensibly a sequel, reviewers said the subtle Hitchcockian violence of the original in no way prepares you for the in-your-face violence of the follow-up. "This one is much more intense," says Crosswalk.com's Holly McClure, "laden with blatant witchcraft and perverse, depressing scenes ... [including] images of knives gutting bare torsos, bloody bodies being tortured, the drowning of a dead, bloody baby ... and more." Steven Isaac of Focus on the Family agrees, saying it "revels in glamorizing the acts of mutilation, torture and killing." In this film, five people enamored by the first Blair Witch film visit the Burkittsville woods, pass out after a night of partying, and wake up to find themselves suspect in a murder case. Isaac says this was a lousy premise for a sequel: "For nearly half of the film's 90-minute running time, it feels more like a spoof of Blair Witch than a continuation thereof." John Adair of Preview says the in-jokes rob the film of potency. "Blair Witch 2 makes some clever references to the original film, but lacks any truly scary moments." Other snubs come from the U.S. Catholic Conference, which says it's "a debasing film whose cop-out ending should disgust anyone unfortunate enough to endure this shrill, pointless mess," and Movieguide, which calls it "incompetent filmmaking ... one of the worst horror movies ever made." Movie Reporter Phil Boatwright was one of several critics who disapproved of the focus "on witchcraft, to the extent of glorifying the practice of Wicca, a satanic religion." Hollywood Jesus, on the other hand, cautioned against any Wicca-bashing: "20 years ago certain evangelical Christians began to bash the gay community. Today there is little, if any, relationship between the two groups. The same thing is now happening to the Wiccans." A few positive comments about Book of Shadows popped up at Christian Spotlight, where reader Charles Phipps says it's "a wakeup call to those who live in ignorance of evil. ... The people here are at the core not horrible but generally disillusioned people who are looking for something meaningful in their lives. ... The Blair Witch [takes] advantage of people curious about real belief and suffering. ... The result is absolutely chilling in the ramifications."
Little Vampire didn't fare much better with critics; the adaptation of the popular children's book series was deemed more disturbing than funny. "The film never seems sure of how to treat its material," says Preview's Paul Bicking. "While some scenes play like episodes of The Munsters TV show, scarier scenes, such as the opening nightmare and a chase through cemetery catacombs, reflect more traditional horror films." Crosswalk.com's Holly McClure agrees that this story, about a kid who befriends a family of vampires seeking to become human, is not as quaint as the TV predecessors it draws from. "The idea of dysfunctional monster families isn't new (The Munsters, The Addams Family), but these days the 'dark side' is a lot darker." For instance, because the family doesn't want to suck the blood of their new friend, they turn to cows instead. "I kid you not—there are scenes of the family going into the barn to drink cow's blood," McClure says. "But the bigger, darker picture I see is the blatant attempt to get our children to accept witchcraft and darkness as the norm." Jonathan Bartha of Focus on the Family also objected to the way the vampires are sympathetically portrayed: "By turning vampires into a sympathetic, persecuted subculture and vilifying the cross-wielding hunter, Little Vampire turns his luminous religious 'weapon' into a symbol of persecution and intolerance." Those who didn't object to the content were still unimpressed by the film. Movie Reporter Phil Boatwright writes that "little ones may get a few laughs ... but it is a dreary experience for older folk," and the U.S. Catholic Conference says it "overdoses on cuteness and plot contrivances."
Lucky Numbers, which marks romantic-comedy director Nora Ephron's first foray into dark comedy, was dismissed by critics for getting the tone wrong. "The thing about black comedies that make them work," explains HollyMcClure of Crosswalk.com, "is the ingenious use of humor with dark, twisted situations. This script completely misses in all of those areas and delivers some funny lines in the midst of cruel, shocking and gloomy situations." The Phantom Tollbooth's J. Robert Parks agrees, saying it "alternates moments of hilarity with uncomfortable and unproductive episodes of violence. " But Parks nevertheless liked John Travolta's performance as a TV weatherman who tries to rig the lottery in order to pay off his debts. "Travolta is fantastic as a squeaky-clean celebrity who finds himself mired in a situation he can't control. His comic instincts are fabulous, and his dramatic scenes carry the story." Movieguide, too, noted some strong points, but felt the overall production was lackluster. "The twists and turns in the story eventually do become rather funny ... [but] the sleazy aspects of the story, which includes plenty of strong foul language and some strong sexual content, overwhelm the movie." In addition, most reviewers weren't happy with the Christian character played by Michael Moore, who wants to open an adult bookstore with his share of the money. Bob Smithouser of Focus on the Family says Moore "proceeds to discuss the merits of masturbation, and says God endorses self-gratification because it protects people from sin (which ignores the thought life as addressed in Matt. 5:27-30)."
What's Noteworthy
Until now, Christian filmmaking has focused heavily on Biblical epics and end-times thrillers, but Mercy Streets is breaking that mold by telling the modern-day story of estranged twins—one a preacher, the other a convict—who reunite. "Breaking away from the biblical epic mold, it tells a Christian parable in a convincing, captivating way," says Movieguide. "Mercy Streets is a breakthrough movie that treats the gritty underside of life in a powerful way without resorting to cheap stereotyping, foul language and excessive violence. Instead of a movie that will lead teenagers to think that crime pays, Mercy Streets leads them to the truth." Bob Waliszewski and Bob Smithouser of Focus on the Family were also enthusiastic. "Give Mercy Streets credit for being intelligently scripted and unpredictably plotted," they say. "Ultimately, the film showcases the negative fallout of doing wrong for the 'right' reason while presenting several theologically accurate accounts about God's saving grace. ... Viewers expecting [a recitation of] the sinner's prayer by the end credits will be disappointed, but that unforced realism is part of Mercy Streets' appeal." Other critics found the film more difficult to embrace. Mary Draughon of Preview says "Mercy Streets has far too much graphic violence, including numerous vicious hits, beatings, car chases, and shootings with bloody wounds. This excessive violence, apparently used to attract action-oriented teens, sends out a message that, although done by bad characters, it's appropriate entertainment." Michael Elliott of Cross walk.com felt the film actually de-emphasizes the power of God's forgiveness by making the minister such "a weak preacher [that] we never see his conviction to the call of God. Granted, he was struggling with his past, not accepting that God could forgive him for his perceived wrong, but the film ended up giving the impression that receiving forgiveness from his brother was more important to him than accepting forgiveness from God." However, Ken James of Christian Spotlight felt it was good enough just to have God's forgiveness clearly explained. "In one climactic scene, [a character learns] that just knowing about Jesus isn't enough. You have to accept him and let go of those things in which you need forgiveness." Crosswalk.com's Holly McClure counters Draughon's concerns about the violence. "There's nothing in this movie that would prevent you from taking your mature pre-teen or teen-ager to see it. Because the story involves a criminal lifestyle, a few crimes are committed and a couple of scenes involve gunplay, but all of these are necessary to the story. ... I applaud the approach these Christian filmmakers have taken in presenting a story that combines gritty reality mixed with truthful emotions."
Steve Lansingh is editor of TheFilmForum.com, an Internet magazine devoted to Christian conversation about the movies.
Related Elsewhere
See earlier Film Forum postings for these movies in the box-office top ten: Meet the Parents, Remember the Titans, Bedazzled, Pay it Forward, and The Legend of Drunken Master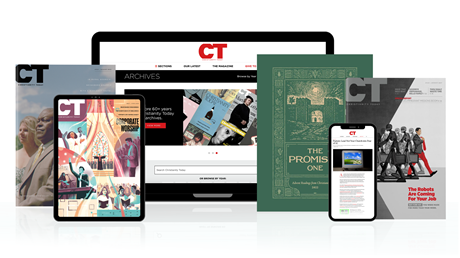 Subscribe to Christianity Today and get access to this article plus 65+ years of archives.
Home delivery of CT magazine
Complete access to articles on ChristianityToday.com
Over 120 years of magazine archives plus full access to all of CT's online archives
Subscribe Now
Have Mercy!
Have Mercy!