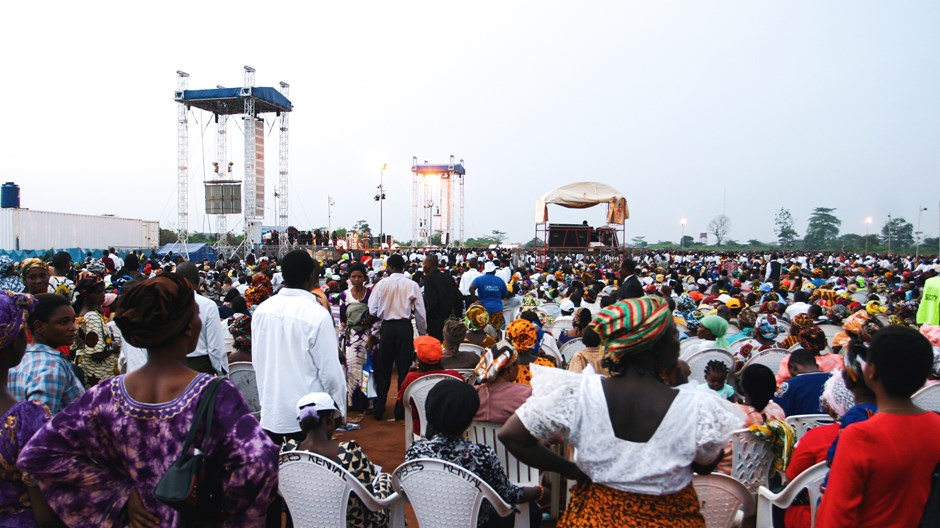 Image: Ullstein Bild / Contributor / Getty
Returning to Nigeria a year after so many attended his evangelistic crusades that 16 were crushed to death, German evangelist Reinhard Bonnke is expecting even more.
Bonnke—a German recognized throughout Africa for his charismatic crusades—drew a crowd of half a million people who came and stood shoulder-to-shoulder on 80 acres of open ground to hear the Pentecostal evangelist speak.
Last night, November 7, marked the opening of Bonnke's "Great Millennial Crusade"—a six-day meeting that most likely will result in Bonnke's largest crusade to date. By the end of the week, when attendance is predicted to exceed 2 million, it could also signify one of the largest Christian gatherings ever recorded.
The event is being held in the southern city of Lagos, Nigeria's biggest community with a population of around 13 million people. Poverty stricken and plagued with countless diseases, Nigeria is a breeding ground for religious and political turmoil. A British colony until the late 1950s, the country struggled severely under the leadership of harsh dictators after gaining its independence. Last year, Nigerians elected their first president, Olusegun Obasanjo, in a democracy that is still fighting to stay alive.
Along religious lines, the country is sharply divided by a Muslim north and a Christian south. In the past year, several northern states have implemented the controversial Shari'a law, a strict Islamic social and penal code that regulates the Muslim lifestyle and calls for stricter rules on women, segregation between males and females in schools, and stronger punishments such as stoning or beheading for criminals.
In a country with over 400 ethnic groups, different tribes are always at odds in Nigeria, particularly the Hausa-Fulanis of the north and the Yoruba people of the south. Clashes intensified last month between these two groups as hundreds were killed in Lagos-based riots.
With such intense turmoil setting the stage here this week, Nigerians were clearly interested in the promise that Bonnke had extended on crusade advertisements reading, "Come and receive your miracle." Almost all people in Lagos are in need of a miracle of some kind. For many, day-to-day survival has become the main goal.
Speaking to an endless sea of faces from center stage, Bonnke shouted to the crowd, "Jesus is the Savior of Nigeria!" The lively audience cried out in response, waving their hands in anticipation. Many who attended had walked for hours before arriving at the large field just outside of the city.
After presenting a "hot gospel message," as Bonnke called it, the evangelist prayed for the sick, assuring people that hundreds of miracles were about to happen. "Paralyzed people are going to walk," Bonnke promised as the healing service began. "The blind will see."
Hundreds of people soon poured to the front of the field to profess the miracles that they claimed to have experienced. One woman named Judith brought her six-year-old daughter to the stage and said God had healed her from a stomach tumor. Sobbing uncontrollably, the woman said her daughter has been sick for five years. "God took it away," she cried, pointing to the child's abdomen.
Stories such as this have led to Bonnke's fame throughout Africa as a miracle-worker. "We always pray for the sick—we feel like that's what God has called us to do," says Peter van den Berg, vice president of Bonnke's Christ For All Nations (CFAN) ministry.
Others, however, question the promises that Bonnke extends to a nation ravaged by almost every imaginable problem. Scott Ennis, an Assembly of God missionary in Jos, Nigeria, says that appealing to a strong sense of the supernatural is enticing to Africans because their culture reveres witchcraft and magic. But Don Corbin, U.S. Assemblies of God Foreign Missions regional director for Africa, cautions against abusing this factor. "We don't believe in wholesaling the supernatural," he says. "The danger is building on the sensational rather than the eternal."
In Germany, Bonnke's home country, many people are suspicious of the evangelist because of reports they have heard about his miracle crusades. "He's regarded as a bit of an exotic figure here," says Wolfgang Polzer, an editor at Idea, the German Evangelical Alliance's monthly publication.
"In the Pentecostal sector of the evangelical community here, he does play a big part," Polzer says. "But throughout the community at large, most people remain suspicious or have never hear of him," he says. Bonnke's status is quite the opposite throughout Africa. Often referred to as the continent's own Billy Graham, the evangelist is viewed as a celebrity. "They see him as a superstar," says George Amu, pastor of Good News Bible Church in Lagos. "Signs, miracles, and wonders happen when he preaches."
Chibuze Agha, 25, stood near the front of the platform last night to hear Bonnke speak. "He's healing many people who are sick and in bondage," she said confidently.
Van den Berg says that Bonnke is unfamiliar to many Americans because he rarely visits the U.S. The 60-year-old evangelist says God called him to Africa at a young age. "Night after night, I saw the entire African continent, washed in the blood of Jesus, country after country," Bonnke often says.
Today, he holds almost all of his 9 or 10 annual crusades in Africa. He has spoken in 46 out of Africa's 53 countries, including Angola, Liberia, Sierra Leone, and most recently, Sudan—an eastern area with a population more than 90 percent Muslim. The evangelist only recently made his way back into Nigeria, however, after an absence here that dated back to a smaller crusade he held in Lagos in 1986.
Until last year, anti-Christian government leaders had blacklisted Bonnke for almost a decade and would not grant him a visa to enter the country. When the evangelist tried to enter the northern Muslim state of Kano in 1991, riots arose that led to multiple deaths. This only intensified the country's resistance against him.
Rou Jarvis, a Southern Baptist missionary in Lagos, says Bonnke is controversial among many Nigerians. "He's very confrontational with Islam, and that's not good. If I'm going to win someone to Christ, I'm not going to tell them first that their faith is wrong."
Jarvis says when some of his native friends learned that Bonnke was coming to Lagos, they were concerned. "They were afraid that riots would follow," he says.
Bonnke's ticket back into Nigeria came when Obasanjo was elected president last year. A self-proclaimed born-again Christian, the leader officially invited Bonnke to come and speak. Within months, CFAN had organized a crusade in Benin City, another southern community.
After having been forced to stay away for so long, Bonnke's first experience in Nigeria last October was bittersweet. Although he drew his largest crowd ever with 500,000 people, the city was unprepared to handle the event. After the first night of the crusade, 16 people were crushed and killed in a stampede as thousands tried to exit the open field. Hundreds of others were injured.
CFAN members blamed city officials for lack of crowd control at the crusade. "There had been other evangelists who had come through and promised large crowds to no avail," says van den Berg. "So when we estimated half a million attenders, the local police didn't believe it."
Van den Berg says they almost cancelled the remaining meetings last year, but the locals encouraged them to stay. "It was a great tragedy," van den Berg admits. "We didn't even hear about it until the next day."
This week, 1,000 member of the local police force along with 2,000 volunteer ushers have promised their assistance in controlling the massive crowds. "So far, we have not recorded any problem," said Edward Ebugome, a Nigeria military official and head of the security team, after last night's event.
While crowd-management might be more organized this time around, judging the overall success of the event will take time. CFAN is prepared to distribute up to 6 million follow-up booklets and receive information cards on those who make salvation decisions. But with groves of people cramming next to each other in a huge marsh field each night, the effectiveness of such a method remains in question.
"The key to this thing is going to be follow-up," says Thomas Trask, chairman of the World Assembly of God Fellowship. Trask is traveling in Nigeria this week for a separate conference aimed at celebrating the success of indigenous church plants in Nigeria throughout the past 10 years. "The success with all of the Billy Graham crusades has come because of its great organization. Follow-up is part of the gospel," Trask notes.
Van den Berg says CFAN has spent $1.2 million to purchase follow-up materials for this crusade alone. "We have the attitude that the true value of evangelism is how many people end up in the local church," he says.
Related Elsewhere
Visit the Christ For All Nations (CFAN) English homepage, or check in at the German homepage for news from Nigeria (in German of course.)
There is a short English bio of Bonnke available, or a more detailed account of his life and ministry for those of you who read French.
Bonnke's plea for more churches to engage in evangelism, "We Must Give Revival to Receive Revival,", also talks about how his ministry began.
Christianity Today covered the deaths of 14 people at last year's Nigerian Bonnke Revival.
Other media coverage of Bonnke includes:
Again, here comes Reinhard Bonnke— The Nigerian Guardian (Nov. 6, 2000)
Bonnke Arrives For Millennium Crusade—The Nigerian Guardian (Nov. 5, 2000)
Assassination Attempt at Evangelist's Mass Rally in Islamic Capital—Charisma News (April 25, 2000)
Mass Crusade Continues in Nigeria Despite Crowd Deaths on Opening Night—Charisma News
Previous Christianity Today coverage of Nigeria includes:
'Focused, Determined, Deliberate' Destruction | Ecumenical leader calls on Nigeria to deal with religious violence between Muslims and Christians. (Oct. 30, 2000)
Is Nigeria Moving Toward War? | Deadly riots lead to suspension of Islamic law. (March 31, 2000)
Nigeria On the Brink of Religious War | Northern states adopt Islamic law, increasing Christian-Muslim tensions. (Dec. 16, 1999)
Nigeria's Churches Considering Legal Challenge to Islamic Laws | Third state moving toward implementing Koranic laws (Dec. 17, 1999)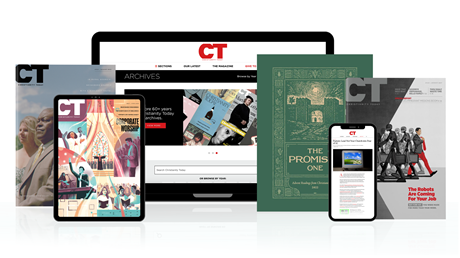 Subscribe to Christianity Today and get access to this article plus 65+ years of archives.
Home delivery of CT magazine
Complete access to articles on ChristianityToday.com
Over 120 years of magazine archives plus full access to all of CT's online archives
Subscribe Now
Bonnke Returns to Nigeria One Year After Tragedy
Bonnke Returns to Nigeria One Year After Tragedy