Jan Hus tends to get lost. Following Peter Waldo and John Wyclif but preceding Martin Luther, John Calvin, and Ulrich Zwingli, he occupies nebulous and seldom discussed territory. Even Christian History magazine has scarcely mentioned him since Issue 0, a prototype (developed to accompany Gateway Films' Jan Hus video) with only a handful of photocopied issues still in circulation. In CH magazine as in his era, Hus appeared before the world was ready for him.
That Hus is so largely forgotten outside his native Czech Republic is perhaps as great an injustice as his execution 585 years ago. For though he was solidly a man of his time and place, his ideas merit broad recognition. In fact, most of them ring so true that it seems amazing they were ever considered revolutionary.
Hus believed pastors should model godly lives and preach vivid, accessible sermons. They should not make fortunes off their ministries but should think of themselves as servants. Sounds like basic seminary wisdom so far.
Hus was also uneasy with the church hierarchy claiming final authority over worldly—and otherworldly—affairs. Now he begins to sound more like a Protestant, but considering that at one point during his life three men claimed to be pope, his uneasiness is understandable.
Unfortunately for Hus, organizations in severe crisis have little use for fresh ideas. At such a time, "different" means "radical," and "radical" means "dangerous." Embattled institutions fire first and ask questions later.
Now that it's much, much later, the Roman Catholic Church is asking questions. A Polish pope took special interest in Eastern European unity, and Catholic and Protestant scholars started working together to reevaluate Hus. They decided he wasn't such a bad guy after all. Maybe he was even great.
On December 17, 1999, Pope John Paul II told an international symposium, "Today, on the eve of the Great Jubilee, I feel the need to express deep regret for the cruel death inflicted on Jan Hus." He commended Hus's "moral courage in the face of adversity and death" and proclaimed that through the scholars' work, "Hus, who has been such a point of contention in the past, has now become a subject of dialogue, of comparison and shared investigation."
So long neglected outside his home country and so long contested within, Hus is finally being seen the way he saw himself: as a passionate reformer with sound ideas and fierce integrity. The heirs of both his closest allies and harshest enemies agree on that much, and so do we.
Elesha Coffman is associate editor of Christian History.
Related Elsewhere
More Christian History, including a listing of events that occurred this week in the church's past, is available at ChristianHistory.net. Subscriptions to the quarterly print magazine are also available.
The Jan Hus video is available from Vision Video.
Find more articles on Hus beginning this week at the Christian History Web site.
Christian History Corner appears every Friday at ChristianityToday.com. Previous Christian History Corners include:
Top 10 Reasons to Read This Book | A list of Christian books that changed the century introduces authors and their impact on evangelicalism. (Nov. 10, 2000)
The Un-Denomination | The Southern Baptist Convention has been historically Un-Conventional. (Nov. 3, 2000)
Soul Crisis at the Conference on Faith and History | Academics gather asking questions like, "What does 'Christian history' actually mean?" (Oct. 27, 2000)
Case of the Missing Relic | A piece of Jesus' cross is stolen from a Toronto cathedral—or is it? (Oct. 20, 2000)
The Politicians' Patron

| Is Thomas More a saintly model? (Oct. 13, 2000)
General Revelations

| Reconsidering Robert E. Lee and Ulysses S. Grant. (Oct. 6, 2000)
Olympia Revisited

| Christianity and the Olympic Games were once competitors, but at other times have been on the same team. (Sept. 29, 2000)
Weighty Matters

| Gwen Shamblin's teachings sound an awful lot like some in the early church—and not in a good way. (Sept. 22, 2000)
In Errancy

| Want to know what's wrong with the Western church? Start with a list. (Sept. 15, 2000)
"Kill Them All"

| The medieval church was deadly serious about eliminating 'heretical' Cathars. (Sept. 11, 2000)
All Together Now

| What qualifies as an ecumenical council anyway? (Sept. 1, 2000)
Soviets, Schism, and Sabotage

| How the government manipulated division in the Russian Orthodox Church. (Aug. 18, 2000)
Sacrifice at Sea

| The story that wasn't in James Cameron's Titanic. (Aug. 11, 2000)
Colonial Soul

| The Cross and The Tomahawk series examines our nation's past from many perspectives. (Aug. 4, 2000)
The Fifth Evangelist

| Johann Sebastian Bach was a musician "who lived the Bible." (July 28, 2000)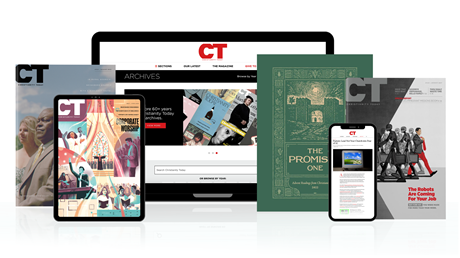 Subscribe to Christianity Today and get access to this article plus 65+ years of archives.
Home delivery of CT magazine
Complete access to articles on ChristianityToday.com
Over 120 years of magazine archives plus full access to all of CT's online archives
Subscribe Now
Accidental Radical
Accidental Radical