An extensive study on the social background of India's non-Catholic clergy over two decades has spelt out for the first time what the authors describe as "some of the most difficult and pressing problems of churches in India." The book, The Christian Clergy in India, Volume 1: Social Structures and Social Roles, which was published recently, was written by sociologists T. K. Oommen and Hunter P. Mabry.
The study of non-Catholic clergy, both Protestant and Orthodox, exposes deep imbalances within the nation's Christian community.
According to the study, Christianity in India (which represents 2.3 percent of India's one billion citizens) is primarily a "church of the oppressed" with Dalits (low-caste people) accounting for 40 percent of church members, under-developed communities 30 percent, and tribal people 20 percent.
Only 10 percent of Christians are from India's powerful upper castes. But the upper castes hold most positions of power in the churches, while the Dalits and under-developed communities are grossly "under-represented" among clergy.
The book also reveals a huge rural-urban gap in the ratio of clergy to congregations. While more than 70 percent of Christians in India live in rural areas, over 50 percent of pastors are in the cities, and Christian rural communities have insufficient clergy.
The authors of the book also found strong hostility to women's ordination. Even in churches that have women clergy, the hierarchy and lay people are often so strongly opposed to women's ordination that many women with theological training do not ask to be ordained.
Interviewed by ENI last week, one of the authors, T. K. Oommen, sociology professor at Jawaharlal Nehru University in New Delhi, said that the book was based on data and information gathered through a "multiplicity of sources" from 1978 to the 1990s. The study, led by four sociologists including the two authors, was initiated by the Commission on Priorities in Theological Education of the Senate of Serampore College (in the state of West Bengal in eastern India), to which Protestant theological colleges across India are affiliated. But, following changes in the membership of the senate, the college later withdrew from the project. Apparently new members of the senate did not believe the college could afford to continue funding a long-term project of this kind.
The study included visits to most of India's Protestant colleges where students, teachers and church heads were interviewed; questionnaires of several pages each were also sent to 4,000 clergy in seven categories. "To get a broad and clear picture of the social background of the clergy," Professor Oommen said, the team prepared separate questionnaires for theological teachers, residential students, external students, Theologically Trained Women (TTW), heads of churches, pastors and wives of pastors.
The response rate varied between 40 percent from pastors to 90 percent from wives of pastors. Field researchers also studied and interviewed local congregations, communities and pastors as it was "impossible for us [the team] to do that."
The data gathered from the study totaled 40,000 pages.
Professor Hunter P. Mabry, who was until recently resident professor at United Theological College (UTC) in Bangalore and is now based in the United States, tabulated the information gathered. Professor Oommen wrote most of the text of the first volume, while Professor Mabry is drafting the second volume which examines theological education in India.
Describing the influence of upper-caste clergy, Professor Oommen said that from the earliest conversions in India, "the clergy always came from the upper castes. With the majority of the people being lower castes, they always had a feeling of frustration and discontent about it."
Although the percentage of Dalit clergy is rising in denominations such as the Church of South India and Church of North India (both of which have many Dalit members) lower-caste Christians are still not adequately represented among the clergy, particularly in church hierarchies.
"There is a clear imbalance in the representation of these [Dalit, underdeveloped, and tribal groups] categories in the theological and church establishments—with upper-castes over-represented," the authors conclude in a chapter on social status. A table in the book shows that Dalits and lower castes constitute 70 percent of non-Catholic Christians, but account for only 25 percent of the heads of their churches. But the upper castes, who account for one tenth of non-Catholic Christians, provide 42 percent of church heads, 31 percent of theological teachers and 36 percent of "theologically trained women."
The book also points to problems in the training of clergy. Professor Oommen said the study uncovered a "definite craze" among theological students to acquire more and more degrees, which in fact made them "misfits" in mainly rural Christian communities of India. So pastors with higher qualifications insisted on urban postings, thus exacerbating the lack of pastoral care in the countryside.
"If adequate measures are not taken to reverse this trend, Christian clergy would soon become an endangered and rare species in the vast hinterland of rural India," the book warns. Professor Oommen said that such issues would be dealt with at length in the second volume.
Saral Chatterji, director of the Christian Institute for the Study of Religion and Society (CISRS) that has published the book, told ENI that "we wanted the results of the important study to be made public."
After Serampore College's senate withdrew support for the study in the 1980s, CISRS decided to finance the project "as it was the first major, systematic study on the clergy in India," said Chatterji, who was president of Serampore College's senate from 1973 to 1977.
Related Elsewhere
Oommen and Mabry's book is available from Amazon.com and other book retailers.
Earlier Christianity Today articles about religious tensions in India include:
U.S. Religious Freedom Commission Criticized | Indian churches reject U.S. inquiry, but Pakistani Christians welcome it. (Oct. 3, 2000)

Plans to Resolve India's Interfaith Tensions Face Delays and Accusations | Did India's National Commission for Minorities plan a meeting to discredit Christians? (July 20, 2000)

India's First Dalit Archbishop Holds 'No Grudge' Over Predecessor's Attack | Once "untouchable" Dalits make up bulk of country's Christians. (May 11, 2000)

India's Christians Resist Move to Register Conversions | State's legislation unconstitutional, says leaders. (May 2, 2000)

Build Bridges, but Fight Fanaticism, India's Churches Told | National Council of churches in India will work against strengthening of caste system. (Mar. 9, 2000)
Copyright © 2000 Christianity Today. Click for reprint information.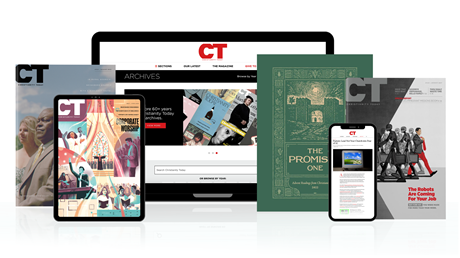 Annual & Monthly subscriptions available.
Print & Digital Issues of CT magazine
Complete access to every article on ChristianityToday.com
Unlimited access to 65+ years of CT's online archives
Member-only special issues
Subscribe
Study of Indian Clergy Exposes Inequalities in Church Leadership
Study of Indian Clergy Exposes Inequalities in Church Leadership