India's churches have strongly criticized a special "hearing" on religious freedom in India held in Washington DC last week by the United States Commission on International Religious Freedom (USCIRF). The commission—a government panel established by the U.S. Congress—heard testimony about violence against Christians in both India and Pakistan. It also heard evidence of the alleged failure of governments in both countries to safeguard the rights of religious minorities.
India is mainly Hindu, while Pakistan is overwhelmingly Muslim. However, unlike church leaders in India, some prominent Christians in Pakistan have expressed support for the hearing.
The hearing has been widely publicized in India where it has caused deep resentment. "We are a democratic country, and we have enough secularist forces here [organizations to protect the rights of non-Hindu minorities], including an interreligious platform to assert and protect our rights," said a senior official of the National Council of Churches in India (NCCI), which represents 29 Orthodox and Protestant churches.
Chandran Paul Martin, NCCI's communications secretary, told ENI that "we do not expect the U.S. [to act] as an international court. Will the U.S. accept an Indian hearing on racism there?" He questioned the "propriety" of one nation conducting a hearing on affairs in another nation.
The Catholic Bishops' Conference of India (CBCI) also criticized the USCIRF, which is a federal government panel established by the U.S. Congress through the International Religious Freedom Act of 1998, which seeks to promote religious freedom as a goal of U.S. foreign policy.
The nine-member commission is an advisory group to the U.S. executive branch and the U.S. Congress, but has no legislative power. Its commissioners, selected by the U.S. president and congressional leaders, include representatives of the Baha'i, Christian, Jewish, and Muslim faiths.
But despite its credentials and the limitations on its power, the commission's interest in religious freedom is not appreciated in India.
"The CBCI does not believe that the present situation [in India] warrants an international hearing," Donald d'Souza, CBCI's deputy secretary general, told ENI. "The hearing amounts to interference in [our] internal affairs."
In recent years, Indian church leaders have frequently expressed concern about violence against Indian Christians by Hindu fundamentalists. In a letter inviting individuals to the hearing in Washington, the USCIRF pointed out that the increase in attacks on Christian targets coincided with the rise to power in 1998 of the pro-Hindu BJP (Bharatiya Janata Party). Since then there has been a marked increase in violence against minority groups, especially Christians, with converts intimidated, churches and schools burnt, attacks on nuns, and murders committed against priests and missionaries.
Father Dominic Emmanuel, CBCI's public affairs director, told ENI: "We have not refused information on the anti-Christian violence to anyone who has approached us. But, they [USCIRF] have not even informed or contacted the church on the hearing.
"This is a democratic country, and we believe this problem could be solved within the country, even if it is with difficulty and delay."
When asked about the participation in the U.S. hearing of John Dayal, a leading Catholic activist coordinating an ecumenical campaign to halt the violence, Emmanuel said Dayal was "not representing the churches, but [is present] only as an individual."
Swami Agnivesh of Delhi, a prominent Hindu ascetic who has defended the rights of Christians, was the first Indian to reject publicly USCIRF's invitation to testify. His refusal was widely publicized in India. "The attempt on the part of the U.S. to police freedom in other countries … amounts to violation of the sovereignty of other nations. Citizens of other nations cannot aid and abet this process without compromising their national pride and patriotism," Agnivesh said last month.
Speaking to ENI last week, he congratulated India's Christian leaders for "their wisdom born out of their love for the country" in opposing the U.S. hearing on religious freedom in India.
Another person who declined the USCIRF's invitation to testify is a well-known Australian woman, Gladys Staines, now of Baripada in eastern Orissa state. Staines, widow of a missionary who was murdered with their two sons in India in January 1999 by Hindu fundamentalists, is now continuing her late husband's work running a leprosy center in Baripada. Contacted by ENI, Gladys Staines said simply that she did not "want to attend" the hearing, but she declined to give reasons.
In his testimony before the commission in Washington, Dayal, who is secretary of the All India Catholic Union and the All Indian Christian Council, pointed out that in India the hearing was seen as "tantamount to interference in India's internal affairs."
Declaring that he understood the strong nationalist sentiments and rejecting any suggestions that international sanctions should be imposed on India over religious persecution, Dayal said however that he supported proposals for the "implementation of constitutional guarantees" in India and moves to ensure that "the rule of law" was enforced.
Dayal said he agreed to participate in the hearings in Washington largely "to reach out to the powerful and vibrant Indian community in the United States for their support. They, more than anyone else, have in their power to influence political processes, government and policy - not in Washington but back home in India—to ensure that true freedom of faith continues to be nurtured."
Dayal said they could apply pressure on the Indian government, pressing home the importance "for the government to ensure that minorities not only be safe, but feel secure" under the rule of law.
Though the hearings raised passions in India, they received little public attention in the U.S. But the chairman of the commission, Elliott Abrams, said that the issue of religious freedom in India and also in Pakistan, where many Christians claim they face severe discrimination, concerned the committee, particularly as earlier this month the U.S. State Department had issued its annual report on international religious freedom. The report concluded that the governments of both India and Pakistan had condoned or even engaged in "grave violations of religious freedom."
Abrams said that by holding a hearing on the two countries the same day, the commission was not trying to "equate the situations in India and Pakistan, or to compare them to each other or to any other country. The situations in India and Pakistan are entirely distinct and each is extremely complex."
Abrams added that President Bill Clinton's visit to India earlier this year and the visit of India's Prime Minister, Atal Behari Vajpayee, to the U.S. this month provided an opportunity to "consider how the protection of religious freedom should factor into the development and implementation of U.S. policy."
The one-day hearing was not sufficient to "do justice to the complexity of the issues involved," Abrams said. The commission would continue to study the issue and planned to visit India and Pakistan "to see the situation first hand."
Pakistani attorney M.L. Shahani, who spoke at the hearing and has often represented individuals from minority, non-Muslim faiths in the courts, called for international sanctions against Pakistan for its ill treatment of its non-Muslim citizens.
"The constitution of the Islamic Republic of Pakistan is loaded in favor of the Islamic faith, which in practice makes non-Muslim citizens of the country unequal citizens," Shahani told the commission.
Quoting constitutional provisions and cases in which non-Muslims had been threatened with the death penalty for blasphemy against Islam, which is a major crime under Pakistani law, Shahani said that Pakistan's law and its practice violated the Universal Declaration of Human Rights. Governments such as that in Pakistan "should be taken to task, and sanctions should be imposed in the same manner as in the case of South Africa [in the apartheid era]. In the case of South Africa, it was colored apartheid, while, in the case of South Asian countries, it is religious apartheid," the lawyer said.
In Pakistan a prominent Catholic priest told ENI his church had cooperated with the USCIRF hearing. The priest, who asked ENI not to publish his name because of possible political repercussions, said that the hearing could "help to better the situation of minorities when there is international check, pressure and questions posed."
"Religious minorities have been looked down upon, discriminated, reduced to second-class citizens and persecuted politically, religiously, socially and economically. The minorities feel aliens in their own homeland," the priest said. "Although Christians are allowed to practice their religion 'freely', this is limited only to their homes and church compounds," said the priest.
He told ENI that married Christian women were abducted and forced to declare that they had embraced Islam. The declaration rendered Christian marriages "null and void" under Islamic law.
He said that while Christians were openly encouraged to convert to Islam, Muslims who converted to Christianity fell victim to the wrath of Islamic fundamentalists who attacked Christians at the slightest provocation. In 1997 in Punjab province more than 20,000 Christians were forced out of their homes and more a dozen churches torched after Muslims alleged that a Christian had desecrated the Koran. However, the priest said, not a single person had been convicted for the numerous attacks on Christians.
Urging the international community "to prevail upon" Pakistan's government to ensure that the rights of religious minorities were protected, the Catholic priest stressed that Pakistani Christians would remain faithful to their religion and to "their beloved homeland."
Commenting on the U.S. hearing, Colonel S. K. Tresseler, Pakistan's minister for minority affairs, said that reports of human rights violations against religious minorities were baseless and causing damage to Pakistan's reputation. He has also reportedly threatened government action against Pakistanis who gave evidence at the hearing.
Related Elsewhere
Visit the USCIRF site to read more about the hearings.
Other media coverage of Christians in India and Pakistan includes:
Govt. miffed at NRI ad on communal violence— Times of India (Sept. 22, 2000)

Debating religious freedom in India & Pakistan—Dawn (Sept. 21, 2000)

Clinton was asked to take up Christian bashing with PM—The Times of India (Sept. 21, 2000)

Religious freedom in Pakistan, India examined—Dawn (Sept. 20, 2000)

U.S. commission to examine religious freedom in Pakistan, India on Monday—The Business Recorder (Sept. 18, 2000)

India rebuts U.S. panel's 'intrusive advice'—The Times of India (Aug. 5, 2000)
Previous Christianity Today articles about Pakistan include:
Pakistan's Christians Demand End to 'Religious Apartheid' at Polls | Election system allows religious minorities to vote only for candidates of their own faith. (Sept. 19, 2000)

Two Pakistani Christians Sentenced to 35 Years in Prison | Musharraf retracts new blasphemy law policy in wake of protests. (May 23, 2000)

Churches Welcome Pakistan Promise to Ease Restrictions on Minority Faiths | October coup turns out to be beneficial to Christians as blasphemy laws are overhauled. (May 4, 2000)

Pakistan's Christians 'Not Shocked' by Life Sentence for Former PM | Life has improved, persecution has eased under new leader, say church leaders. (Jan. 15, 2000)

Pakistan's Despised Christians | Despite a Catholic bishop's protest suicide in 1998, Christians hold little hope for repeal of blasphemy law. (April 26, 1999)

Muslims Destroy Christian Village | Rumors of a damaged copy of the Qur'an incite riot. (April 7, 1997)
Earlier Christianity Today articles about religious tensions in India include:
Plans to Resolve India's Interfaith Tensions Face Delays and Accusations | Did India's National Commission for Minorities plan a meeting to discredit Christians? (July 20, 2000)

India's First Dalit Archbishop Holds 'No Grudge' Over Predecessor's Attack | Once "untouchable" Dalits make up bulk of country's Christians. (May 11, 2000)

India's Christians Resist Move to Register Conversions | State's legislation unconstitutional, says leaders. (May 2, 2000)

Build Bridges, but Fight Fanaticism, India's Churches Told | National Council of churches in India will work against strengthening of caste system. (Mar. 9, 2000)
Copyright © 2000 Christianity Today. Click for reprint information.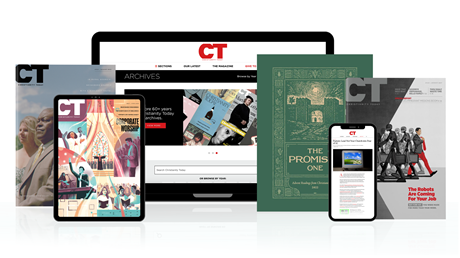 Subscribe to Christianity Today and get access to this article plus 65+ years of archives.
Home delivery of CT magazine
Complete access to articles on ChristianityToday.com
Over 120 years of magazine archives plus full access to all of CT's online archives
Subscribe Now
U.S. Religious Freedom Commission Criticized
U.S. Religious Freedom Commission Criticized