India's church leaders have firmly rejected a proposal by a prominent Hindu fundamentalist group for Christian churches here to be reorganized in a system similar to that adopted in communist China where official churches are regulated by the government and acknowledge no foreign authorities.
One of the main goals of the proposed model is the expulsion of all foreign Christian missionaries, whose presence is a bone of contention between Christian churches and many Hindu leaders.
"Why should foreign churches who do not believe in according equal respect to all faiths be allowed to function from India?" said K. S. Sudarshan, the leader of the RSS (Rashtriya Swayamsevak Sangh—National Volunteer Corps) on October 7.
Addressing an annual gathering of RSS members at the organization's headquarters at Nagpur in central India, Sudarshan urged Indian Christians to emulate Chinese Christians who have indigenous churches such as the Chinese Catholic Patriotic Association and the China Christian Council, a post-denominational Protestant organization. These religious organizations promote Chinese values and do not recognize foreign religious authorities such as the Vatican. Buddhist and Islamic organizations in China operate under a similar system.
The RSS chief repeated remarks he made on October 2 in New Delhi which had been reported in the national media and provoked Christian anger. Sudarshan had told a convention of RSS volunteers: "It is advisable to have a totally Indian church like the one in China, and all foreign churches and missionaries should be asked by the government to pack up and go."
But the RSS suggestion that India adopt the Chinese model, which includes regulation of churches and other faith organizations by the government, got a poor reception from Christians here. India's main ecumenical organization, the National Council of Churches in India (NCCI), said in a statement on October 9 that the Chinese model "does not go with the secular democracy of our country. For that matter, even Hinduism is not a sarkari [government-controlled] religion. Then, how come the call for Indian churches to be sarkari?"
The NCCI represents 29 Protestant and Orthodox churches in India.
The RSS proposal and the NCCI response are merely the latest chapter in ongoing arguments about the role of Christianity in this mainly Hindu nation. Since the BJP (Bharatiya Janata Party), which promotes Hinduism, came to power at the federal level in 1998, fundamentalist Hindus have waged campaigns, sometimes violent, against churches and their members, and in particular against Christian missionaries. The BJP, the main party in the coalition government, is closely linked to the RSS.
In an interview with ENI this week, a Roman Catholic archbishop commented that the RSS proposal was much more than a piece of "advice." The suggestion, said Archbishop Vincent Concessao of Agra, "shows their true colors."
Archbishop Concessao, who is a vice president of the Catholic Bishops' Conference of India (CBCI), added: "If they [the BJP] had a clear majority [in India's federal parliament], they would certainly do such things to isolate Indian Christians [from] the outside world."
Dominic Emmanuel, public relations director of the CBCI, said that RSS attempts to portray Christians, especially the Roman Catholic Church, as "foreign" were "unfounded and contrary to the facts." India's 143 Catholic dioceses were led by Indian bishops. The few foreign missionaries in India had permission to be there from the federal government, Emmanuel said.
Bishop Vinod Peter, who is president of the NCCI, told ENI: "The very idea of religion confined and controlled by governments is a contradiction." Bishop Peter, who is also moderator of the Church of North India, said that it was, "impossible to alienate the church of its universal nature, nor can the government control any true religion. Religion deals with matters of faith and spirit which are beyond the regulatory wings of the government."
K. Rajaratnam, a prominent Lutheran church leader, also rejected the RSS proposal. "We have some mad people in this country making mad statements," said Rajaratnam, who is president of the (Lutheran) Gurukul Theological College in Chennai, southern India. The RSS "advice" was "an insult to Christians" he said.
After the RSS leader first made his suggestion on October 2, the Catholic Sabha (council) of Bombay replied that "having peacefully existed in India for two millennia, Indian Christians do not need direction or advocacy from the RSS."
"The choice of faith and spiritual leadership is an individual's basic right and will remain so as long as India is a democracy," the council added.
Despite negative reactions, the RSS has refused to drop its suggestion. M. G. Vaidya, RSS spokesperson, told ENI on October 6 that his organization supported the idea of "an independent church free from all foreign influence and money. We will have no problem with a church free of foreign control."
More than 80 percent of India's one billion people are Hindus, while Christians make up only 2.3 percent of the population. However, four of the seven north east Indian states, with high percentages of tribal residents, have Christian majorities.
Related Elsewhere
Other media coverage of this issue includes:
RSS call politically motivated, say Christian leaders—The Economic Times (Oct. 11, 2000)

Christians resent RSS chief's remarks—The Times of India (Oct. 10, 2000)

Indian Christians asked to have Swadeshi churches—The Business Recorder (Oct. 9, 2000)

Set up Swadeshi church, RSS chief tells Christians—The Economic Times (Oct. 8, 2000)
Previous Christianity Today articles about religious tensions in India include:
Study of Indian Clergy Exposes Inequalities in Church Leadership | Many low-caste and rural Indians are Christians, but few have positions of influence within the church. (Oct. 9, 2000)

U.S. Religious Freedom Commission Criticized | Indian churches reject U.S. inquiry, but Pakistani Christians welcome it. (Oct. 3, 2000)

Plans to Resolve India's Interfaith Tensions Face Delays and Accusations | Did India's National Commission for Minorities plan a meeting to discredit Christians? (July 20, 2000)

India's First Dalit Archbishop Holds 'No Grudge' Over Predecessor's Attack | Once "untouchable" Dalits make up bulk of country's Christians. (May 11, 2000)

India's Christians Resist Move to Register Conversions | State's legislation unconstitutional, says leaders. (May 2, 2000)

Build Bridges, but Fight Fanaticism, India's Churches Told | National Council of churches in India will work against strengthening of caste system. (Mar. 9, 2000)
Copyright © 2000 Christianity Today. Click for reprint information.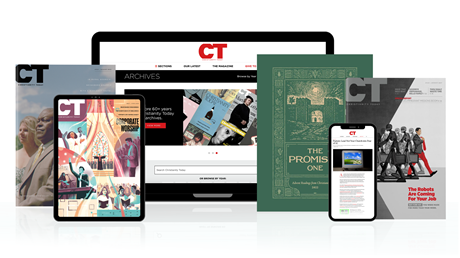 Subscribe to Christianity Today and get access to this article plus 65+ years of archives.
Home delivery of CT magazine
Complete access to articles on ChristianityToday.com
Over 120 years of magazine archives plus full access to all of CT's online archives
Subscribe Now
A Chinese Model for India's Churches?
A Chinese Model for India's Churches?