The following is an edited transcript of a Christianity Today telephone interview with Gary Ezzo, president of Growing Families International. CT's deputy managing editor Timothy Morgan conducted the interview in August, 2000.
CT: What is your explanation for why Living Hope Evangelical Fellowship ex-communicated you?
Gary Ezzo: Well, first there has to be some context put to this, and some explanation obviously. The exercise that Living Hope went through six weeks after our departure and our withdrawal of membership was not church discipline or biblical ex-communication by any New Testament standard.
You simply cannot ex-communicate people who do not belong to the church and I know that you are aware of that, unless a process began before the departure. We were very much aware of that. But in our particular case, there was not only no process, there were no allegations of wrongdoing or misconduct ever brought to us until after we pursued the elders on issues of concern.
We went to them. We shared our concerns. We felt that, if we could not support our spiritual leadership in good conscience, then the best thing for us to do was to leave and to leave quietly. That's what we did. So, after our departure and only after our departure, did they bring these charges. Now the charges, most people are not aware of what the charges are. For some reason, the elders of Living Hope ... do not want to release [them]. I'll tell you what the charges are. The charges were five specific charges, all of them dealt specifically with this one thing. That some time in the past that I falsely accused the pastor and his wife and a third party of gossip.
Now we don't know when this happened. The elders refused to substantiate this. There is no dialogue, we were just given an ultimatum with those charges that you will return to Living Hope in one week or else we will go through the process of discipline. So six weeks after we were sitting in another church, they went through what they called disfellowshiping. Now I'm not sure if they're thinking the same thing as ex-communication, which is the common term, or church discipline.
But the fact that so many people have already looked at this, and then given the timing of the elder's letter, given the fact that neither the pastor or his wife ever came to us according to Matthew 18, given the fact that not a single allegation of wrongdoing ever came forward until after we brought our concerns to the elders, the idea of the threat of church discipline against a national leader and the motive behind it, is at least somewhat suspect.
I can't tell you why they did it, obviously, that would be looking into their heart. I can only give you the facts that you may not be aware of. Basically, even now the time that the elder's letter first was received to the present, the elders of Living Hope have refused to substantiate again their charges, produce any witnesses, justify their claims to anyone with any reasonable explanation. And with their unwillingness to engage in conversation to us or our pastor or any outside mediator, there's really nothing we can do.
So that we can be above reproach, we obviously called in other people to evaluate this. We did this at Grace Church. We called in Ken Sande's ministry; we were willing to let him evaluate us ... Grace was not willing to be evaluated. In this case, we brought two committees in and said look, this thing needs to be evaluated because of our public position, our integrity.
The church we're in does not recognize what Living Hope has done. It's just an unfortunate situation but we have to live with it. We have to put down all of these rumors and obviously we have to answer articles and interviews on this topic. That's really the story. There were no accusations, there was not church discipline process. ... We did not know before we left about any action being taken. It was just, an unfortunate situation. Their response to our concerns, I believe it was slightly overreact[ing]. The other side of it is that if you have the Ezzos in your church and if the Ezzos are leaving for some reason that does create a dilemma. If you have any sense of insecurity, if the church may not be as well established, and we appreciate that also. But that does not justify the action that was taken.
CT: I'm presuming that there were some issues that motivated you to leave the church.
EZZO: You know, we presented those issues to the leadership. I can only tell you they were serious enough that would push us out of the church. You've got to remember, and I think you're very much aware of the fact, we paid a very dear price for supporting the startup of this church with the attacks that were on our ministry. We would not be walking away from something like this with such a tremendous investment if the issue was not serious. And we did the same thing at Grace. When we left Grace church, we left because of concerns. We kept those things private, that's where they belong. That is where our ethic is. There's no need of hanging out the dirty laundry. You know what, we pray for these elders every single day.
CT: In reference to Grace Community Church, do you believe the issues between you and Grace Community Church have been satisfactorily resolved?
EZZO: We do not feel they've been satisfactorily resolved at all. As we stated in our November 11, 1997, response to the Grace statement, that's where we clearly shared that not only were we sinned against, but we believe it was just blatant deception being portrayed.
Our concerns were again repeated in our April 16, 1998, public statement and that was after Ken Sande of Peacemaker Ministries came in to evaluate both of us. We welcomed, again, outside evaluations, credible people to see if there's any sinful liability on our part. Unfortunately Grace, the elders, John [MacArthur] were not as eager to let someone evaluate their words or their conduct. So we will either wait for a public apology, which we don't expect to be getting soon, or we'll wait for heaven.
But the difference between Grace church [and GFI] is we don't have compulsion, and we don't have a need to attack to John [MacArthur]. John's got a great ministry; he's blessed so many people. He is a tremendous expositor. But like all of us, there are strengths, there are weaknesses. The weakness that John and his view the Christian community ... that particular weakness is something that he and the Lord will work out.
It's not for me to be pointing it out to the world. We believe the same thing. If we could just come to the place of realizing you have a wonderful ministry, you've got to get on with life. And you can't keep trying to bring up old stuff. So, is the issue settled? Actually, no, we still believe that they owe us a public apology but at the same time we're not going to be sitting around waiting, we're going to move on with ministry.
CT: In reference to [former GFI employee] Robert Garcia, how much money did Robert Garcia misappropriate from GFI and what was your response?
EZZO: First of all, this is a private matter. I will say that if there was any offense the offense is against my wife and I ... I could tell you that ... forgiveness was sought, forgiveness was granted, the process of restitution started. Since this may have been an issue that plays now nearly a year ago when it was discovered, it really doesn't matter and it's not of any public interest because this isn't against the 501-C-3 [a not-for-profit corporation]. So the amounts of money and what's happened is really a private affair. It's really a family issue that is being settled and is one again that's been forgiven. We're moving on. Although the consequences of such an act will be felt, obviously, because of the restitution process. It has not had an effect on public ministry and therefore it's not something for public dialogue. It is juicy, and it does have tabloid characteristics, but unfortunately it's just a private issue that's taken care of and it's in the process of being taken care of. That's it.
CT: How would you characterize the relationship between you and your immediate family?
EZZO: Let me give you an answer. How would I characterize our relationship? Cordial, loving, caring, friendly, not without some challenges, not filled with conflict. They always remember Father's Day, Mother's Day. They're not afraid to speak their mind nor are they afraid to run with their convictions. But neither are they afraid to say in the heat of a disagreement - I love you. We're all Republicans, the politics is not an issue. We're all Christians, so religion is not the issue. We see our kids nearly every single week, we have a great time with our grandchildren. ... I know that some have tried to demonize our relationship, anything to undermine our public character but the fact is we love our children; our children love us.
CT: What are your intentions with regard to your future leadership role at GFI?
EZZO: Well, I read this question, it is obviously, maybe to you, but to us it is vague. I have no plans to make any changes. We have no reason to change anything.
CT: Do you feel you have unresolved personal issues that affect your public leadership and if so, what are you doing to resolve them?
EZZO: Let me say quite frankly, [we] have no unresolved conflicts in our lives, relational conflicts that impair our public leadership. We're sorry that there are some former employees and ministry associates, and not very many have but those who feel they did not get what they wanted from GFI, or maybe they didn't get a promotion or a position that they wanted. A few of them have become opponents of the ministry. There are those who have offended us ... I mean what we talked earlier about the Grace church issue. But we, in our own hearts, have forgiven all of them.
But really, until then, till either group comes, we really do attempt to fulfill Romans 14:19 to the glory of God. ... We do not find pleasure and joy in the pulling down through the rumors of other ministries. We don't post them on our Web site. So when we deal with these relationships, whenever you have a significant ministry and the size that it is internationally, there's always going to be a few people who obviously fall away along the sides. ... I know a list of people, in fact a number of people who feel the same way. I do not necessarily believe that John MacArthur or a Chuck Swindoll or a James Dobson is totally responsible for all the people who do not like them. And sometimes sin issues, sometimes an issue on the part of the leader, sometimes it's just misunderstanding and people are hurt. That's all you can do. So no, I don't think there's anything standing in our way, my way.
CT: What is the status of any outside research to support the medical claims you've made in Preparation for Parenting and Baby Wise?
EZZO: I will tell you, there's now over 1 million Baby Wise Prep books that are out there. We feel with the American Academy of Pediatrics' condemnation of the family bed, which is part of the core of the attachment parenting, the very thing that we have been arguing against since 1986 has caused a lot of people to re-evaluate what we are saying. Obviously, the academy now is starting to agree with us with a number of issues. We're feeling pretty good about it.
I will just generally answer regarding our medical advisory board, you know, we can put together a board. The way we work with a board, we don't have weekly conversations. I have Dr. Robert Bucknam, obviously, if you want to get a pediatrician's word on the medical wisdom of Baby Wise or Prep, his name is on the book. He is a leading pediatrician in the Denver area. But the way we work is we will send, any time there's a revision, a major editorial revision, we send it to our advisory board.
Now there hasn't been one for two or three years, we haven't really needed one for I think two or three years, I think '98 as the last one. But we send it out to the advisory board, say we're going to re-do this book. If you come across anything, words, any medical issues, anything, anything that's changed in the medical community, please communicate that to us that we can incorporate the appropriate changes in the next edition. That's how we work it, that's what we do.
CT: Have you ever provided a list of the advisory board?
EZZO: Well, we would never do that. I mean the last time an attachment parenting LaLeche group got a hold of one of our advisory board members, and she's a professor of pediatrics at a university on the East coast, ... she got over 40 different faxes, which were each multiple pages. They got so bothered by these people.
Some of the nonsense that is presented that we would not give out our medical advisory board name or number to anyone. And if you have medical question, contact us, we'll send it to Bob Bucknam. You can call Bob Bucknam, I mean again, it's sort of like, why would we need a medical advisory board when we already have one of the leading pediatricians. And given the fact, and if all of these horror stories that have always been reported over all of the
years, all of these cases, which we have yet to find documented cases of the cause and effect between the two. If all of these things are true, you wouldn't have that million, well now nearly 2 million-plus happy parents.
And so, we're at a point, I think where the Christian worldview is beginning to have an influence on the non-Christian society. And to be very frank, I think that's scaring a lot of people. It's scaring a lot of people that Christians could actually have worldview that could be applied to early parenting. And there are a lot of happy people.
So I mean all of those continual repetition of just misquotes and purposeful misquotes, it gets a little weary because we have, I think, a less of a tendency to want to supply those who ask for names and address and phone numbers.
Related Elsewhere
Be sure to read today's related Ezzo feature, "Is Gary Ezzo Unprepared to Teach Parenting?"
Visit Ezzo's Growing Families International homepage.
Read John MacArthur's comments on Gary Ezzo's break with Living Hope Evangelical Fellowship.
World Magazine ran a story on Ezzo's techniques, as well as a response from Roy Maynard to the attack Ezzo launched against him.
The BBC ran "Pro-spanking evangelists hit the UK" when Ezzo visited last October.
Here's a list comparing GFI and the AAP recommendations.
Read Annie Chickering's "Warning: Babywise Isn't."
Read Books &Culture's "No One Knows Best."
View reprints of past CT articles "The Brave New Baby," "and "Growing Criticism."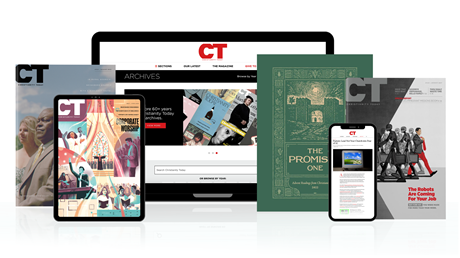 Annual & Monthly subscriptions available.
Print & Digital Issues of CT magazine
Complete access to every article on ChristianityToday.com
Unlimited access to 65+ years of CT's online archives
Member-only special issues
Subscribe
On the Record: Gary Ezzo
On the Record: Gary Ezzo