Cardinal Joseph Ratzinger, head of the Vatican's Congregation for the Doctrine of the Faith, frustrated Christians outside the Roman Catholic Church last week by ordering bishops not to refer to Protestant denominations as "sister churches." And in a major document from his Congregation for the Doctrine of the Faith, he said that Protestant churches "suffer from defects" and "are not Churches in the proper sense." Now that Protestants are agitated, Ratzinger is upsetting Jews as well. The German magazine Focus quotes a new book by Ratzinger as saying, "Catholics do not want to impose Christ on the Jews, but they are waiting for the moment when Israel also says yes to Christ." British Reform Rabbi Jonathan Romain tells The Jerusalem Post it's "an astonishing remark that appears to contradict Vatican policy of the last 35 years." Similarly, British Chief Rabbi Jonathan Sacks tells the paper, "You can't make these monopolistic claims anymore and still have credibility with cultures that really believe their own faith has its own integrity." But Rabbi Sacks, isn't the belief that Israel should say yes to Christ part of the Roman Catholic Church's (and most of the rest of orthodox Christianity's) own integrity? It'll be interesting to read the inevitable articles comparing this statement with the one released over the weekend by the Institute for Christian and Jewish Studies, which implies Christian churches no longer believe that Judaism is "a religion that prepared the way for, and is completed in, Christianity."
So the Boy Scouts of America (BSA) narrowly won its Supreme Court case over whether it can exclude homosexual scout leaders. As a result, some companies and organizations are pulling their funding from the organization. Among those in the exodus, according to The New York Times, are "dozens of United Ways from Massachusetts to San Francisco [that] have cut off money amounting to millions of dollars each year." Now United Ways across the country are getting angry phone calls from donors saying they won't give to the organization any more because it isn't supporting the Scouts. (Even United Ways that are still supporting BSA are getting the angry phone calls.) For Robert M. Gates, president of the National Eagle Scout Association, it's much ado about nothing. "All across the country, Scouting is prospering and growing," Gates says in a letter quoted by the conservative Web site WorldNetDaily. "Virtually every council has had healthy growth in both youth members and adult volunteers. Every council is enjoying improved financial support, to the extent that many are making capital improvements in their camps and council service centers for the first time in years. Many councils are now able to begin building endowments or add to existing ones that will enhance programs for years to come."
"Spears pulls no punches when it comes to talking about her Baptist faith. She speaks of praying nightly and her love for God," says a report on Spears by the Center for Parent-Youth Understanding. "But in true postmodern fashion, her verbalized commitment doesn't mesh with the sexual messages of her visual image. Granted, none of [her music's] lyrical content is overtly sexual—one reason Spears is a darling of so many parents. But Spears does put forth a subtle and seductive image of female adolescent sexuality." The report is quoted in Terry Mattingly's column this week. He also asks Southwestern Baptist Theological Seminary's Richard Ross—the man behind True Love Waits—what he thinks of the sprightly lass. "Parents shouldn't trust a used car salesman. … just because he says he's religious and he sits in a pew near them at church. Right? I think the same thing is true with the media," Ross answers. "Parents may be pleased when artists who are idolized by their children seem to hold values that are higher than the cesspool of today's culture. But that doesn't mean they should let those artists shape their children's values and lives."
According to George Barna's latest survey, 75 percent of Americans agree with the statement, "The Bible teaches that God helps those who help themselves." Once again, Barna is upset. "The fact that most adults, born again or not, believe the Bible teaches that God helps those who help themselves exposes our theological cornerstone—that we are the center of all things, that it is up to us to determine our destiny, and that God is merely our assistant, not our foundation," But that's not all. Barna's group questioned people on 14 different items. "Only 3 of the 1002 adults interviewed—less than three-tenths of one percent—had both a firm and biblically-consistent opinion for all 14 of the items," Barna reports. Man, next we'll find out that "Money is the root of all evil" isn't really what the Bible says, either. (Click here for our August 9, 1999, article on recovering biblical literacy.)
Related Elsewhere
See our past Weblog updates:
September 11
September 7 | 6 | 5
September 1 | August 31 | 30 | 29
August 25 | 24 | 23 | 22 | 21
August 18 | 17 | 16 | 15 | 14
August 11 | 10 | 9
July 27 | 25 | 24
July 21 | 19 | 18 | 17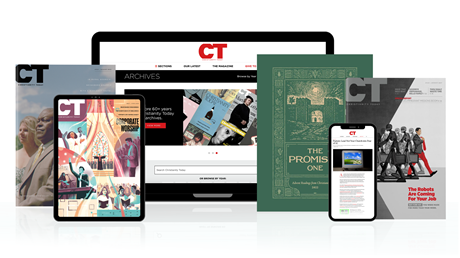 Subscribe to Christianity Today and get access to this article plus 65+ years of archives.
Home delivery of CT magazine
Complete access to articles on ChristianityToday.com
Over 120 years of magazine archives plus full access to all of CT's online archives
Subscribe Now
Is Anybody Not Upset with Cardinal Ratzinger? (Except You John Paul II?)
Is Anybody Not Upset with Cardinal Ratzinger? ...