Homosexuals have been able to register as couples for years now, but the Dutch Parliament yesterday approved a bill by a vote of 107-33 giving gay marriages the same legal status as heterosexual marriages. Gay couples will now be allowed to marry in town halls, adopt children, and divorce through the courts. (See also the Associated Press' coverage.)
Nine months after the city of Al-Koshh (also spelled El-Kosheh and several other variants) erupted in deadly riots that left 23 people (almost all Christians) dead. Twenty people were sentenced to various terms of hard labor, from one year to 10; 76 other defendants are being or have been tried for involvement in the riots. "The court, as well as the Egyptian people, Muslims and Christians, regret the events that occurred. Let those be exceptional events, that are never to be repeated," Judge Safa al Noufous Mohamed al Khatib said as he read out the verdicts.
A new bungee-jump ride in downtown Beijing has irritated members of a 350-year-old Catholic church—right across the street from the ride, less than 150 feet away. The ride can be seen through the windows of the church, and parishioners are concerned that happy screams will interrupt church services. Other neighbors disagree. "I don't see any clash between the bungee jumping and church,'' college student Zhao Haixiang tells the Associated Press. "Religion ought to be part of life. We shouldn't make it too serious." Plus, life could be a lot worse for the church than a neighboring bungee ride.
"I am anxious to get back to my diocese," says Augustin Misago, who was cleared of accusations that he ordered the killings of three Tutsi priests and schoolchildren. The Vatican strongly defended Misago during his trial, and the bishop has repeatedly said he wanted to personally thank the pope for his support. No details of the meeting were released to the press. (See also the BBC's coverage of the meeting.)
The Russian leader was uncomfortable when King began questioning him about religious beliefs. "I would prefer not to develop on that subject in detail," he said. "I think such things are sacred for everybody. Everybody's belief is not to be shown off, it's inside a man's heart." After Putin told a brief story about why he wears a cross—it was a gift from his mother—King asked again, "Do you believe there is a higher power?" Again, Putin avoided answering the question directly—though his answer is revealing: "I believe in human beings. I believe in his good intentions. I believe in the fact that all of us have come to this would to do good. And if we do so, and if we do so together, then success is awaiting for us. And both with regards to our relations as people to people, or interstate relations. And most important, we will achieve the ultimate goal, comfort in our own heart." (See our past coverage of Putin here.)
"Angels have been gracing pop culture fairly ostentatiously these last several years," writes Times Arts & Leisure correspondent Jamie Malanowski. "But lately, and almost unnoticed in the seraphic swell, the Devil has been getting his due." There have been recent films and television shows about him—all flops—but he still has five more films about him coming out this fall. The too-cute story tries to point out themes in past Satan-themed films, such as that Hollywood can't agree on what powers he has (neither can the Christian church, at times), he's encumbered by a lot of rules, he doesn't pay well, and he's rarely all that tempting.
Related Elsewhere
See our past Weblog updates:
September 12 | 11
September 7 | 6 | 5
September 1 | August 31 | 30 | 29
August 25 | 24 | 23 | 22 | 21
August 18 | 17 | 16 | 15 | 14
August 11 | 10 | 9
July 27 | 25 | 24
July 21 | 19 | 18 | 17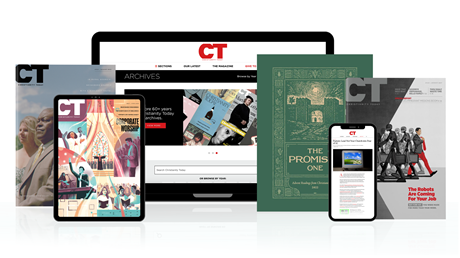 Subscribe to Christianity Today and get access to this article plus 65+ years of archives.
Home delivery of CT magazine
Complete access to articles on ChristianityToday.com
Over 120 years of magazine archives plus full access to all of CT's online archives
Subscribe Now
Dutch Parliament Says Gay Marriages Are Equal to Straight Ones
Dutch Parliament Says Gay Marriages Are Equal to Straight Ones