As reports have surfaced this week that at least 35 Weigh Down Workshop employees were coerced to leave their jobs after they refused to attend a church formed by Weigh Down founder Gwen Shamblin, Shamblin has stepped-up defense for her dieting program and theology.
Shamblin sent an e-mail to Weigh Down Workshop participants on Tuesday, September 12 in an attempt to clarify her stance on the Trinity and to urge others to stand with her.
"In light of the recent attack on my ministry it is time for me to stand up," Shamblin writes. "And it is time for people in Weigh Down to stand up and defend God's truth and his servants against people jumping to the wrong conclusions simply because I have expressed my concerns against some of the confusing teachings of the Trinity."
She goes on to outline her belief that understanding Christ's position in the Trinity is essential to implementation of the lifestyle advocated by Weigh Down. Quoting Philippians 2:5-6, Shamblin writes "We have been asked to pick up our cross daily and follow THIS Jesus. ... My experience has been that some of the Trinity teachings confuse some people on how we are supposed to live like Jesus if Jesus and God are the same being.
"The reason all of this is important is that if you do not understand that God is the clear authority and that Jesus was under God's authority, then you will not have a clear picture of what it means to be Christ like. Jesus suffered, obeyed, submitted, denied his will, and made it his food to do the will of the Father."
Later Shamblin writes, "I believe that Jesus and God are two separate beings." She also says that she does not believe that Jesus and God are equal in power and glory, but that "the head of Christ is God." The e-mail also tackles typical Sunday School illustrations about the Trinity, "This picture of God as one being but transforming himself into three forms, like water, ice, and steam, is confusing at best."
Shamblin told Baptist Press she would not comment about former employees because her company is a privately-held corporation, but questions regarding the circumstances under which at least 35 Weigh Down employees left the company remain.
Anita Pillow, a member of Park Avenue Baptist Church and a single mother, told Baptist Press she was fired because she would not attend Remnant Fellowship, a church formed by Shamblin and her husband in 1999.
"I was told that because the direction the company was moving towards, my position was being replaced by someone who attended her Remnant Fellowship church," said Pillow, a former outreach counselor at Weigh Down. "She thanked me for my hard work but said my services were no longer needed. Because I was not a member of the Remnant Fellowship, I was being replaced.
"In the middle of being fired, Gwen sent me a letter saying that the Human Resources people made a mistake and I wasn't supposed to be fired, only allowed to resign," Pillow said. "She asked me to sign this letter saying that I resigned and was never fired. Well, I didn't sign it because it was not the truth. She called me personally and that's just what I told her. They told me that I wouldn't get any money if I didn't sign those papers."
Pillow also kept copies of all the letters, including her termination notice and sent them to a Nashville attorney. She is seeking severance pay and attorney's fees.
And Pillow may not be the only employee who was fired or forced to resign from Weigh Down Workshop because of the Remnant Fellowship issue. A former high-ranking executive at Weigh Down told Baptist Press that at least 35 employees were pressured into resigning from the ministry because they would not join Shamblin's church and two others were fired.
The executive, who asked not to be identified, said even he was pressured to be a part of Shamblin's church.
"On many occasions, Gwen had spoken to the employees during devotionals and strongly suggested that we all come and share in their worship service," the employee said. "The last week of my being there, it became more of a 'you need to be there and support what we are doing or don't take a paycheck from me.'"
As for Pillow's allegations, the former executive confirmed her story.
"It's true," the employee said. "I resigned because I didn't agree with the Remnant Fellowship doctrine," the employee said. "The fact was she was pushing this church on the staff and I didn't agree with the stance she had taken to pressure people to being a part of that church and not have a choice," the employee said. "That wasn't right. I couldn't condone the direction she was heading."
The employee's departure started a domino effect among other workers unhappy with the theological direction of Weigh Down. "This was not a resignation to hurt anyone. I had been very close to her family," the employee said. "We all would like to know why Ms. Shamblin won't change her ways. It would be my opinion that the issues to her are power and control. She wants to have it her way."
Pillow said that when other employees left or were fired, Weigh Down employees were told to have no contact with them. "We were told they were against Gwen and they were her enemies. They were being used of Satan," Pillow recounted.
While no lawsuits have been filed, several former employees told Baptist Press they have retained legal counsel. For people like Pillow, it's a matter of getting their severance pay and moving on with their lives.
"I'm still looking for work," she said. "It's been tough."
Pillow's pastor, Bob Orgeron, said he was very concerned about how she has been treated by the Weigh Down Workshop. "Anita is just a wonderful Christian lady. She is busy in outreach and helps respond to people who need counseling,"
Orgeron said the congregation at Park Avenue will continue to support Pillow. "Many of our people are trying to encourage her," he said, adding he was concerned about other churches offering Weigh Down classes without realizing the theological implications of Shamblin's beliefs.
With additional reporting by Todd Starnes of Baptist Press
Related Elsewhere
See our earlier article on Shamblin's theology, "Gwen in the Balance | Thomas Nelson cancels book contract with Weigh Down author over her controversial comments rejecting the Trinity" (Sept. 9, 2000).
Shamblin's statement of theology posted on her Web site once read, "Where I differ on the teaching in the Trinity that there is EQUALITY in power and glory of God, Jesus Christ and the Holy Spirit; rather, I believe it is a clear line of AUTHORITY." Shamblin's most recent statement reads, "Our feeling is that the word 'trinity' implies equality in leadership, or shared Lordship. ... We feel that we grieve Jesus when we do not watch our words and their meaning—especially a word not found in either the Old or New Testament, writings that span centuries of God's inspired word. If God wanted us to refer to himself, Jesus Christ and the Holy Spirit as the 'trinity' He would not have left this word completely out of the Bible."
Shamblin and Weigh Down have been profiled in Beliefnet, The Washington Post,The Abilene Reporter-News, The Holland Sentinel, U.S. News and World Report, Charisma magazine, World magazine (which profiled the diet this year and in 1997), ReligionToday, and Christianity Today sister publication Today's Christian Woman. For a brief overview from Shamblin's perspective, read an article she wrote at the Christian Broadcasting Network's site.
You can listen to a reading from Shamblin's Rise Above, read her biography, or chat about her diet plan at Ann Online.
View the official Weigh Down Diet site.
Christopher Hall's Christianity Today article "Adding Up the Trinity | What is stimulating the renewed interest in what many consider the most enigmatic Christian doctrine?" appeared in our April 28, 1997 print issue.
Preacher T.D. Jakes was also recently criticized for his view of the Trinity.
Britannica.com has an article on "Attempts to define the Trinity."
Previous Christianity Today stories about Shamblin and dieting include:
Gwen in the Balance | Thomas Nelson cancels book contract with Weigh Down author over her controversial comments rejecting the Trinity. (Sept. 9, 2000)
The Weigh & the Truth | Christian dieting programs—like Gwen Shamblin's Weigh Down Diet—help believers pray off the pounds. But what deeper messages are they sending about faith and fitness? (Aug. 25, 2000)
'Judge Us by Our Fruits' | The founder of Weigh Down responds to her critics. (Aug. 25, 2000)
Rx for Gluttony | Even Christian diet experts rarely talk about it anymore. But the early monks did, and for good reason. (Aug. 28, 2000)
Evangelicals Embrace Vegetarian Diet | Christians are flocking toward the Hallelujah Diet as a healthier way of life. (Sept. 6, 1999)
Was the Messiah a Vegetarian? | PETA tries to win Christians to a "nonviolent" diet. (Aug. 9, 1999)
Hungry for God | Why more and more Christians are fasting for revival. (Apr. 15, 1999)
How Healthy Is Fasting? | Physicians and clergy alike say fasting is as good for the body as it is for the soul. (Apr. 15, 1999)
The Fatted Faithful | Why the church may be harmful to your waistline. (Jan. 11, 1999)
Adventures in Fasting | I tried fasting, and instead of insights I got irritable. (March 2, 1998)
To Hell on a Cream Puff | Gluttony makes you soft and lovable. It's the cute sin. (Nov. 13, 1995, posted online Aug. 29, 2000)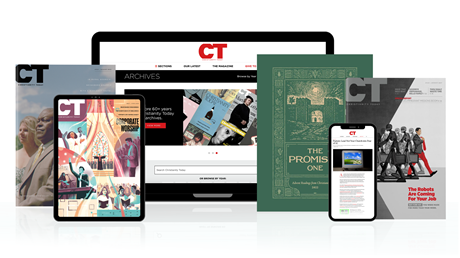 Subscribe to Christianity Today and get access to this article plus 65+ years of archives.
Home delivery of CT magazine
Complete access to articles on ChristianityToday.com
Over 120 years of magazine archives plus full access to all of CT's online archives
Subscribe Now
The Weigh Is Narrow
The Weigh Is Narrow