At least a dozen Christians lynched in Nigerian mob hysteria
Some stories Weblog takes note of are practically reruns. For example, if you've read one story about the ACLU suing over a posting of the Ten Commandments, you've read them all. But Weblog hasn't ever seen a story quite like this one before. Hundreds of members of the Brotherhood of the Cross and Star, a charismatic Christian sect that's apparently quite big in Nigeria, met for their annual convention in the western Nigerian town of Ilesa, Osun. During the convention, many went evangelizing door-to-door. Suddenly, one man came running out of his home, shouting that the evangelists had used black magic to make his genitals disappear. Apparently that claim, as outrageous as it sounds, really shook up the neighborhood. The community immediately turned into an angry mob, destroying the evangelists' vehicles and burning eight of the church members to death. Sadly, even though this story seems like a freak instance, the BBC reports that it's not uncommon: "The Osun state police commissioner Ganiu Dawodu, who dismissed claims of organ disappearance, told the BBC that the mob killings started two weeks ago and has swept though six main towns in the state including the university town of Ife and the state capital of Osogbo."
In midst of hostility to public religion, a resurgent interest
Robert L. Bartley, editor of The Wall Street Journal, used his weekly column this week to discuss the importance of religion in America's history. "Religious impulses, to recall the obvious, were implanted at the very founding of the American colonies," he writes. "From time to time these impulses have surged to lay a moral basis for later political developments." In his short amount of space, he recalls the Puritans, the Great Awakenings, the importance of religion in the abolitionist movement, and other important moments in America's religious history. The point of all of this, of course, is to note that "For a half-century now intellectual life and the courts have been profoundly hostile to religion in any public manifestation. This is a sorrow, for it represents the republic turning its back on its own heritage." But there is hope: "At the turn of the century, there seems to be a budding interest in religion both spiritual and temporal. … These signs of a new secular interest in religion are intriguing and must be healthy." He also refers to Christianity Today's article on the academic success of overtly Christian historians as one of these signs.
Can I get an amen? NO! Not yet!
Norway's Aftenposten newspaper reports that the Mona community church in Sandane, Sogn og Fjordane, had an 88-hour prayer service, operating nonstop from Maundy Thursday to Easter Sunday. The paper reports that they were trying to get in the Guiness Book of World Records. Because, you know, that's a good reason to pray for that long. Too bad all those monks in the early church, reported to have prayed and meditated for so long that birds nested on them, didn't have such a motivator.
More Stories
Jesus:
Bible:
Books:
Church life:
Homosexuality:
Pop culture:
Education:
Youth:
Columbine, two years later:
Catholicism:
Low-power radio:
Abortion law:
Ecumenism:
Peacemaking:
Other stories of interest:
Related Elsewhere
See our past Weblog updates:
April 19 | 18 | 17 | 16

April 12 | 11 | 10 | 9

April 6 | 5 | 4 | 3 | 2

March 30 | 29 | 28 | 27 | 26

March 23 | 22 | 21 | 20 | 19

March 16 | 15 | 13 | 12

March 9 | 8 | 7 | 6 | 5

March 2 | 1 | February 28 | 27 | 26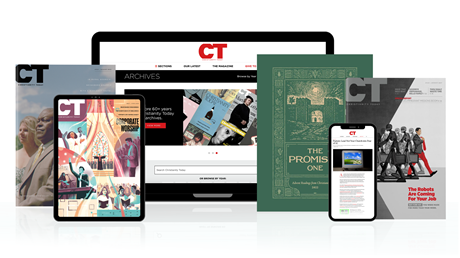 Annual & Monthly subscriptions available.
Print & Digital Issues of CT magazine
Complete access to every article on ChristianityToday.com
Unlimited access to 65+ years of CT's online archives
Member-only special issues
Subscribe
Lynchings in Nigeria After Reports of Christians' Black Magic
Lynchings in Nigeria After Reports of Christians' Black Magic