Easter is often a time of increased tension between Christians and Jews. Maybe it's that comments like "the Jews killed Jesus" are most common around this time of year, maybe people are just afraid that such comments will be more common. In any case, this week's papers are full of Jewish-Christian conflicts.
Paul Weyrich accused of being a "demented anti-Semite"
First, a look at a conflict directly about a claim that the Jews killed Jesus. Paul Weyrich, president of the Free Congress Foundation and a founding father of the Religious Right, wrote an Easter column last week which said, in part, "Christ was crucified by the Jews who had wanted a temporal ruler to rescue them from the oppressive Roman authorities. … He was not what the Jews had expected so they considered Him a threat. Thus He was put to death." That comment got fellow conservative Evan Gahr livid. "Weyrich specifically said the Jews crucified Christ?" he wrote in a commentary for The American Spectator Online. "Which Jew put the nail through him? 'I don't have the names,' [Weyrich's spokesman] replied."
Weyrich's spokesman, Free Congress Foundation director of development Nicholas Sanchez, did have a response, which Gahr quotes: "That is not an anti-Semitic remark. Paul is well-versed in scriptures. He is a Melkite Greek Catholic deacon and the statement from his commentary does say that Christ was crucified by the Jews. This has been taken up by people in recent times as a politically correct cause to say anyone who says Christ was crucified by the Jews is anti-Semitic. It was the Jews who brought him up on trial. They said 'crucify him.' That is a fact and that's what Paul was saying."
But to Gahr, and others, that's not what Paul was saying. "It's a theological [statement] that has been repudiated by all Christian groups," Marc Stern, assistant executive director of the American Jewish Congress, tells Gahr. "The fact that Weyrich has resurrected that primitive theology is profoundly disturbing. It's profoundly disturbing in particular because many reports put Weyrich at the center of the contemporary conservative political movement."
Gahr went even further, calling Weyrich "a demented anti-Semite" in a Washington Post interview. For this slam, Gahr was dropped from David Horowitz's FrontPage magazine, where his columns had regularly appeared.
Salon.com columnist Joe Conason took the comment and universalized it to conservatives, saying "this flare-up should concern decent conservatives, because their movement's double standard on religious bigotry remains disgraceful. … Political expedience has often dictated silence in the face of outrageous comments and conduct."
New York Knicks point guard Charlie Ward apologizes
Paul Weyrich isn't the most famous case of such comments this week, however. A New York Times Magazine article about the New York Knicks has raised much more ruckus. As part of the story, reporter Eric Konigsberg attended one of point guard Charlie Ward's Bible studies:
In the first class I attended, on the road in Washington in December, everyone asked me about my religious background. They talked about the Old Testament and cultural identity, and they had a lot of questions about dietary laws. Now, participating in the study-book exercises in Milwaukee, I thought I was doing fine; the players seemed interested in Judaism. They started calling me "E." I fancied that the seeds of an interfaith fellowship were being planted.

Then Ward said, "Jews are stubborn, E. But tell me, why did they persecute Jesus unless he knew something they didn't want to accept?"

"What?"

"They had his blood on their hands."

Working quickly, [guard Allan] Houston indexed a passage on his Palm Pilot. "Matthew 26, verse 67," he said. "Then they spit in Jesus's face and hit him with their fists."'

"It say anything about who wanted Jesus dead?" Ward asked. "There are Christians getting persecuted by Jews every day. There's been books written about this—people who are raised Jewish and find Christ, and then their parents stop talking to them."

"You know, there's Jews for Jesus, man," [power forward Kurt] Thomas offered me, running a hand over his cornrows.

In closing, Houston led the group in prayer, asking God to help them compete well "and watch over those teammates that are injured."
Ward was criticized by Jewish groups, then was repeatedly booed Sunday night at Madison Square Garden. "The Garden has heard boos, the Garden practically invented boos," wrote Jeff Jacobs in The Hartford Courant. "Patrick Ewing's hide is tattooed with boos. The Garden boos missed free throws. The Garden boos bad power plays. The Garden boos lack of effort. But never before this Sunday had the Garden booed Scripture." Before the night was over, however, the Garden was cheering Ward and the Knicks' win.
That didn't end the controversy, of course. Ward initially tried to explain his comments, saying "The writer took it out of context. I didn't mean to offend any one group because that's not what I'm about. I have friends that are Jewish, actually my best friend is a Jewish guy, and his name is Jesus Christ." But two days later, he issued an apology: "I want to truly apologize to everybody who was offended. I will say again that I would never condemn or criticize any group or religion. That is not who I am."
Those comments came after NBA commissioner David Stern condemned Ward and his statements: "Unfortunately, Ward's comments, and his subsequent confirmation of them, demonstrate zealotry of all types is intolerant and divisive," he said. "Despite suggestions that the NBA should penalize Ward for his words, I am not planning to do so. … Ward would have been better off not to have uttered his uninformed and ill-founded statements, but I do not wish to enhance his sense of martyrdom by penalizing him for giving them public voice."
Ironically, Knicks coach Jeff Van Gundy had garnered headlines just a week before for saying that religion was a distraction from the game.
Atlanta burns over Methodists' decision to ban rabbi from baccalaureate sermon
Meanwhile, The Atlanta Journal-Constitution has been busy this week writing about a Christian-Jewish controversy of another sort. Mount Bethel United Methodist Church, which is hosting the baccalaureate ceremony for Walton High School, has barred Rabbi Steven Lebow from delivering the address because he isn't a Christian. "I honestly am flabbergasted," Lebow told The Atlanta Journal-Constitution. "My experience here has been exactly the opposite. People have always been open and loving. I have never had this happen."
Mount Bethel's pastor, the Rev. Randell Mickler, explains that he simply couldn't have a non-Christian preach from his pulpit. (The pastor and rabbi will soon meet to heal some of the wounds.)
The controversy continues to play out in the papers (run a search for Mickler at the Journal-Constitution's site and you'll see). Today, the Constitution editorializes, "It isn't political correctness to be hospitable to strangers or to respect other people's devotion to time-tested traditions that differ from those that prevail in a particular region. These are good and decent character traits for which all of us—Christian and non-Christian—should strive."
One more?
Okay, but this is the last one. Bishop J. Delano Ellis, pastor of Cleveland's Pentecostal Church of Christ, reportedly once called Jews "carnal, selfish … dirty and lowdown and wicked." Now congressional leaders have named him to an advisory panel on faith-based initiatives. Some people aren't too happy about that. Ellis says he's been misunderstood.
More articles:
Popular culture:
China:
Church life:
Criminal justice:
Anglican archbishop for Australia's governor-general:
Related Elsewhere
See our past Weblog updates:
April 23

April 20 | 19 | 18 | 17 | 16

April 12 | 11 | 10 | 9

April 6 | 5 | 4 | 3 | 2

March 30 | 29 | 28 | 27 | 26

March 23 | 22 | 21 | 20 | 19

March 16 | 15 | 13 | 12

March 9 | 8 | 7 | 6 | 5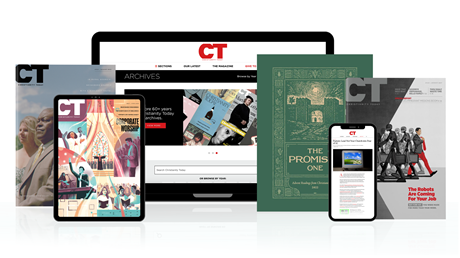 Annual & Monthly subscriptions available.
Print & Digital Issues of CT magazine
Complete access to every article on ChristianityToday.com
Unlimited access to 65+ years of CT's online archives
Member-only special issues
Subscribe
"Jews and Christians Battle It Out in Politics, Sports, Schools, and Media"
"Jews and Christians Battle It Out in Politics, ...