Last Monday we took note of three recent commentaries on the role of religion in public life, a subject of ongoing debate. Right now, ground zero is the recently established White House Office for Faith-Based and Community Initiatives, headed by John DiIulio. Last Tuesday in Washington, DiIulio spoke at a media luncheon sponsored by the Ethics and Public Policy Center and moderated by Michael Cromartie.
Fat, rumpled, plainspoken, funny, and seemingly possessing total recall of hundreds of public policy studies, DiIulio is an immensely refreshing presence. On his right was Herb Lusk, the pastor of Philadelphia's Greater Exodus Baptist Church; on his left, Luis Cortes of Nueva Esperanza, also from Philadelphia. The two men represent the sort of faith-based community services DiIulio hopes to encourage.
Since World War II, DiIulio reminded us, hardly a single major domestic program has been directly administered by the U.S. government. What we have instead is "government by proxy," whereby federal funds are disbursed to various non-governmental organizations. So, for example, Medicare is mostly administered by non-governmental intermediaries. So too, DiIulio said, in countless other instances, citing as a less familiar example some 135 programs for at-risk youth. The point he was making, with clarity and force, is that far from entailing a risky departure from standard operating procedures, the Office for Faith-Based and Community Initiatives is right in the mainstream.
Nevertheless, in the Q&A session that followed (cut short, alas, because DiIulio had to leave for an appointment with the president), many of the media queries proceeded as if DiIulio had said nothing, as if the most obvious church-and-state issues hadn't already been explicitly addressed in the 1996 Charitable Choice legislation. Sharon Samber of the Jewish Telegraphic Agency wanted to know what would happen if a church said we will help you, but you have to accept Jesus as your savior. Well, DiIulio said pleasantly, as if this were a perfectly reasonable question, churches can't do that in the context of federally funded programs. And so it went.
Less prominent in this forum though not entirely missing was a very different set of concerns, having to do with the potentially compromising impact of such partnerships on the churches, which might be coerced into watering down their distinctively Christian message. Oddly enough, Marvin Olasky—who has been credited as one of the formative influences in shaping President Bush's understanding of "compassionate conservatism"—has been among the most vocal critics of DiIulio's policy. A number of reports in the secular media—such as Franklin Foer and Ryan Lizza's April 2 article, "Holy War," in The New Republic—have given the misleading impression that Olasky and other critics represent evangelicals across the board: "So a program designed to appeal to evangelicals is instead deeply offending them," Foer and Lizza write.
Nonsense. While some prominent evangelicals have expressed doubts, many others are hopeful. "We have confidence," said the lead editorial in the April 2 issue of Christianity Today, "that the White House Office for Faith-Based and Community Initiatives will come up with a system that will neither co-opt nor excessively limit churches."
The proof of the pudding, of course, will be in the eating. And no matter how well administered, such programs will not usher in the New Jerusalem. I should know. For the 32 years we've been married, my wife has been a one-woman office of faith-based initiatives. My role has been to contribute funding, represent normal human selfishness, and ward off the occasional psychopath who has homed in like a smart bomb on a source of exceptional caring and generosity.
But we needn't burden this welcome new plan with millennial expectations. As DiIulio said, it's not as if the status quo will be hard to improve on.
John Wilson is editor of Books & Culture and editor-at-large for Christianity Today.
Related Elsewhere
Visit Books & Culture online at BooksandCulture.com or subscribe here.
Christianity Today's earlier coverage of DiIulio and Bush's faith-based initiatives includes:
DiIulio Pitches Charitable Choice to Cautious NAE Delegates | Meanwhile, group suggests religious broadcasters reconsider severing ties. (Mar. 21, 2001)

Editorial: No More Excuses | Bush's faith-based initiative should reinvigorate our mission of service. (Mar. 15, 2001)

Charitable Choice Dance Begins | Faith-based organizations cautious but eager for government aid. (Mar. 15, 2001)

Should Charities Take Washington's Money? | Churches and ministries grapple with the ramifications of accepting federal funding. (Feb. 13, 2001)

The Bush Agenda | Will the White House be user-friendly for religious organizations? (Jan. 8, 2001)

Bush's Call to Prayer | After Al Gore's concession, evangelical leaders unify around faith-based initiatives, morality, and prayer as the incoming Bush administration gears up. (Dec. 14, 2000)

A Presidential Hopeful's Progress | The spiritual journey of George W. Bush starts in hardscrabble west Texas. Will the White House be his next stop? (Sept. 5, 2000)

Bush's Faith-Based Plans (Oct. 25, 1999)

The Criminologist Who Discovered Churches | Political scientist John DiIulio followed the data to see what would save America's urban youth. (June 14, 1999)
Article continues below
The New Republic's "Holy War" is available at the magazine's Web site.
"There was electricity in the air," at the media luncheon, reports Suzanne Fields in a column for The Atlanta Journal-Constitution.
The Center for Public Justice Web site offers reams of information about "charitable choice" plans past and present.
The Christianity TodayWeblog regularly covers the charitable choice debate.
In World magazine, editor Marvin Olasky regularly offers his take on the status of the faith-based initiative.
Books & Culture Corner appears Mondays at ChristianityToday.com. Earlier Books & Culture Corners include:
Public-izing Faith | Recent articles in Touchstone, Commonweal, and The New York Times serve as reminders that faith is not merely "a private thing." (Apr. 2, 2001)

How Can I Keep From Singing? | Arne Bergstrom has looked suffering square in the eye all over the world. Now he sings about hope. (Mar. 26, 2001)

To Poland, for an Evening | Once in a great while, a film like Kieslowski's The Decalogue discovers how to transport an audience. (Mar. 19, 2001)

Examining Peacocke's Plumage | The winner of the 2001 Templeton Prize for Progress in Religion rejects everything resembling Christian orthodoxy, but that doesn't stop him from co-opting the language. (Mar. 12, 2001)

Are Scientists Taking Orders from Pat Robertson? | A Salon.com essay accuses the Intelligent Design movement of being primarily an arm of "conservative Republicans" and the "religious right." (Mar. 5, 2001)

Had Morse No Code? | Like much popular art, the finale of Inspector Morse functions like a dream of the collective unconscious. (Feb. 26, 2001)

Beware the Women! | A conspiracy theorist claims the church is becoming too "feminized." (Feb. 19, 2001)

Return to the Father's House | Touchstone magazine examines God the Father and human fatherhood. (Feb. 12, 2001)

What's the University For? | In James Davison Hunter's The Hedgehog Review, academics nibble on the hands that feed them. (Feb. 5, 2001)

Mary, Mary, Quite Contrary? | Experiencing Marian devotion as a Protestant (Jan. 29, 2001)

Opening the Mind of Science | Science Goes Postmodern, Part 2 (Jan. 22, 2001)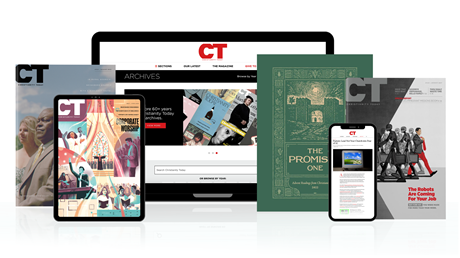 Annual & Monthly subscriptions available.
Print & Digital Issues of CT magazine
Complete access to every article on ChristianityToday.com
Unlimited access to 65+ years of CT's online archives
Member-only special issues
Subscribe
"DiIulio Keeps Explaining, But Is Anyone Listening?"
"DiIulio Keeps Explaining, But Is Anyone Listening?"