South Korean Christians see North Korea missionary opportunity
"As North Korea begins to cautiously open its locked society to get the aid it needs to survive, South Korean Christian groups supporting a network of largely Protestant underground worshipers see an opportunity to increase membership," reports a front-page story in today's Washington Post. But the country's opening the door a crack doesn't mean things are getting any easier for Christians in the country, as the article makes clear: "Despite North Korea's official policy of religious tolerance and expanded activities of the government-sanctioned churches, the proselytizing that is fundamental to Christianity is still seen as a threat to the Pyongyang regime that can bring a death sentence." The incidents and statistics reported in the Post piece are horrific. An estimated 6,000 Christians are incarcerated in one "notorious" prison—and there's only between 10,000 and 300,000 Christians among the country's 22 million residents. One of the most horrific stories comes from Lee Soon Ok, a former political prisoner who is not herself a Christian, but saw how they were treated in prison. "The torture, and the worst ways of execution, were most harsh on the Christians," she tells the Post. "They didn't give them clothes. They were considered animals. And in the factories, they killed them by pouring molten steel on them." And the North Korean government is apparently well aware that opening the door to humanitarian aid may lead to secret missionary work. The Post reports that the government has increased rewards for anti-missionary informants and launched "education sessions" on how to identify and "extract" Christians.
United Arab Emirates reportedly deports missionaries
The U.S. State Department isn't confirming it yet, but press reports say the three American missionaries arrested in Dubai March 12 have been deported. If convicted of promoting Christianity, they could have been sentenced to five to ten years in prison. An Atlanta Journal-Constitution article over the weekend said one of the missionaries, a University of Georgia student, was well aware of the risks. "He felt very called to go," said Robert Beckwith, director of student ministries at the campus's United Methodist organization. "He's a bright and committed young man and I know he understood that he could go to jail."
Meanwhile, the missions organization sponsoring the trip, Mesa, Arizona-based Frontiers, has for the most part pulled its Web site offline. Perhaps it is because media—including Dubai's Gulf News—have made much of the site's content, which clearly indicates that its evangelism of Muslims is illegal in many countries where it sends missionaries. Short term evangelists should be "willing to be deported, imprisoned or whatever and accept in advance those possibilities," the site once said. "Our sole purpose is to establish vital, worshiping, witnessing congregations of transformed Muslims. We are not satisfied with simply 'reaching people' or 'doing evangelism.' We are committed to planting the church among all Muslim peoples, whether or not their countries grant missionary visas and/or permit disciple-making ministry. We believe that our generation will witness an unprecedented turning to Christ in the Muslim world."
HarperCollins acquires worldwide rights to all C.S. Lewis works
Think C.S. Lewis is big now? Just wait. HarperCollins, which recently reissued Lewis's Chronicles of Narnia, has purchased the rights to be the primary publisher of all of the British apologist's works. The publisher, having paid undisclosed millions for the rights, will apparently be giving a major push to the books, reissuing everything with fancy new covers, offering book clubs, and creating Web sites. "Over the last 10 years, religion publishing has grown by leaps and bounds, and C.S. Lewis's books have sold several hundred thousand copies a year before we took over," Mary Ellen Curley, marketing director for HarperCollins, tells The Boston Globe. "We're looking to broaden him to anyone who is interested not only in Christianity, but in a broader sense of spirituality—the seekers out there." So not only will HarperCollins market Lewis to Christians—many of whom already own even the most obscure of Lewis titles—but, says the Globe, the pubisher "is also trying to create buzz by reintroducing Lewis to authors and academics."
Publishers Weekly's Religion Bookline (not available on the Web) reports that authors, including John Updike and Jan Karon, will be contributing to the new editions. Kathleen Norris will write the forward to Mere Christianity. Interestingly enough, Christianity Today's next cover story is on how Lewis's books are a model for Christian apologists in the 21st century. The article will appear online next week.
Related Elsewhere
See our past Weblog updates:
April 9

April 6 | 5 | 4 | 3 | 2

March 30 | 29 | 28 | 27 | 26

March 23 | 22 | 21 | 20 | 19

March 16 | 15 | 13 | 12

March 9 | 8 | 7 | 6 | 5

March 2 | 1 | February 28 | 27 | 26

February 23 | 22 | 21 | 20 | 19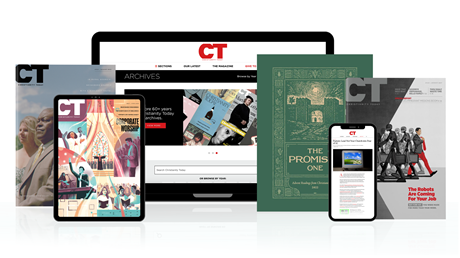 Subscribe to Christianity Today and get access to this article plus 65+ years of archives.
Home delivery of CT magazine
Complete access to articles on ChristianityToday.com
Over 120 years of magazine archives plus full access to all of CT's online archives
Subscribe Now
Washington Post Covers North Korea's Persecution of Christians
Washington Post Covers North Korea's Persecution of Christians