As mainline churches in India prepare for dialogue with Hindu groups, some Christian organizations have warned of the risks of holding talks with "fanatical outfits."
The All India Christian Council (AICC), a forum of lay Christian leaders, warned of the grave risks of dialogue with fundamentalists, pointing out on March 31 that these groups had created "a climate of hate and violence against Indian Christians by spreading the lie of the 'Videshi [foreign] church.'" The AICC was referring to Hindu fundamentalist claims that the Catholic Church here is merely an arm of the Vatican, and to Hindu proposals that Indian churches cut all ties with churches and agencies abroad.
Another Christian organization, the All India United Christian Voice, based in Bangalore, in southern India, declared on April 1 that "there should be no dialogue with the RSS [Rashtriya Swayamsevak Sangh—National Volunteer Corps] or any fundamentalist outfit which is intolerant or fascist in nature."
However, the nation's main inter-church organization, the National Council of Churches in India (NCCI), has decided to respond "positively" to a proposal for dialogue between Christians and Hindu groups to ease tensions and remove misunderstandings following widespread propaganda against Christianity and a series of attacks on Christians carried out by Hindu fundamentalists.
At the same time, a Catholic archbishop has pointed out that the fundamentalists do not represent mainstream Hindus in India, where about 82 percent of the population of 1 billion are Hindu.
The NCCI response came after the autonomous National Commission for Minorities (NCM) held a two-hour meeting in New Delhi on 26 March between the NCM members and 40 church representatives attending an executive meeting of the NCCI , which represents 29 Orthodox and Protestant churches.
"The only point repeatedly raised by the commission during the meeting was asking us to hold dialogue with those [Hindu] groups," Ipe Joseph, NCCI general secretary, told ENI. "We have made clear to them that we are prepared for dialogue. It [relations with Hindus] is a serious matter that concerns the entire Christian community. So, we need to talk to the Catholics [who are not represented in the NCCI] for their opinion, and to decide on the modalities of holding dialogue."
NCM's first bid to initiate dialogue among Christians and Hindu groups last year was widely criticized when the commission announced the dates for dialogue with Hindu groups without first consulting the NCCI and the Catholic Bishops' Conference of India (CBCI), which represents the nation's 143 Catholic dioceses.
When churches questioned this, Hindu groups accused them of "running away" from dialogue.
This led to criticism that the NCM was in fact playing a "partisan" role while claiming to "bringing about communal harmony through dialogue."
Christian activists have recorded nearly 400 attacks on churches, church personnel and institutions in the past few years. Hindu fundamentalist groups are often said to be linked to the sudden growth of anti-Christian violence.
The NCCI general secretary told ENI he was happy that "all the members of the commission had been present at the meeting." A dozen members from the NCCI delegation raised Christian concerns.
NCM, which was set up to safeguard the interests of the religious minorities, has seven members, representing Muslims, Christians, Sikhs, Buddhists, Zoroastrians and Hindus. The NCM is autonomous and is funded by the federal government.
Commenting on planned dialogue with Hindus, Orthodox Bishop Geevarghese mar Coorilos, who was unanimously chosen as NCCI president during the executive meeting, told ENI: "When people are confused or there is misunderstanding, it is our duty to clear it and be courageous enough [to enter into dialogue]."
As NCCI president Bishop Coorilos succeeds Bishop Vinod Peter, who died in a car accident in December.
Bishop of the diocese of Bombay for the Malankara Orthodox Syrian Church, the new NCCI president said that he had briefed Catholic Archbishop Vincent Concessao of Delhi, who is vice president of the CBCI, on the NCM's proposal.
"Both the NCCI and the CBCI will discuss the proposal and finalize our response," Bishop Coorilos said.
Archbishop Concessao told ENI that the Catholic Church was open to the plan for dialogue, which would be discussed by the CBCI's standing committee after Easter.
Asked by ENI whether dialogue was possible given current tensions between Christians and Hindus, Bishop Coorilos said: "When any dialogue starts, there may not be a favorable atmosphere at all. But, we have to take the risk, and take it as a challenge."
Ironically, the NCCI is based in Nagpur in central India which is also home to the national headquarters of one of the RSS, one of the most controversial Hindu groups.
At the recent release in Nagpur of a book criticizing Christian activities in India, the head of the RSS, K. S. Sudarshan, repeated his call for the "Indianization" of all churches—severing all links with foreign church bodies and foreign funding agencies and setting up a federation combining all of India's churches.
Claiming that all Catholic Church property was "Vatican property, governed by canon laws outside the purview of the Indian laws," Sudarshan said that if a federation of churches were set up, it could take control of all such property and stop all foreign influence.
Reacting to the RSS chief's suggestions, Archbishop Concessao told ENI: "We are not political subjects of the Vatican, and the church in India is not a province of Rome. I am not sure whether they are speaking out of ignorance or deliberately distorting facts for propaganda."
If the proposed dialogue would help remove "such misunderstandings," Archbishop Concessao said, "we will be happy." But he admitted that "there is an element of risk [in holding dialogue]. Our only concern is that the dialogue is not misused as an opportunity for cheap publicity."
He added that while churches were ready to take part in dialogue, "we do not consider these [Hindu fundamentalist] groups as representatives of the wider Hindu community. Maybe, we need dialogue at different levels."
Related Elsewhere
Recent Christianity Today articles about India include:
Christians Help Overlooked Villages | Many Christian agencies are still doing earthquake relief among India's poorest victims. (Apr. 5, 2001)

In Southern India, Orthodox Priest Has Communist Support in State Election | Popular priest says he's independent despite strange bedfellows, but many Christians are wary. (Apr. 4, 2001)

Christians Call for India's Prime Minister and Government to Resign in Wake of Scandal | Web site releases tapes of party president taking bribes from men posing as arms dealers. (Mar. 22, 2001)

India Relief Abuses Rampant | Radical Hindus hijack supplies in quake intervention. (Mar. 20, 2001)

In Orissa, You Must Ask the Government If You Want to Change Religion | Christian church leaders say they're trying to ignore the controversial law, but police aren't doing the same. (Mar. 12, 2001)

New Delhi Conference Condemns 'Immense Suffering' in Caste System | National Campaign for Dalit Human Rights plans to appeal to United Nations. (Mar. 9, 2001)

Weblog: Take Up Arms Against Missionaries, Says Hindu Leader | Clouds darkening over India (Mar. 6, 2001)

Churches Angry that Indian Census Ignores 14 Million Christian Dalits | Only Hindu, Sikh, and Buddhist members of "untouchable" caste being counted. (Mar. 2, 2001)

Churches Have Not Worked to End Dowry Practice | India's women are seen as less valuable than men in a society that supports bride burnings and "suicide." (Feb. 20, 2001)

India's Christians Face Continued Threats | We must preach what we believe in spite of Hindu pressure, says Operation Mobilization India leader. (Feb. 15, 2001)

India's Quake Survivors Need Counseling | Earthquake survivors are desperate for more than material aid, Indian bishop warns. (Feb. 9, 2001)

Quake Rocks Hindu Hotbed | Agencies appeal for funds to aid victims. (Feb. 8, 2001)

Politician Who Saw God's Hand in Gujarat Quake Forced to Resign | Civil aviation minister had told Christians that quake was God's judgment against persecution of Christians. (Feb. 5, 2001)

Militant Hindus Assault Christians | Persecution of religious minorities stirs Christian outrage against government inaction. (Jan. 31, 2001)
Article continues below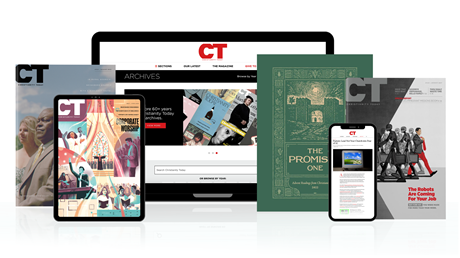 Annual & Monthly subscriptions available.
Print & Digital Issues of CT magazine
Complete access to every article on ChristianityToday.com
Unlimited access to 65+ years of CT's online archives
Member-only special issues
Subscribe
"Despite Tensions, Indian Churches Agree to Talks With Hindu Groups"
"Despite Tensions, Indian Churches Agree to Talks ...