U.S. military to Philippine government: We can help rescue Burnhams
The pressure being put on Washington by family, friends, and supporters of New Tribes missionaries Martin and Gracia Burnham may be working. The U.S. military has offered to help rescue the couple from their kidnappers, the militant Muslim Abu Sayyaf Group. When directly asked by Reuters if the U.S. military wants to take action, Philippine presidential spokesman Rigoberto Tiglao told the news agency, "That's the signal we have been getting, but they want to be armed." The problem is that the nation's constitution prohibits armed foreign troops on its soil. "So," says Tiglao, "they will not be participating." But apparently unarmed American troops are in the Zamboanga area where the Burnhams are being held, expanding their training of Philippine troops. The military killed another 11 Abu Sayyaf guerrillas on Friday.
Dembski has designs for new organization
Regular CT readers will be very familiar with the work and trials of William A. Dembski, one of the leaders of Intelligent Design studies. Last year, Dembski was fired as head of the Michael Polanyi Center for Complexity, Information, and Design at Baylor University, and the school had several battles over the center itself. Dembski is still a research professor at Baylor, but is now heading the new International Society for Complexity, Information, and Design based in Princeton, New Jersey. He tells UPI that "things have been patched up" at Baylor, but that he still works from home "because the environment is very hostile over there." The new center is launching with essay contests, offering young scholars prizes of $1,000 and $2,000. It will also conduct summer workshops and offer postdoctoral fellowships and research grants. All this, for now, is funded by Dembski, who UPI says "commands impressive fees on the lecture circuit."
The genesis of a new museum
Meanwhile, another antievolution center is being created, but it's a long way from Dembski's new center, both geographically and academically. Creation science organization Answers in Genesis is launching the Creation Museum & Family Discovery Center. The Los Angeles Times says the gallery in Florence, Kentucky (just outside of Cincinnati), "will offer all the classic science museum exhibits, but with a twist. Each one will be interpreted as proof of the biblical account that God created the Earth and all that's in it over six days, just 6,000 years ago. … An informational placard might identify a dinosaur model this way: 'Thescelosaurus. Means wonderful lizard. Height: 4 feet. Length: 11 feet. Created on: Day 6.'" The organization is reportedly flush with funds (annual budget: $7 million), so the museum is going to be big. Answers in Genesis is planning 50,000 square feet of indoor exhibits and 47 acres of outdoor trails and displays, all scheduled to open in summer 2003. Among those creating the displays is the designer of the King Kong attraction at Florida's Universal Studios.
More articles
Christmas observances:
Religious freedom:
Church and state:
Salvation Army protests:
Racial unity:
Related Elsewhere:
See our past Weblog updates:
December 10
November 30 | 29 | 28 | 27 | 26
November 16 | 15 | 14 | 13 | 12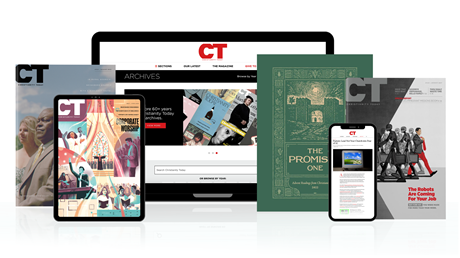 Subscribe to Christianity Today and get access to this article plus 65+ years of archives.
Home delivery of CT magazine
Complete access to articles on ChristianityToday.com
Over 120 years of magazine archives plus full access to all of CT's online archives
Subscribe Now
American Troops Offer to Rescue Burnhams
American Troops Offer to Rescue Burnhams