The Christmas message
The president's Christmas message reads like a statement of faith. After speaking of "a greater good" in a time of "great evil," he lays the story on the line: "According to the Gospel of Luke, two thousand years ago, the savior of mankind came into the world. Christians believe that Jesus' birth was the incarnation of God on earth, opening the door to new hope and eternal life. At Christmastime, Christians celebrate God's love revealed to the world through Christ. And the message of Jesus is one that all Americans can embrace this holiday season—to love one another."
Someone ought to tell Andrew Furlong that this is at the core of what Christians believe. The Church of Ireland dean used his Christmas message to attack everything that Christmas is about. "I believe God is a God of infinite love and that human beings are of sacred and ultimate worth," he said. "But I don't believe Jesus is his son or that he is divine or savior." Speaking more specifically of the Christmas story, Furlong said, "I believe in a God of love who cradles the world in all its trouble but not in a God who came as the babe of Bethlehem to be cradled in a stall." In a shocking display of a European church actually taking action against such comments, the Church of Ireland withdrew his authority as a priest withdrawn for three months "to facilitate a period of quiet during which the Dean may reflect on his statements." If he still wants to preach that Jesus was just "a self-effacing man who pointed people to God," he may lose his authority altogether.
Salvation Army loses Moscow appeal, but refuses to give up
The Salvation Army's legal battles for survival in Moscow—a story even odder than the church's recent battles here in the United States—reached another turning point this month as the Appeal Court upheld a lower court's decision to liquidate the church and ban it from the city. Supposedly, Moscow officials' beef with the Salvationists is that they call themselves an Army. "The Salvation Army has all the attributes of a military organization," Vladimir Zhabankov, deputy head of the Moscow city Justice Ministry, complained to the BBC. It's a totally insane argument. Army officials, meanwhile, say the real reason they're being persecuted is that they won't pay bribes. (Check Stetson University's Russia Religion News for updates.)
Peggy Wehmeyer: 9/11 is the biggest religion story of the millennium
In an online chat with readers of The Christian Science Monitor, former ABC News religion reporter Peggy Wehmeyer called the September 11 attacks "the biggest religion story of the millennium." "I don't think it [is] the aftermath that makes it the biggest story," she said. "I think the fact that a group of people, totally devoted to their God, who are trying to practice their religion, would do it by killing thousands of innocent civilians, makes this the biggest religion story of the millennium." Really? In 1054, Western and Eastern Christian churches split in the Great Schism. In 1517, Martin Luther posted his 95 Theses. Even by Wehmeyer's body-count standards, September 11 doesn't hold a candle to the siege of Jerusalem in 1099. Wehmeyer must mean it's the biggest religion story of the third millennium A.D. so far. Even in the last few years, however, clashes between Christians and Muslims in Indonesia and Nigeria have both come pretty close to the death toll of September 11. Hmm. Maybe the biggest religion story of the millennium—in a grand sense—is the last thousand years' clashes between Christians and Muslims.
No Weblog until Wednesday
Merry Christmas, everybody. Christianity Today assistant online editor Todd Hertz will be filing Weblog next week. Ted Olsen will return New Year's Eve.
More articles
Christmas:
Martin and Gracia Burnham:
Cathedral of St. John the Divine fire:
Church and state:
New York's homeless:
Islam and Christianity:
Billy Graham goes to Texas:
Crime:
Other stories of interest:
Related Elsewhere:
See our past Weblog updates:
December 14 | 13 | 12 | 11 | 10
November 30 | 29 | 28 | 27 | 26
November 16 | 15 | 14 | 13 | 12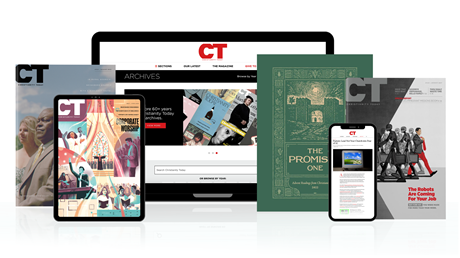 Subscribe to Christianity Today and get access to this article plus 65+ years of archives.
Home delivery of CT magazine
Complete access to articles on ChristianityToday.com
Over 120 years of magazine archives plus full access to all of CT's online archives
Subscribe Now
Unto Us Is Born a Savior
Unto Us Is Born a Savior