Conservatives love Bush
"Bush has systematically reached out to virtually every element of the conservative coalition—from antiabortion advocates to western property rights activists to anti-tax groups to evangelical Christians and conservative Roman Catholics to proponents of a robust national missile defense," reports The Washington Post. And conservatives, including religious conservatives, are very grateful. "This president has a very keen sense of who he is and what he believes and what's important to him," says Kenneth L. Connor, president of the Family Research Council. "He's daily giving evidence that at his core he is a conservative." His predecessor, Gary Bauer, agrees, and notes that reaching across party lines is fine, so long as it's just a social thing. "The policy is what matters," he says. "Nobody is going to begrudge watching a movie with Ted Kennedy as long as Ted Kennedy doesn't start winning the policy battles." Similarly, former Christian Coalition head Ralph Reed tells the paper conservatives love Bush: "It's early, but the preliminary indications are that his victory and early weeks have energized the grass roots unlike anything I've seen in recent memory. I can't explain it — I can only tell you it's happening." The Post quotes the Hudson Institute's Marshall Wittmann in gauging reaction to Bush's posting of John DiIulio—a conservative, but a Democrat—to the White House Office of Faith-Based and Community Initiatives. "That was viewed by the right as the boldest personnel move Bush has made" Wittman says, "and they're smitten by it."
Bush's evangelical speechwriter
If religious conservatives like the words coming out of Bush's mouth, they have more than Bush himself to thank. The (Baltimore) Sun profiles the president's chief speechwriter, Michael Gerson. Planning to attend seminary after graduating from Wheaton College, Gerson was hired by Chuck Colson (who had read his articles in the Wheaton student newspaper) to help with a book. After working with Colson for a while, Gerson entered the political life on all cylinders. He was policy director for Senator Dan Coats and a speechwriter for Bob Dole and Steve Forbes. For a while, he moved out of full-time political life to serve as senior editor at U.S. News & World Report. The Sun piece is essentially one quote after another about how great Gerson is. An earlier Christianity Todayarticle by Ron Sider suggests that Gerson is also the point of contact between some evangelical leaders and Bush.
More stories:
Part 3 of the San Francisco Chronicle's "Alternative Faiths" series: Hare Krishnas:
A test of faith | Allegations of past child abuse threaten Hare Krishnas' existence (San Francisco Chronicle)
Growing up in the Hare Krishnas | Couple have mixed views about upbringing in sect and continuing to keep their faith (San Francisco Chronicle)
Part 2 of the San Francisco Chronicle's "Alternative Faiths" series: Scientology:
Brazilian spirituality:
'Prosperity theology' pulls on purse strings | Promises of riches entice Brazil's poor (The Washington Post)
Earlier: Brazil's Surging Spirituality | Churches of all stripes have been growing for decades, as have the controversies and challenges facing evangelicals (Christianity Today, Dec. 21, 2000)
Prayer:
Zero Hour | Intercessors for America are praying for President Bush and the "zero-year curse." But what is prayer for, anyway? (Susan Lee, The Wall Street Journal)
Earlier: Prayer urged over 'zero-year curse' on White House | The breaking of the link to presidential deaths needs to be 'reaffirmed,' appeal says (Charisma News Service, Dec. 18, 2000)
Faith-healing death:
Colorado girl's death called homicide | No decision yet on whether parents, who refused to treat daughter's diabetes on religious grounds, will be charged (Associated Press)
Infection death ruled homicide (The Denver Post)
Religious schools:
Religious schools to increase | Religious schools are expected to play an increased role in the secondary school system in England as the government prepares to increase its subsidy for church-sponsored schools. (BBC)
Way of life passes with parish schools | Although there have been 30 to 45 parish high schools at one time or another in Chicago, only four remain. And one of them is breathing its last breath. (Chicago Sun-Times)
Damaging divorce:
Laws discouraging divorce spreading slowly if at all | A few states have enacted incentives such as high school classes or voluntary covenants. 'At least marriage is back on the agenda,' says an expert. (Los Angles Times)
Oklahoma grapples with legislating love | Divorces holding state back economically (Fox News)
Books:
Guides for dummies are turning to religion (Newhouse News Service/The Plain Dealer, Cleveland)
Also: See The Idiot's Guide to Prayer, by Christianity Today managing editor Mark Galli
Other stories of interest:
Related Elsewhere:
See our past Weblog updates:
February 12

February 8 | 7 | 6 | 5

February 2 | 1 | January 31 | 29

January 26 | 25 | 24 | 23 | 22

January 19 | 18 | 17 | 16 | 15

January 12 | 11 | 10 | 9 | 8

January 5 | 4 | 3 | 2

December 29 | 28 | 27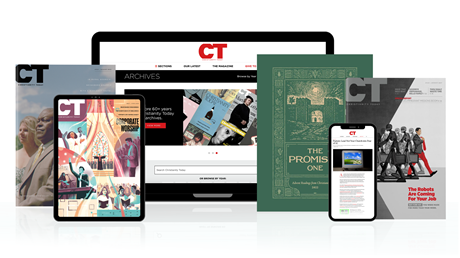 Annual & Monthly subscriptions available.
Print & Digital Issues of CT magazine
Complete access to every article on ChristianityToday.com
Unlimited access to 65+ years of CT's online archives
Member-only special issues
Subscribe
The Bush-Conservative Love Fest
The Bush-Conservative Love Fest