Supreme Court seems to smile on Christian group's right to meet on school grounds
At oral arguments yesterday, Supreme Court justices seemed to side against Milford Central School of Milford, New York. The school had said that an evangelistic Good News Club couldn't meet on school grounds because it is "the equivalent of religious worship," so the club sued for access. Justice Antonin Scalia was characteristically witty, sarcastic, and critical of the school's actions. "You are worried about kids being infected" with the group's religious message, Scalia mockingly accused the school's lawyer. When the lawyer argued that allowing the club to use the school might be divisive, Scalia was incredulous. "This is divisive in the community?" he asked. "I don't understand. What would the community get upset about? I don't understand. … You must have a very divisive community down there. I'm glad I don't live in New York anymore." But Scalia wasn't the only one who defended the group with sarcasm. "To prohibit the use of public facilities for religious purposes shows the state is neutral as to religion, is that your point?" asked Anthony M. Kennedy. But of course Scalia and Kennedy are going to side with Good News. What's crucial here is that the more liberal side of the Supreme Court seemed to agree with them. About as dark as it got for Good News was when Justice David Souter lamented, "It sounds like Sunday school." (Justice Ruth Bader Ginsburg also suggested that the court's precedents on equal access for religious speech did not apply to activities for young children.) But when the school's lawyer tried to run with Souter's characterization, saying, "If this particular use is permitted, we will have Sunday school on a Tuesday in a public school occurring at 3 o'clock immediately upon the end of the official school day," Justice Sandra Day O'Connor added her voice of suspicion. "Well, now, just a minute," she said. "There is nothing in the world that prohibits the school from saying we're not going to have any activity before 6 p.m. or 3:30 or 4 or 5, whatever it is. So why would you complain about 3 o'clock?" Justice Stephen G. Breyer was even more direct: "Why isn't it discrimination against religion in violation of the First Amendment?" Not to count votes before they're in (we had enough of that in November), but it looks like religious expression is about to get one in the win column. (Slate.com also has a lengthy article with more great Scaliaisms from yesterday's session.)
As noted earlier in Weblog, the case has been particularly notable for its friendliness. But the case is important for other reasons as well. "The ruling, due later in the spring, could give an important boost to President Bush's 'faith-based' initiative," reports the Los Angles Times. "It will strengthen the president's contention that church-based groups cannot be excluded from public institutions. However, it will not resolve the question of whether public money can be used to directly subsidize their religious message." (A reminder: Bush and others have repeatedly said that they won't directly subsidize evangelism.) The Second Circuit Court of Appeals decision (in favor of the school) is available online, as is the dissenting opinion. More coverage of the case and yesterday's arguments is available from UPI, ABCNews.com (which has a sample lesson from the Good News Club), the Associated Press, The Christian Science Monitor, and USA Today.
Speaking of religion, schools, and the Supreme Court …
Remember a year ago, when the Supreme Court ruled that mandatory student fees could finance controversial groups? In that case, a University of Wisconsin law student named Scott Southworth argued that the fees violated his First Amendment rights of free speech by obligating him to financially support organizations that did not coincide with his personal political and ideological beliefs. The court disagreed, but Anthony M. Kennedy wrote for the majority, "When a university requires its students to pay fees to support the extracurricular speech of other students, all in the interest of open discussion, it may not prefer some viewpoints to others." And the Supreme Court sent the case back to a lower court to re-examine the way those funds are distributed. Upon re-examination, U.S. District Judge John C. Shabaz struck down the system, saying student government officials had too much say in who gets money and who doesn't. Again, that all happened last year, but now it's back in the news. Jordan Lorence, the lawyer who represented Southworth and some like-minded students, says student government still has too much control. "What we want is basically a situation where the student government cannot deny people once they've met a set of neutral, objective criteria," Lorence said in a response to the university's claim that it was complying with the court's ruling. Southworth is also criticizing the school's recent actions.
Meanwhile, halfway across the country, yet another former Supreme Court decision on religion and schools is in the news again. In 1990, Ron Rosenberger sued the University of Virginia because other student publications received funds that were denied to the Christian newspaper he published. He eventually won the case at the Supreme Court in 1995, opening an equal-access door for student religious groups on university campuses and setting a major precedent for church-state relations. But apparently the university has been extremely slow in reading that decision. It is only now opening the door to groups like the Orthodox Christian Fellowship and the University Christian Fellowship to apply for money from the Student Activities Fund. But unlike the system at Wisconsin, students who object to funding groups they don't like will be able to have a portion of their student fees refunded.
More on religion and schools around the world:
Mystery woman revealed
Last week, Weblog ran the text of an exchange between President Bush and an unnamed reporter on Bush's faith-based initiative. The dialogue, you'll recall, was not exactly a model of unbiased reporting. "The mixing of religion and government for centuries has led to slaughter," the reporter scolded. "You are a secular official, not a missionary." It turns out that the reporter was none other than Helen Thomas, "dean of the White House press corps." The New York Post, in turn, criticized the former UPI (now Hearst) White House correspondent who has covered nine presidential administrations. "Thomas saves her venom only for Republicans like Bush," said the paper's Media Watch column. "Liberals, on the other hand, can do no wrong." Americans United for the Separation of Church and State, meanwhile, issued a press release praising her comments.
Other news:
Religious liberty and persecution:
Call for religious discrimination law | At present, discrimination against Jews and Sikhs is outlawed on the grounds of race, not religion. Muslim and Hindu organisations are concerned that they are not protected. (The Daily Telegraph, London)
Related Elsewhere:
See our past Weblog updates:
February 28 | 27 | 26

February 23 | 22 | 21 | 20 | 19

February 16 | 15 | 14 | 13 | 12

February 8 | 7 | 6 | 5

February 2 | 1 | January 31 | 29

January 26 | 25 | 24 | 23 | 22

January 19 | 18 | 17 | 16 | 15

January 12 | 11 | 10 | 9 | 8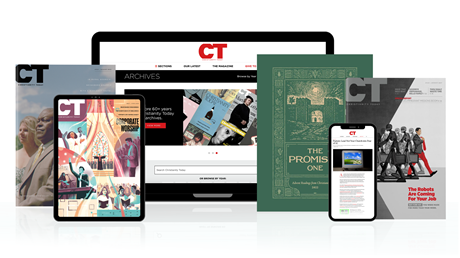 Annual & Monthly subscriptions available.
Print & Digital Issues of CT magazine
Complete access to every article on ChristianityToday.com
Unlimited access to 65+ years of CT's online archives
Member-only special issues
Subscribe
Supreme Court Apparently Offers 'Good News' for Bible Club
Supreme Court Apparently Offers 'Good News' for Bible Club