Bono finally speaks on his faith
Is U2 Christian? (Or, more directly, is it still?) The question is the Christian version of Is Paul dead? and it's been around a lot longer than the rumors McCartney's demise ever were. Lead singer Bono and other members of the band have commented vaguely and enigmatically on the question over the group's recent history, but, as a Dallas Morning News article earlier this month concluded, "When it comes to U2 and God, the answers we'll probably always get are more questions." Not necessarily. Beliefnet finally scored an interview with Bono exclusively on his religious beliefs. But is it the final word on Bono's faith? Probably not. "The most powerful idea that's entered the world in the last few thousand years—the idea of grace—is the reason I would like to be a Christian," he tells Rolling Stone contributing editor Anthony DeCurtis, who has covered the band since 1984. "Though, as I said to [U2 guitarist] The Edge one day, I sometimes feel more like a fan, rather than actually in the band. I can't live up to it. But the reason I would like to is the idea of grace. It's really powerful." Bono also talks about the role of religion in music ("The idea of turning your music into a tool for evangelism is missing the point. Music is the language of the spirit anyway.") The Holy Spirit and religion ("I often wonder if religion is the enemy of God. It's almost like religion is what happens when the Spirit has left the building. God's Spirit moves through us and the world at a pace that can never be constricted by any one religious paradigm.") and AIDS in Africa ("America will be judged by God if, in its plenty, it crosses the road from 23 million people suffering from HIV, the leprosy of the day. What's up on trial here is Christianity itself."
More stories on music and religion:
Pat Robertson worried about Scientologists, Hare Krishnas, and Moonies getting government money
The Washington Post and AP are all a-flutter over Christian broadcaster Pat Robertson's concerns about Bush's faith-based initiatives. "This thing could be a real Pandora's box," Robertson said Tuesday on his 700 Club show as John DiIulio, head of Bush's Office of Faith-Based and Community Initiatives, was his guest. "What seems to be such a great initiative can rise up to bite the organizations as well as the federal government." But what's the big deal? As Weblog noted weeks ago, Robertson has been vocalizing his concerns from the beginning. Both the Post and the AP quote Americans United for the Separation of Church and State chief Barry Lynn as saying that Robertson's 700 Club statements mean "Bush's plan is in enormous political trouble," but always take anything Lynn says about Robertson with a grain of salt.
Lent meant giving up most meats, but not necessarily taste
UPI's religion editor, Uwe Siemon-Netto, chronicles medieval dietary restrictions on Lent, and notes that though there were restrictions, they didn't necessarily mean the ascetic fasting that might come to mind. St. Gall in Switzerland, had a saltwater aquarium for holding Mediterranean fish, shellfish, and even a female whale for the 40 days before Easter. And regulations turned fowl into "feathered fish" during Lent. After Easter, however, geese, ducks, partridges, and pheasants went back to simply being birds. Turtles and beaver are fine during Lent, too. And there's always puddings, creams, crepes, souffles, and tortes. Mmmm, Lent. Weblog's simply looking forward to the Hot Cross Buns. (And speaking of Protestants fasting during Lent, Siemon-Netto writes, "even Protestants and others tend to go on a fast at that time—less for reasons of faith, mind you, that out of a desire to lose weight." Wrong. Big time wrong. For a longtime religion reporter and Lutheran theologian, Siemon-Netto seems to have fallen asleep on this one.)
More stories:
Is Eugene Rivers an Uncle Tom?:
Church expansion controversy:
Politics and law:
Other stories of interest:
Related Elsewhere:
See our past Weblog updates:
February 21 | 20 | 19

February 16 | 15 | 14 | 13 | 12

February 8 | 7 | 6 | 5

February 2 | 1 | January 31 | 29

January 26 | 25 | 24 | 23 | 22

January 19 | 18 | 17 | 16 | 15

January 12 | 11 | 10 | 9 | 8

January 5 | 4 | 3 | 2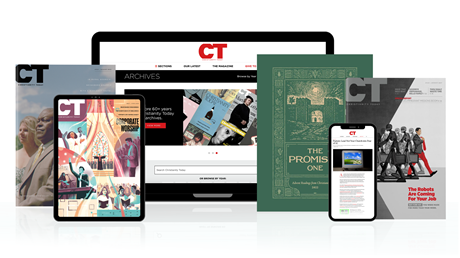 Subscribe to Christianity Today and get access to this article plus 65+ years of archives.
Home delivery of CT magazine
Complete access to articles on ChristianityToday.com
Over 120 years of magazine archives plus full access to all of CT's online archives
Subscribe Now
U2's Bono Says He'd 'Like to Be' a Christian
U2's Bono Says He'd 'Like to Be' a Christian