Slate editor Michael Kinsley: What's wrong with wanting to convert Jews?
"If I think a movie you plan to see is lousy and I attempt to spare you a couple of hours of boredom by talking you into a better flick, that is generally considered a friendly gesture. But if I think your spiritual beliefs are in error and I attempt to spare you an eternity of hellfire by converting you to a different set of beliefs, that is widely considered a terrible insult." So begins Slate editor Michael Kinsley in a Time magazine article on the Holy Land Experience, Orlando's new religious theme park. At points Kinsley is brilliant. "Spiritual brotherhood can start to look more like a conspiracy in restraint of trade," he says of much of today's interfaith dialogue. "The religion cartel. We band together and solemnly agree not to poach one another's customers." And the "theological arrogance" Jews are criticizing Holy Land Experience Marvin Rosenthal of, he says, is inherent in religious belief: "In a way, it is insulting to Jews that Fundamentalist Christians don't try harder to convert us." At other times, Kinsley's ignorance of Christianity—and, to some degree, the Holy Land Experience controversy—breaks through. He thinks that because Rosenthal identifies himself as a "Hebrew Christian," he's part of "apparently another oxymoronic have-your-bagel-and-eat-it-too sect, like Jews for Jesus." And he conflates ecumenism with interfaith pluralism. But overall, it's a fine piece. "When you object to noncoercive conversion," he writes, "it starts to look like the opposite of arrogance: theological insecurity. What are you afraid of? The decision will be made by you or by God, and in either case, there is no ground for complaint."
Another conflation of ecumenism and interfaith pluralism
"To be ecumenical today is to be broadly interreligious and interfaith," the San Francisco Chronicle quotes new Graduate Theological Union president James Donahue as saying. As noted above, that's not necessarily true, historically speaking anyway. Ecumenism has always been a Christian movement "towards the recovery of the unity of all believers in Christ, transcending creed, ritual, and polity," according to the Oxford Dictionary of the Christian Church. Donahue knows that, one imagines, but is consciously trying to broaden the definition. And broadening it he is indeed. The Graduate Theological Union, founded in 1962 as a way for Catholics and Protestants to learn from each other, is now including Jewish, Islamic, Buddhist, and other religious studies. He's also going to try to increase dialogue between the liberal GTU and nearby evangelical institutions, such as Golden Gate Baptist Theological Seminary, but, as the Chronicle notes, "It may be much easier for the GTU crowd to work with Zen Buddhists than Southern Baptists." What's fun is contrasting Donahue's statements. "Those conversations [with evangelicals] need to happen," he says, "but they have to be willing to dialogue and willing to understand that they don't have an exclusive understanding of truth." But regarding non-Christians: "The challenge of interreligious work is finding points of agreement and accommodation, while preserving the integrity of your own religious beliefs." Just so long as those religious beliefs don't include an exclusive understanding of truth, apparently.
Ratzinger slams rock music in church
In an essay on liturgy, Roman Catholic Cardinal Joseph Ratzinger, head of the Vatican's Congregation for the Doctrine of the Faith, called rock music "an expression of base passions which, in large musical gatherings, assumes cult characteristics or even becomes a counter-cult opposed to Christianity." Such music, he says, seeks to falsely "liberate man through a phenomenon of mass, underpinned by rhythm, noise and lighting effects." Pop music, meanwhile, creates "an industrially-produced … cult of banality." And even opera has "eaten away at the sacred" in the last century. But since Weblog was unable to find Ratzinger's article, there's a chance he might not have said anything of the sort. The media mischaracterized Ratzinger's Dominus Iesus so badly that one wonders if Ratzinger really wrote in favor of a more traditional worship style. Then again, knowing Ratzinger, probably not.
More on music:
Australian wins $2.5 million (US$1.4 million) judgment from Catholic school for spanking 17 years ago:
Other church lawsuits:
Kansas school board tosses out 1999 standards on evolution:
Abortion:
Colorado considers outlawing faith healing:
Indianapolis Baptist Temple aftermath:
Nude black woman Jesus "Last Supper" photo criticized:
Psychoanalyzing Samson:
Jefferson's church-state wall:
Public prayer:
Vatican Radio on trial:
Sexual ethics:
Christians and political protest:
Clergy in trouble:
Religious freedom abroad:
Internet:
Catholicism:
Communion wine crime:
Mascots:
Children of God (Part four of the San Francisco Chronicle's "Alternative Faiths" series):
Other important stories:
Related Elsewhere:
See our past Weblog updates:
February 15 | 14 | 13 | 12

February 8 | 7 | 6 | 5

February 2 | 1 | January 31 | 29

January 26 | 25 | 24 | 23 | 22

January 19 | 18 | 17 | 16 | 15

January 12 | 11 | 10 | 9 | 8

January 5 | 4 | 3 | 2

December 29 | 28 | 27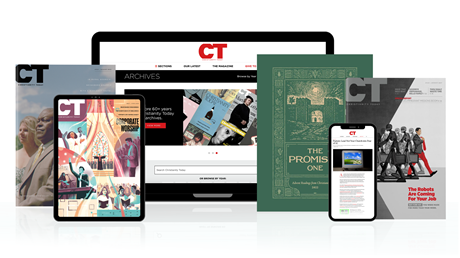 Annual & Monthly subscriptions available.
Print & Digital Issues of CT magazine
Complete access to every article on ChristianityToday.com
Unlimited access to 65+ years of CT's online archives
Member-only special issues
Subscribe
Slate's Kinsley Questions Furor Over Converting Jews
Slate's Kinsley Questions Furor Over Converting Jews