At last church service as president, Clinton gives the sermon
It was Clinton Day at Foundry United Methodist Church as the First Family worshiped as First Family for the last time there (apparently they're otherwise engaged next week). Chelsea Clinton read the Old Testament passage from Isaiah, Senator Hilary Clinton read from 1 Thessalonians (since it's not part of the common lectionary, Weblog doesn't know what part of 1 Thessalonians she read from), and the preacher was William Jefferson himself, speaking on "'Reflections and Anticipations." The Washington Post reports that Clinton abandoned his notes for most of the 13-minute sermon, but still had plenty to say. Lots of jokes, for example:
"I will try every day to remember, as apparently for the first time in my life I will be able to earn a sizable income, that Christ admonished us that our lives will be judged by how we do unto the least of our neighbors."
"I anticipate that for some several months I will be disoriented when I walk into large rooms, because no one will be playing a song anymore."
"I anticipate that my Christian bearing will be tested by a return to commercial air travel, where I will reap the rewards of not having succeeded in one of the things I tried very hard to do, which was to end all those backlogs."
"I look forward to finding out whether John Quincy Adams was right when he said there is nothing so pathetic in life as an ex-president. Or whether, instead of his words, the life of John Quincy Adams and the life of Jimmy Carter prove exactly the reverse."
Clinton also used much of his time to praise the church for its support of him and his policies. "You cannot imagine the peace, the comfort, the strength I have drawn from my Sundays here," he said. He also commended Foundry for its "outreach to the homeless," and its "welcome to gay and lesbian Christians, people who should not feel outside the family of God."
Clinton will keep meeting with spiritual advisers
In a related story, Clinton's spiritual advisers—Foundry pastor J. Philip Wogaman, Tony Campolo, and Gordon MacDonald—say they will keep meeting with him after he leaves office. "He has indicated that he will continue this relationship," Campolo told Religion News Service. "He expects that, being relieved of the presidency, he will be able to give even more attention to … these matters so he is looking for spiritual counsel especially as he defines the future of his life."
Report: President-Elect Bush led teen to Christ last week
Here's a story that hasn't been picked up by any major news media, and Weblog isn't sure of its veracity, but for what it's worth … A Web site got a message from a minister at Prestonwood Baptist Church in Plano, Texas, who heard from a parishioner who heard it from a Bush campaign worker (got it?) that while at a thank-you dinner for campaign staff, Bush met the 16-year-old son of one worker who'd indicated that she was a Christian. Bush asked the boy if he was a Christian, too. When the boy said he wasn't sure, Bush reportedly asked, "Do you mind if I tell you how I came to know Christ as my Savior?" Says the Web site, "The boy agreed, and Gov. Bush pulled up a chair and witnessed to him for 30 minutes, and led him in the sinner's prayer!" (Update: Apparently the story wasn't true after all. Don't believe everything you read.)
Lutherans, Episcopalians inaugurate full communion
Though the "Called to Common Mission" alliance between the Episcopal Church U.S.A. and the Evangelical Lutheran Church in America officially went into effect January 1, bishops and clergy members of the churches inaugurated the full communion agreement Saturday at the National Cathedral in Washington, D.C. "We live in an ecumenical age in which many of the historical divisions between Christian bodies are slowly but surely being overcome," said ECUSA Presiding Bishop Frank Griswold. He also said, "Being in communion does not mean merging. It means respecting one another's traditions but recognizing we have sufficient commonality in faith." (See more from Reuters and the Chicago Tribune)
Other articles of interest:
Related Elsewhere
See our past Weblog updates:
January 5 | 4 | 3 | 2

December 29 | 28 | 27

December 22 | 21 | 20 | 19 | 18

December 15 | 14 | 13 | 12

December 8 | 7 | 6 | 5 | 4

December 1 | November 30 | 29 | 28 | 27

November 22 | 21 | 20

November 17 | 16 | 15 | 14 | 13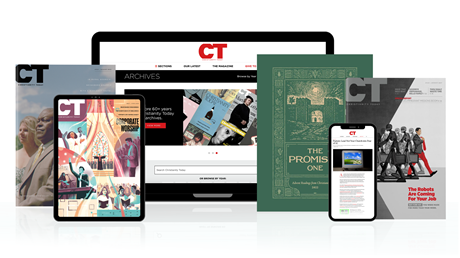 Subscribe to Christianity Today and get access to this article plus 65+ years of archives.
Home delivery of CT magazine
Complete access to articles on ChristianityToday.com
Over 120 years of magazine archives plus full access to all of CT's online archives
Subscribe Now
Clinton Preaches While Bush (Reportedly) Evangelizes
Clinton Preaches While Bush (Reportedly) Evangelizes