A group of concerned church leaders and activists in southern India has launched a campaign to combat "the deep-rooted cancer of corruption" within churches.
The campaign has been established following the murder of a bishop, the imprisonment of another, and a rise in concern among church members that corruption is rife in church hierarchies, particularly in denominations which receive funding from abroad.
A seven-member task group of officials from church-related organizations "to fight corruption and violence within the church" has been set up following a meeting by more than 20 church leaders on December 9 at the Inter-Church Service Association (ICSA) in Chennai, capital of the southern Indian state of Tamil Nadu.
"We are now planning to convene a larger meeting with as many church leaders as possible to make the movement against corruption [in churches] effective," Moses P. Manohar, ICSA executive director and co-ordinator of the anti-corruption campaign, told ENI.
The meeting on was chaired by K. Rajaratnam, a prominent Lutheran leader and former president of the National Council of Churches in India, who is also director of the Gurukul Lutheran Theological College in Chennai.
He told ENI: "Corruption is rampant among church leaders. The mission of the church is not on the agenda of many church leaders. Their real agenda is power and money." Rajaratnam is also the executive secretary of the United Evangelical Lutheran Church of India (UELCI), a forum of 11 Indian Lutheran churches.
Shortly after the meeting, the church leaders issued a statement saying the campaign had been prompted by the recent "killing of a head of a church on property-related issues and the award of two months' imprisonment by the judiciary to another bishop."
Bishop G. Emmanuel, president of the 800 000-member Andhra Evangelical Lutheran Church (AELC), was stabbed to death last July in the AELC complex, allegedly because of a dispute over the lease of AELC property.
Three months later, Bishop M. I. Kesari, of the Church of South India (CSI) diocese of Kannyakumari, in India's southern tip, was sentenced to two months' imprisonment for corruption and contempt of court. Bishop Kesari was jailed for defying a court order not to declare the outcome of a church election allegedly rigged by the bishop's faction. The bishop has appealed against the sentence, and the prison sentence has been put on hold.
The church leaders' statement declared that "a movement must be initiated to bring rethinking and revival in the church. The movement is not just aimed at a few individuals, but is meant for creating a new ethos where people should be ashamed of becoming suddenly rich and the people in general must be prepared not to be tolerant of corruption.
"The status of the church looks like a sucked-out orange and a salt which lost its saltiness," said the statement, which added that "church journals have shrunk to the level of carrying only the obituaries and bishops' tour details" instead of discussing real church concerns.
The meeting identified the misuse of foreign funding, along with indifference, tolerance of corruption, and the granting of absolute power to church heads as the main factors "that breed corruption" in the churches.
As well as the task force, committees to be known as "Nathan's Clubs" - named after the Old Testament prophet Nathan - will be established at various levels in Christian communities "for prophetic action of challenging corruption and abuse of power."
"If we speak of corruption to the people, they will tell us to go and advise the bishops first. Just as Nathan went to David in the name of the Lord, speaking the truth in love, we need to do the same," CSI pastor T. Dayanandan Francis told ENI, referring to the second book of Samuel in the Old Testament.
Pastor Francis, who is general secretary of the Christian Literature Society in Chennai, said that "we [Christians] are very fed up with church leadership. The cleansing should start at the top [with those] who call themselves shepherds."
According to Rajaratnam, even traditional churches like the Orthodox Church, based in the southern Indian state of Kerala, suffer from factionalism promoted by church leaders who have vested interests.
"As for the new [Protestant] churches, the situation is much worse," he told ENI. "Church leaders are more interested in material concerns than spiritual matters."
Esther Kathiroli, executive secretary of the Tamil Nadu Christian Council and one of the members of the new task force, said in an interview that "many church leaders start well, but gradually get involved more in money matters than spiritual matters."
Kathiroli said that church leaders "should act like David who repented when the prophet Nathan pointed out his sins." Corruption in the churches was a "vicious problem," with some pastors failing to take their mission seriously. "Consequently, disappointed congregation members join new churches mushrooming around these days," she said.
While corruption was a problem "in almost all churches," Moses Manohar said that churches "directly connected to overseas churches are more prone to corruption" because of their access to foreign funds.
He added that the swift amassing of wealth, including big houses and other properties, by church leaders was "a scandal to ordinary faithful."
"Widespread corruption has made churches also embroiled in too many court cases," he said, adding that "judges are virtually ruling our churches."
Rajaratnam told ENI that leaders of the National Council of Churches in India, the CSI, and officials of theological colleges had written to him welcoming the campaign against corruption.
However, Rajaratnam said that the task ahead was a "difficult one," and that most of those supporting the campaign were retired church leaders. "The challenge before us is to bring active church leaders into the campaign for accountability and merit in church decisions and administration. But, the question is how many would be willing to surrender power to public scrutiny?" Rajaratnam said.
Related Elsewhere
Read more about how you can pray for India from Operation World.
Previous Christianity Today articles about religious tensions in India include:
Christians Hammered by Pre-Christmas Violence | 200 Christians driven from a small town in Gujarat, India, and their church converted into a Hindu temple. (Dec. 22, 2000)
Indian Christian Youth Form Protection Group | Non-violent group aims to counter attacks on Christians through peaceful solidarity. (Nov. 12, 2000)
A Chinese Model for India's Churches? | No thank you, say Indian Christians to Hindu proposal for government church regulation. (Oct. 12, 2000)
Study of Indian Clergy Exposes Inequalities in Church Leadership | Many low-caste and rural Indians are Christians, but few have positions of influence within the church. (Oct. 9, 2000)
U.S. Religious Freedom Commission Criticized | Indian churches reject U.S. inquiry, but Pakistani Christians welcome it. (Oct. 3, 2000)
Plans to Resolve India's Interfaith Tensions Face Delays and Accusations | Did India's National Commission for Minorities plan a meeting to discredit Christians? (July 20, 2000)
India's First Dalit Archbishop Holds 'No Grudge' Over Predecessor's Attack | Once "untouchable" Dalits make up bulk of country's Christians. (May 11, 2000)
India's Christians Resist Move to Register Conversions | State's legislation unconstitutional, says leaders. (May 2, 2000)
Build Bridges, but Fight Fanaticism, India's Churches Told | National Council of churches in India will work against strengthening of caste system. (Mar. 9, 2000)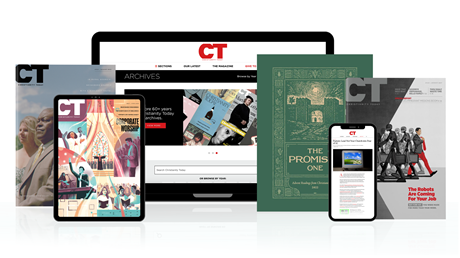 Subscribe to Christianity Today and get access to this article plus 65+ years of archives.
Home delivery of CT magazine
Complete access to articles on ChristianityToday.com
Over 120 years of magazine archives plus full access to all of CT's online archives
Subscribe Now
Indian Campaign Against Church Corruption
Indian Campaign Against Church Corruption