Religion is good. Not a religion, just religion
Seventy percent of Americans want religion to play a greater role in society, says a new survey by opinion research organization Public Agenda. But 80 percent don't care which religion. And apparently their belief doesn't carry over into the political sphere: only 47 percent of those polled believe that if more elected officials were deeply religious, they likely would make better decisions. "A majority of Americans recoil at the use of religion as a litmus test and have an almost instinctive wariness of injecting religion directly into politics or putting their own faith on a pedestal above others," says Deborah Wadsworth, president of Public Agenda. "On the other hand, they believe religion has enormous power to elevate people's behavior and address many societal problems." Those evangelicals polled, the study says, "take a distinctive view on many issues. … On certain issues, like religion in the public schools, their views are in step with the rest of the public—they favor a moment of silence over an explicitly Christian prayer. But evangelicals are less likely to countenance compromise on hot-button political issues." And apparently 84 percent of evangelicals agreed with the statement that Satan was behind the fight against religion in public life. (See more coverage from The Washington Times and The Christian Science Monitor, which also editorializes on the findings.)
Church apologizes for priest's naked calendar photo
Father Olan Rynn of a Galway, Ireland, Catholic church approached his bishop, James McLoughlin, about posing for a calendar to raise money for cerebral palsy and cancer charities. "Thinking it to be a straightforward fundraising project in aid of two worthy causes, I gave Father Rynn permission to participate in the venture," McLoughlin said later. Apparently Faither Rynn didn't indicate that the name of the calendar was "Bare Shakers 2001," and that Rynn would be naked except for his collar and a Bible covering his holy parts. "On reading a report in a local newspaper on Friday afternoon, I was surprised and dismayed to discover what the content of the calendar was going to be," McLoughlin's statement continued. "As it is clearly inappropriate for a priest to appear in such a calendar, I immediately approached the promoters of the project to discuss the matter with them." The makers of the calendar have agreed to remove Rynn's photo, and an apology was read at all the Masses at Rynn's Salthill, Galway, parish. (Here's a photo of Rynn, who was apparently just recently ordained to the priesthood. Oh, and don't worry—he's fully clothed in this one.)
Black Sea flood wasn't Noah's, say geologists
William B. F. Ryan and Walter C. Pitman III have been "politely but firmly" criticized for asserting, in their 1999 book Noah's Flood: The New Scientific Discoveries about the Event That Changed History, that a surge of water from the Mediterranean into the Black Sea 7,600 years ago inspired the Gilgamesh and Noah flood stories. "The Black Sea flooded not by rain but from rising sea levels far away," The New York Times (which once gave a mixed review to the book) explains. "The water encroached steadily, but land never vanished from sight and people had time to flee." The criticism came at the annual meeting of the Archaeological Institute of America.
The Parchment Thief's Tale
Researchers at De Montfort University, Leicester, England, say Geoffrey Chaucer probably either stole the vellum his Canterbury Tales were written on, or he had someone else steal them. "Chaucer could have been sending his personal manuscripts along to have them copied in the Privy Seal office," Peter Robinson, director of the Canterbury Tales Project, tells The Telegraph. "Or perhaps the scribes worked part-time as government clerks and they might have made extra money by using their skills to write manuscripts for Chaucer and other poets. So it is quite likely that Chaucer was using someone who was stealing parchment."
More articles of interest:
Related Elsewhere
See our past Weblog updates:
January 9 | 8

January 5 | 4 | 3 | 2

December 29 | 28 | 27

December 22 | 21 | 20 | 19 | 18

December 15 | 14 | 13 | 12

December 8 | 7 | 6 | 5 | 4

December 1 | November 30 | 29 | 28 | 27

November 22 | 21 | 20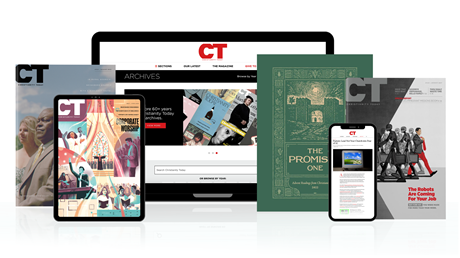 Subscribe to Christianity Today and get access to this article plus 65+ years of archives.
Home delivery of CT magazine
Complete access to articles on ChristianityToday.com
Over 120 years of magazine archives plus full access to all of CT's online archives
Subscribe Now
Religion—But Not Religious Politicians—Can Solve Nation's Ills, Says Survey
Religion—But Not Religious Politicians—Can Solve ...