Last week we talked about the memoir industry and its flacks, who seem to believe that unless they "sell" the genre with inflated claims it will disappear, like an idiom gone stale or a name that's out of fashion: Elmer, say, or Myrtle. But there's no call for such anxiety. Reading memoirs is an end in itself. You can live without them—you don't need to read a memoir today or next week or ever—but your life will be smaller, your imagination more cramped if you don't.
This week we touch on four exemplary memoirs. Each would merit a column of its own; I hope these glimpses will prompt you to read more. Every sentence in each one of these four books bears the mark of its authorial DNA. Here are four samples, a taste of four lives, like the trailers for coming attractions at the cineplex.
* * *
Pelzer, South Carolina. Autumn 1961. Phyllis Tickle has been living in this mill town since 1958, brought by her husband's work. Sam's a physician. Later that year they will go with their two young daughters to Memphis, where he will begin a residency in internal medicine and she will be a lecturer at Rhodes College.
Living next door is Earl King, the pastor of the Presbyterian church they attend, a "straight-line Calvinist" and a missionary in Africa for more than 35 years, recently retired because of his wife's poor health. He's a displaced person, not easy to talk to, but deeper than he seems at first. On a cool, sunny afternoon, conversation has turned to Africa, as it has a way of doing with him, and all of a sudden he's saying something outrageous:
"Every faith's got its charlatans, but the real witch doctors scorn such conniving. A real witch doctor kills by the spirit, not tricks."

There was the longest pause on record just there. I looked at the previously dull man, and he looked back as naturally and unflinchingly as if he had just announced they were having pot roast at his house for dinner. He believed what he had just said. "That's not true," I said. "There's no such thing as killing by thinking about it or willing it or hexing or whatever!"

"Why not?"
What gives this story and its aftermath extraordinary resonance is the larger story in which it figures. It is a story that begins with a little girl in Tennessee in the late 1930s and early 1940s, an only child, learning about prayer from her mother—not by instruction but by daily example. It's a story in which seemingly random occurrences are seen in retrospect as connected, parts of a pattern not fully grasped but intuited. Who would have guessed how a college student's encounter with a great language teacher would connect with her childhood discovery of prayer and the discovery years later (by the woman that child became) of a breviary in a heap of old books? What is prayer, anyway, and what happens when we pray? What does the Spirit in action look like? Read Phyllis Tickle's The Shaping of a Life: A Spiritual Landscape (Doubleday).
* * *
New Cana, Illinois. Pop. 250, more or less. Early 1970s. Richard Lischer is 28 years old, a Lutheran seminary grad and Ph.D. (London University) newly arrived at his first parish:
A day in the country—this was not a novel experience for me but an alien world. I might as well have been touring Nepal as motoring through the dead cornfields of Illinois. …

The first to speak was a man named Leonard Semanns. He said rather cheerfully, "Well, I didn't vote for you, but I know we will have a good church with you as our pastor" or some such thing. His wife studied the carpet intently, as if she had dropped a contact lens. The next man—only the men spoke in this exercise—said without a hint of embarrassment, "I didn't vote for you either, but I agree with Leonard." …

In my my first sermon I explained the meaning of an epiphany, not the Epiphany of God in the person of Jesus—no, that would have been too obvious—but the category of epiphanies in general. … Before I could talk about Jesus, I apparently found it necessary to give my farmers a crash course in the angst-ridden plight of modern man. …

Any cultural anthropologist would have warned me not to rearrange the furniture in our church.
The book is called Open Secrets: A Spiritual Journey Through a Country Church (Doubleday). The author is Richard Lischer. Yes, he is funny and sharp enough to make you laugh out loud (I did, anyway), and he trusts his readers, so that when he shifts gears from the ludicrous to the luminous, from the mundane to the tragic, he doesn't feel the need to post advisories. You might want to pick up a copy for your pastor, too.
* * *
Waxahachie, Texas. The 1960s and 1970s. A different world. Phyllis Tickle's geography is Southern. It's both a place and a way of life. And her narrative ends on the brink of all those changes we file under "Vietnam." Richard Lischer takes us to the Midwest: southern Illinois, Little Egypt, where the South is crossbred with the Heartland; St. Louis, Milwaukee, Chicago. The air is different, the language is different, the telling is different. Tickle's memoir offers some of the pleasures we find in a long, rich Bildungsroman, the narrative beginning in childhood and moving forward with the pull of time, unbroken. Lischer's book is episodic, discontinuous: bite-sized short chapters that typically wind up with punchlines, but with sentences crafted, nothing like the typical "pastor's book" written for people who are too busy to read.
Scott Sawyer's world in Earthly Fathers (Zondervan) is something else again. Texas: almost another country. And the emotional terrain is different too: family centered. A father ("Daddy Ronny") who died from complications of polio when Scott was only eight weeks old and his brother fifteen months. A stepfather ("Daddy Robert") who can't help but be aware of the ghost of his predecessor.
The rhythm of the telling is laid down in the very first sentences of the book: "He wasn't our real father. He was Daddy Robert. The one who had a last name different from ours." We're drawn into events as perceived by a child, an adolescent, a teenager: re-creation rather than recollection in tranquillity. When a terrible death comes, it's like being hit by a two-by-four. And where was God hiding out? Where was the Heavenly Father? There's an answer at last, hard-won.
* * *
New York, Route 90, near Niagra Falls. July 19, 1993. Another geography: from China to the Northeast. We're accustomed to categorizing memoirs. There's the story of the fish out of water, the newcomer, the immigrant. There's the Dissident's Book. (And that has many subcategories, of course: the Russians, about which a writer said to me recently "no one reads those books anymore"; the Chinese, more in vogue; and so on.) And the Survivor's Tale (again with subheads for cancer, catastrophic injury, the Holocaust or Cambodia or Rwanda). Such categorizing is reasonable, inevitable, but always runs the risk of treating individuals as merely so many instances of the same phenomenon.
A Memoir of Misfortune (Knopf), by Su Xiaoking, could be placed in all the categories just named but doesn't fit neatly in any of them. The "misfortune" of the title is a car accident that occurred on July 19, 1993, shortly after Su's wife, Fu Li, and their young son had joined him America. Fu Li was very seriously injured, and a good deal of the book is about her painstaking rehabilitation.
Su's narrative is not merely episodic, like Lischer's; it has a wild unpredictability that is part of its great charm. What unifies the book, though, is Su's guilt over the circumstances that led to the accident, and the unsparing self-examination it prompts. We're constantly being told that today's memoirists are utterly candid, but it is really quite rare for a memoir to contain a genuine element of confession and repentance. Very often when a memoirist admits to doing something wrong, there is a subtext that excuses or justifies the misdeed or even converts it to his or her advantage. Su's book is not like that, and that difference makes it extraordinary.
The other three memoirs we've mentioned are all by Christians. Su's memoir includes a chapter called "The Search for Salvation," which tells of the attempts by Christians to convert Su and his wife. It is by no means an unbalanced portrait: while it shows Christians warts and all, there is much respect and gratitude. Neither Su nor Fu Li accepts the invitation. Nevertheless, Su describes how his atheism "crumbled." And he concludes by saying, "God is infinite."
* * *
If not infinite, memoir is a many-splendored thing, as various as humanity. In these four memoirs, we are offered the chance to enter different worlds, and we relish the strangeness of the view even as we experience again the shock of recognition at our common plight and the hope of our salvation.
John Wilson is editor of Books & Culture and editor-at-large for Christianity Today.
Related Elsewhere
Visit Books & Culture online at BooksandCulture.com or subscribe here.
Phyllis Tickle's The Shaping of a Life, Richard Lischer's Open Secrets, and Scott Sawyer's Earthly Fathers can be ordered at ChristianBook.com and other book retailers. Su Xiaoking's A Memoir of Misfortune is available at Amazon.com and elsewhere.
Books & Culture Corner appears Mondays at ChristianityToday.com. Earlier Books & Culture Corners include:
The Distorted Story of Memoir Inc. | There are many good autobiographies out there, but do those who write about them have to pretend they're the only books worth reading? (July 23, 2001)

Looking for the Soul of CBA | Nearly anything that can be said about Christian publishing is true to some extent, thanks to the industry's ever-enlarging territory. (July 16, 2001)

Give Me Your Muslims, Your Hindus, Your Eastern Orthodox, Yearning to Breathe Free | Immigration's long-ignored effect on American religion is garnering much attention from scholars (July 9, 2001)

.Shrekked | Why are readers responding passionately about a simple film review? (July 2, 2001)

Debutante Fiction | The New Yorker should have paid less attention to the novelty of its writers and more attention to their writing. (June 18, 2001)

Saint Teddy? | Yes, Roosevelt paid the usual presidential respects to Christianity, but didn't show much explicit personal devotion to it. (June 11, 2001)

History Bully | Christian scholars speak not-so-softly over a big sticking point: Theodore Roosevelt's faith. (june 4, 2001)

'Taken Up in Glory' | The Ascension has been forgotten in many Protestant churches, jettisoning an essential part of the Christian story. (May 21, 2001)

Who Won? Who Cares? | Skip the latest ballot reviews and read Italo Calvino's brilliant election novella "The Watcher." (May 14, 2001)

Infamy Indeed | John Gregory Dunne suggests imperialistic Americans got what they deserved at Pearl Harbor. (May 7, 2001)

Rantings of a Not-So-Primly Dressed Person With Too Much Time | The Chronicle of Higher Education infuses some not-so-subtle bigotry into its fetal-tissue research coverage. (Apr. 30, 2001)

Big Numbers, Big Problems | Christianity is in the midst of a massive global shift. But how much of a difference is it making in its new homelands? (Apr. 16, 2001)
Article continues below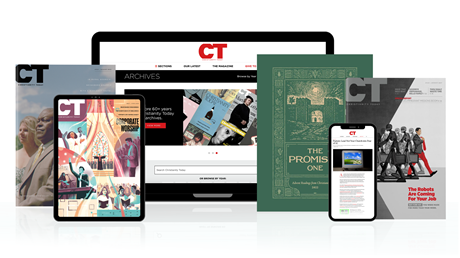 Annual & Monthly subscriptions available.
Print & Digital Issues of CT magazine
Complete access to every article on ChristianityToday.com
Unlimited access to 65+ years of CT's online archives
Member-only special issues
Subscribe
Memorable Memoirs
Memorable Memoirs