Vague regulations, language problems cited in missionary shooting report
Yesterday, a U.S. State Department and Government of Peru joint investigation team released its report (video | photos) on what led to the April 20 shooting of a missionary plane over Peru.
The report detailed the attack extensively showing the tragedy as a sad result of snowballing mistakes, confusion, and procedural deviations.
American missionary Veronica Bowers and her 7-month-old daughter, Charity, were killed in the incident. Pilot Kevin Donaldson suffered serious bullet wounds to his legs, and Bowers's husband and young son were unharmed.
Mistaken for a drug plane, the aircraft was shot down under a drug-fighting alliance between the two countries. Conclusions in the report point to procedures in the pact that have degenerated over time becoming "less detailed and explicit." The Associated Press reported that Rep. William Delahunt (D-Mass.) opposes the U.S. providing data that can lead to shoot-downs. Such agreements have been suspended in Peru and Columbia.
"Familiarity, routine leads to sloppiness, and I think this had to be anticipated, and it's now time to change the policy," he said.
Added to the situation was a complete communications break down between the missionary plane, the tower, and tracking aircraft. The breakdown was caused by language barriers, wrong frequencies, and an overloaded communications system.
The Washington Post recreated the scene as a CIA aircraft tailed the suspected drug plane:
Inside the CIA cockpit, a voice recorder catches the low beat of pop music and the English and Spanish radio conversations of two American pilots and the Peruvian official aboard as they guide a Peruvian A-37B toward the suspected drug flight. But to each other, and in pidgin Spanish to the Peruvian official, the Americans mention their rising doubts that the plane contains a drug smuggler. Busy on his radio as the fighter closes in, the Peruvian turns to them and says, "What?"

Suddenly a loud voice breaks into the tape, screaming, "Me estan matando! Me estan matando!" They are killing me. They are killing me.

"No!" yells one of the CIA pilots to the Peruvian. "Don't shoot! No mas, no mas."

The Peruvian, in turn, shouts into his radio to the fighter pilot. "Stop! No mas! No mas!" No more.

The other CIA pilot expels a breath. "God," he murmurs.
ABWE released a press release last night responding to the report. The group felt the facts demonstrated that the aircraft was not at fault for suspicions of carrying narcotics, that appropriate procedures were not followed by personnel of both governments, and that the passengers of the missionary plane did nothing to contribute to the shootdown.
Moving on without anti-discrimination language
The Washington Post reports that Rick Santorum (R-Pa.), the Senate sponsor of the faith-based initiative bill, said he may drop the provisions that would make it easier for religious charities to avoid state and local anti-discrimination laws. The cuts, he feels, would boost the chances of the legislation's approval in the Senate. It passed in the House last month. "Let's remove the issue and move on," The Post quoted Santorum saying. "I don't want to give anybody any excuse to bring up these concerns."
Psst. Wanna buy a bioethicist?
Bioethicists may be the new hot profession kids say they want to be when they grow up now that modern science regularly treads on theology's turf. More and more, The New York Times reports, researchers and politicians are looking to bioethicists for a hand to lead them.
Doctors and scientists have wrestled with moral questions ever since Hippocrates uttered his famous oath. But they rarely sought outside ethics advice until the late 1960's, when the advent of kidney dialysis and an initial shortage of dialysis machines forced them to decide who would receive the life-saving treatment, a decision many likened to "playing God."
And with this relatively new reliance and spotlight comes scrutiny and pressure.
Outside critics, particularly conservatives, complain that bioethicists have anointed themselves society's philosopher-kings and hold views out of step with those of most Americans.

"Are we being ethical even as we say what is ethical?" asked Laurie Zoloth, president of the American Society for Bioethics and Humanities and a professor of Jewish studies at San Francisco State University. "That is a big focus of our concern."
The Times specifically addresses a big question in the emergence of science ethics. If these bio-ethicists are being paid, does it affect their judgment? "Bioethics boards look like watchdogs," says Carl Elliott, a bioethicist at the University of Minnesota, "but they are used like show dogs."
And the survey says: Only 40 percent believe Jesus would go to church
Of 931 adults surveyed by British polling firm NOP for the religious book publisher Hodder and Stoughton, more than half "believe the son of God would not go to church if he were alive in present times."
And apparently, Jesus isn't the only one not going to church. 71 percent of British Christians don't attend church or only manage a couple services a year.
While 48 percent of 45 to 54-year-olds and 24 percent of 15 to 24-year-olds said they were spiritual, only 3 percent felt Billy Graham showed more Christian qualities than Gandhi.
The survey also found 43% of Christians feel that the Church as an organization puts off more people than attracts them. But would it really put off Jesus?
Related Elsewhere
See our past Weblog updates:
August 2 | 1 July 31 | 30

July 27 | 25 | 24 | 23

July 20 | 19 | 18 | 17 | 16

July 13 | 12 | 11 | 10 | 9

July 6 | 5 | 3 | 2

June 29 | 28 | 27 | 26 | 25

June 22 | 20 | 19 | 18

June 15 | 14 | 13 | 12 | 11

June 8 | 7 | 6 | 5 | 4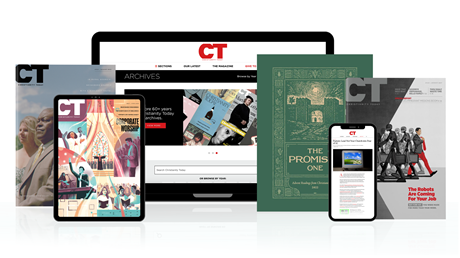 Subscribe to Christianity Today and get access to this article plus 65+ years of archives.
Home delivery of CT magazine
Complete access to articles on ChristianityToday.com
Over 120 years of magazine archives plus full access to all of CT's online archives
Subscribe Now
"Series of Mistakes, Confusion Led to Missionary's Death"
"Series of Mistakes, Confusion Led to Missionary's Death"