"Germany Ponders Opening a Door, Just a Crack, to Immigration," read a headline in Thursday's New York Times. Roger Cohen's story, datelined Berlin, noted that two decades have passed since Germany closed its doors to "guest workers." Still, more than two-thirds of the German population are opposed to increased immigration, in part because of longstanding tensions with the Turkish community in Germany, now numbering more than two million. And the high rate of unemployment in what used to be East Germany also leads many Germans to resist immigration.
Nevertheless, a committee appointed by Chancellor Gerhard Schroeder has recommended that Germany begin to admit 50,000 "qualified" immigrants annually. Germany, like a number of European nations (and like Japan), has seen its birthrate drop to such an extent that demographic disaster looms on the horizon. The committee estimates that Germany's population will decline from 82 million today to 60 million in 2050, with the working population declining from 41 million to 26 million over the same span.
Just above the story from Germany, the Timesran a photo captioned "Rescue Off Italy":
The Italian Navy frigate Granatiere rescued 650 Kurdish migrants yesterday after they were stranded on a fishing boat in the Ionian Sea. Italy is a popular goal for such refugees, and the new center-right government of Silvio Berlusconi has pledged to fight such illegal immigration.
In Italy, it should be noted, the birth rate has dropped even more precipitously than it has in Germany. But a majority of Italians, like their German counterparts, fear that immigration will fundamentally alter the character of their nation.
Meanwhile, the United States has entered the twenty-first century after more than a decade of levels of immigration unprecedented even in the period at the beginning of the twentieth century, with legal immigration (including refugees) together with illegal immigration adding up to well over a million newcomers annually, year after year. On other occasions in this space we've noted the profound impact of the landmark Immigration Act of 1965, the long-term consequences of which we're only beginning to sort out. Much of the study of the impact of the immigration—and the never-ending debate about its benefits and costs—has focused rather narrowly on economics. Shrewd observers such as Charles Krauthammer and Nicholas Eberstadt have suggested that the continuing influx of immigrants will allow the United States to thrive economically in the coming decades while Europe and Japan struggle to overcome the effects of a steadily dwindling population. Other commentators have debated the cultural impact of immigration: are the so-called "new immigrants" assimilating much as their predecessors did a century ago, or is the United States in danger of becoming increasingly Balkanized?
Until recently, one important aspect of immigration's impact had been relatively neglected: the effects of the new immigration on religion in America. In part this can be attributed to the bias of scholars still in the grip of the secularization thesis, or otherwise hostile to or uninterested in religion, yet Christians were also slow to appreciate its significance. But that is no longer the case. We now have wide-ranging accounts such as Gatherings in Diaspora: Religious Communities and the New Immigration, edited by R. Stephen Warner and Judith G. Wittner (Temple University Press, 1998), as well as many studies focused on particular faith traditions or ethnic groups.
This is a huge subject, far too much for one column, and we'll be returning to it periodically. But two new books in this burgeoning literature offer a good starting point. The first is New York Glory: Religion in the City, edited by Tony Carnes and Anna Karpathakis, with an excellent introduction by Richard John Neuhaus. Carnes directs the Seminar on Contents and Methods in the Social Sciences at Columbia University, the International Institute on Values Changes, and the Research Institute for New Americans; his name will be familiar to readers of Christianity Today's news department, to which he frequentlycontributes. Karpathakis is assistant professor in the Department of Behavioral Sciences at Kingsborough Community College, CUNY. Together they have assembled a collection of essays that conveys something of the vibrant presence of religion in the city, at once exhilarating and disorienting in its wild profusion—much like the city itself. "In sum," Carnes writes in his overview, "the magnitude of religion's impact on New York City's social and cultural life has been underappreciated." With this book at hand, there's no excuse for such neglect to continue.
Much broader in scope, and aimed at a general audience, is Diana Eck's A New Religious America: How a "Christian Country" Has Become the World's Most Religiously Diverse Nation(HarperSanFrancisco). Although it is significantly flawed, not least because it consistently understates the predominantly Christian character of the new immigration (more on this in a future column), Eck's book is must reading. Her portrait of the new American religious landscape is based on extensive travels around the country. As the director of the Harvard-based Pluralism Project, she is walking encyclopedia on the subject of religious diversity.
On this matter it's all too easy to slip into cliches and feel-good babble—a temptation Eck doesn't always resist. But by drawing our attention in particular to American Hindus, Buddhists, and Muslims, setting them in the context of an even more various multireligious society, and urging that we simply get to know our neighbors in this vital center of their lives, she has produced an indispensable book. As you read it, take a look around your own community.
John Wilsonis editor of Books & Culture and editor-at-large for Christianity Today.
Related Elsewhere
Visit Books & Culture online at BooksandCulture.com or subscribe here.
Christianity Today contributing editor Lauren Winner interviewed Diana Eck about her book for Publishers Weekly.
Earlier Christianity Today articles on immigration include:
European Churches Declare Immigrants Are Not 'Potential Criminals' | Petitions submitted to the European Union for more protection, aid. (June 13, 2001)
Separation Anxiety | Haitian immigrants are less welcome than Cubans, but Florida churches are filling the hospitality gap.(April 24, 2000)
Saving Bodies, Rescuing Souls | Chechen Muslims find Salvationist care has compassionate accent. (April 24, 2000)
In Sri Lanka's No Man's Land, Churches Provide Some Hope for Refugees | Christians mobilize to help nearly a million left homeless by Tamil conflict (April 18, 2000)
The Torture Victim Next Door | Hidden victims of religious persecution find refuge in America (Mar. 6, 2000)
Church Aids Refugees Despite Violence | The Catholic church has been a place of refuge and reform for those opposing the Indonesian government. (October 25, 1999)
Churches Reach Out to Refugees | In many cases, the groups are relying on churches to help provide temporary housing, furniture, clothing, language training, and money for rent. (June 14, 1999)
Books & Culture has also repeatedly discussed immigration in articles available in them magazine's current issues area.
Books & Culture Corner appears Mondays at ChristianityToday.com. Earlier Books & Culture Corners include:
Shrekked | Why are readers responding passionately about a simple film review?
Article continues below
Debutante Fiction | The New Yorker should have paid less attention to the novelty of its writers and more attention to their writing. (June 18, 2001)
Saint Teddy? | Yes, Roosevelt paid the usual presidential respects to Christianity, but didn't show much explicit personal devotion to it. (June 11, 2001)
History Bully | Christian scholars speak not-so-softly over a big sticking point: Theodore Roosevelt's faith. (june 4, 2001)
'Taken Up in Glory' | The Ascension has been forgotten in many Protestant churches, jettisoning an essential part of the Christian story. (May 21, 2001)
Who Won? Who Cares? | Skip the latest ballot reviews and read Italo Calvino's brilliant election novella "The Watcher." (May 14, 2001)
Infamy Indeed | John Gregory Dunne suggests imperialistic Americans got what they deserved at Pearl Harbor. (May 7, 2001)
Rantings of a Not-So-Primly Dressed Person With Too Much Time | The Chronicle of Higher Education infuses some not-so-subtle bigotry into its fetal-tissue research coverage. (Apr. 30, 2001)
Big Numbers, Big Problems | Christianity is in the midst of a massive global shift. But how much of a difference is it making in its new homelands? (Apr. 16, 2001)
DiIulio Keeps Explaining, But Is Anyone Listening? | At a media luncheon in Washington about Bush's faith-based initiatives, answered questions get asked one more time. (Apr. 9, 2001)
Public-izing Faith | Recent articles in Touchstone, Commonweal, and The New York Times serve as reminders that faith is not merely "a private thing." (Apr. 2, 2001)
How Can I Keep From Singing? | Arne Bergstrom has looked suffering square in the eye all over the world. Now he sings about hope. (Mar. 26, 2001)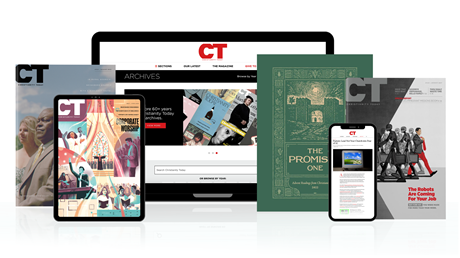 Annual & Monthly subscriptions available.
Print & Digital Issues of CT magazine
Complete access to every article on ChristianityToday.com
Unlimited access to 65+ years of CT's online archives
Member-only special issues
Subscribe
"Give Me Your Muslims, Your Hindus, Your Eastern Orthodox, Yearning to Breathe Free"
"Give Me Your Muslims, Your Hindus, Your Eastern ...