A couple of smitten seahorses arrested my attention recently at Chicago's Shedd Aquarium. The male and female fishes entwined their tails, their skins blushing in a love dance. As their bellies arched gracefully, it seemed both of them were pregnant. But only one of them was.
The male.
The female seahorse deposits her eggs on her partner's underside, the aquarium volunteer told me. The male then fertilizes them and provides them with food and oxygen. After ten days to several weeks of pregnancy, the male's brood sack bursts forth with tens or hundreds of newborns.
Within a day, the male gets pregnant again. The cycle repeats itself throughout his lifetime, giving the male a few hours to recover between pregnancies. The same faithful female will visit him every morning for several minutes of affection. Leaving her lover in the same one square meter, she travels perhaps a hundred times that area, ignoring all other males. She's back to visit her partner the next morning.
"How endearingly egalitarian!" was my initial thought/gasp, soon followed by its amendment. "Nah! Unless the male for some reason relishes his pregnancies (which could be true; I don't know), his freedoms seem much more limited than the female's." But even if fundamentally unegalitarian, the reversal of the traditional sex roles—not the oppression of the male—brought to mind the men I met at Christians for Biblical Equality (CBE) conference in Dallas at the end of June. In both cases—the seahorses and the egalitarian men—the culturally sanctioned gender-role reversal is warranted by divine endowments. In case of the seahorses, it's their God-ordained anatomy and instincts. In case of egalitarian men, it's their and their spouses' gifts and talents. Even so, both the male seahorses and egalitarian men remain confidently male, hormones and all. Ask the biologists and the egalitarian men's wives.
Some 2,000 members of CBE incorporated in 1988 believe that "the Bible, properly interpreted, teaches the fundamental equality of men and women of all racial and ethnic groups, all economic classes, and all age groups," according to CBE's statement of faith.
To learn more about those teachings, 375 men and women, most of them evangelicals (a lot of them Southern Baptists) flocked to the annual conference in Dallas. They took in the sessions and workshops that expounded the biblical passages often used to support the hierarchical/complementarian gender structures, as well as some of the 100 Bible verses that support women's ministry; they received advice on egalitarian marriage and gender exactness in Bible translations. The words of biblical scholars such as Gordon D. Fee and Catherine Clark Kroeger soothed the wounds of many women who for too long were taught that God didn't want them to use the gifts he apparently gave them. Tears of hurt, freedom, and worship flowed spontaneously.
I'll direct those who want to know more about what CBE stands for to the group's Web site. The conference, however, made me think of what CBE is not. The uninformed as well as some advocates of male headship at home and in the church propagate at least four fallacies regarding CBE. What I learned at the conference seemed to debunk them all.
CBE is an organization for disgruntled women. Approximately 30 percent of the conference attendees were men, including speakers Gordon D. Fee, Dan Gentry Kent, and Richard J. Foster. Contrary to popular understanding, the egalitarian men are not weaklings codependent on their pants-wearing wives. Instead, the men who attended the Dallas conference know what their gifts are, and they know what their wives' gifts are. They are certain about one thing: they don't want anyone to miss out on what God can do when these gifts are put to use. When I asked them who the leader in their marriage was, these mutual submission advocates replied, "Both of us." The "leadership" depends on who has the relevant gift—not gender—that ought to be employed in a given situation. So, whether the men are better at childhood education and their wives at mowing the lawn—or vice versa—they divide the work accordingly.
CBE is just a phase. I've heard it said that the egalitarian stance is just another fad in church history. But while CBE is relatively new (growing in influence since its incorporation in 1988), functional egalitarians, such as deaconess Phoebe (Romans 16:1), Priscilla who taught Apollos "the way of God" (Acts 18:26), Corrie Ten Boom and Salvation Army cofounder Catherine Booth, to name a few, have always been admired for doing the work of the Lord. As the Dallas conference speaker Robin L. Smith has said, the equality of men and women is at the heart of the ongoing work of Christian reconciliation (Gal. 3:26-28). And that's never going away.
One must be a liberal to be an egalitarian.. Most of the people attending the conference were evangelicals with high regard for the Scriptures. They wouldn't be egalitarians if they didn't believe that the Bible, if "properly interpreted," espoused their view. CBE's site offers biblical interpretations of the "problem" complementarian passages, as well as the egalitarian verses.
Egalitarians affirm homosexuality. This statement is a cheap shot fired by the complementarian Council on Biblical Manhood and Womanhood. A news release on its Web site attacks CBE by saying that "no significant middle ground exists"—"one must be in a denomination that affirms the biblical, complementarian view, or one must be in a denomination that makes concessions with homosexuality." This unfair rhetoric runs counter not just to what I saw at the conference, but also to CBE's history. Some CBE founders and its prominent members withdrew membership from the Evangelical Women's Caucus International (EWCI) and decided to form CBE after EWCI presented a resolution recognizing "the presence of the Lesbian minority" in EWCI. "We are accused by more liberal groups of being homophobic," one of CBE's founders, Alvera Mickelsen, told me recently. "You can't win."
Any group wishing to disagree with CBE in a productive, respectful manner (as I'm sure CBMW does), would do well to scrupulously search its polemic for false assumptions and weed them out. Reliance on truth does tend to strenghten any argument.
I'll take my own advice as I report on myths about CBMW that need dispelling after I attend their conference in September. You can hold me to it.
Agnieszka Tennant is assistant editor of Christianity Today.
Related Elsewhere
The Christians for Biblical Equality site has more on their annual conference and other information about the organization and its beliefs.
The Council on Biblical Manhood and Womanhood, offering a different view, also has a Web site.
Earlier Christianity Today articles on gender roles include:
The Next Christian Men's Movement | Just because Promise Keepers no longer fills stadiums doesn't mean men's ministry is dead. Far from it. (Sept. 15, 2000)

What Has Gender Got to Do with It? | Wesleyan-Holiness churches were led by women long before the rise of the modern women's movement. (Sept. 12, 2000)

A Woman's Place | Women reaching women is key to the future of missions. (Aug. 4, 2000)

Integrating Mars and Venus | Gender-based ministries may be effective, but are they biblical? (July 12, 1999)

Finding Power in Submission | Two feminist scholars write about women you'll recognize. (Apr. 27,1998)

Will Episcopalians Step into the 'Radical Center'? | Homosexual ordination discussed, women's ordination mandated. (Sept. 1, 1997)

Presbyterian Groups Sever CRC Ties | Women's ordination splits two denominations. (Aug. 11, 1997)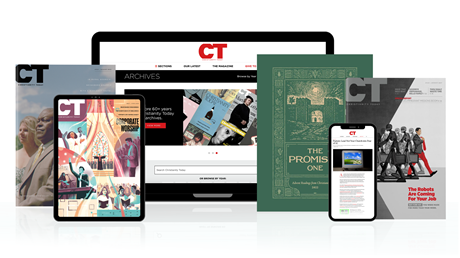 Annual & Monthly subscriptions available.
Print & Digital Issues of CT magazine
Complete access to every article on ChristianityToday.com
Unlimited access to 65+ years of CT's online archives
Member-only special issues
Subscribe
"Seahorses, Egalitarians, and Traditional Sex-Role Reversal"
"Seahorses, Egalitarians, and Traditional Sex-Role Reversal"