A leading association of Nigerian Christians is calling for the country's constitution to be strengthened to reinforce religious liberty in Nigeria.
Saidu Dogo, the secretary general of the northern Nigeria chapter of the Christian Association of Nigeria (CAN), made the call at a June 30 meeting in Kaduna organized by a presidential committee reviewing the constitution.
CAN is an umbrella body for Nigeria's Roman Catholic and Protestant churches.
Thirteen states in the country have adopted and are implementing Shari'ah, the Islamic legal code, leading to religious clashes, reportedly killing hundreds of people.
Nigeria has more than 100 million people—making it Africa's most populous country—with big Christian and Muslim communities. No estimates reliably depict which religion dominates nationally. Muslims own a big majority in the north while Christians dominate the east. The southwest is mixed.
CAN says that it is particularly concerned that Muslim governors in northern Nigeria are getting around a section of the constitution that prohibits federal and state governments from adopting a state religion. CAN wants the constitution strengthened to prevent federal or state governments from enacting religious laws at odds with the country's secular status.
CAN also wants limitations on the powers of Shari'ah courts of appeal by restricting their scope so that they would deal only with Shari'ah civil cases. Shari'ah courts of appeal have been in existence in northern Nigeria since independence. However, the jurisdiction of these courts has been limited to personal and family matters, while the criminal aspects were vested on the non-religious courts under the control of the federal government.
Nigeria's current constitution, dating from May 1999, is the product of the military administration of General Abdulsalam Abubakar, who took over political leadership in Nigeria following the sudden death of former military dictator, General Sani Abacha, in June 1998.
In October 1999, following the transition to civilian rule, the new president, Olusegun Obasanjo, set up a committee to review the constitution. According to the report of the review committee in February this year, it received two million written submissions, and heard 500,000 oral presentations. The committee also said that the issue of the secular character of Nigeria had not been adequately addressed by the constitution. It recommended that the constitution be amended to provide for a secular status for the country.
The government has now set up a new committee to hear debate about these recommendations.
The federal government hopes that by going over the constitution and getting rid of clauses that contradict provisions on human rights and religious liberty, it can check the nation's intractable religious conflicts.
According to Philip Ostien, a professor at the law faculty of Jos University, in Northern Nigeria, Christians living in states that have introduced Shari'ah have "longstanding complaints." These complaints include difficulties in acquiring land for church buildings or burial grounds, problems with school admissions and teaching Christianity alongside Islam in schools, obtaining facilities for religious broadcasting or getting government jobs.
He added: "Christians living in the affected [Shari'ah] states are with some historical justification fearful of misapplication of Islamic law to them, and fearful also of the fanaticism the new laws might encourage among Muslims."
However, while Christians want to see the constitution strengthened, Muslims wish to see greater autonomy to allow mainly Muslim states to be administered in accordance with Islamic laws.
At the hearing, Muslim leaders insisted that Shari'ah was a non-negotiable demand.
Aliyu Umar, a Muslim legal practitioner representing the Kano state house of assembly—the state parliament—and the Nigerian Muslim Lawyers Forum, said that Muslims wanted the constitution amended to allow states where either Islam or Christianity had a clear majority to adopt a state religion.
He also called for section 38(1), which deals with the issue of freedom of thought, conscience and belief, to be "expunged from the constitution."
Awwal Yadudu, the former legal adviser to the military government that drew up the 1999 constitution, said that the demand by Nigerian Muslims for the entrenchment of Islam in northern Nigeria, was in accordance with the provisions of the constitution.
"There is an overwhelming expression of the need for Muslims to govern their lives according to Sharia," said Yadudu, who is also a professor of law at Bayero university, Kano.
Related Elsewhere
Compass Direct looks at how challenging Nigerian law has become urgent and necessary.
On July 9, Muslim fundamentalists allegedly killed 10 people. CAN has accused the governor of masterminding the acts.
AFP reported that dozens were killed and thousands forced to flee Tafawa Balewa in June over the Shari'ah clashes.
BBC News has analyzed the grip of Shari'ah on Nigeria, severe punishments which have resulted for minor crimes, and the defiance of Nigerian states.
Article continues below
The Guardian covered CAN's calls against the former Head of State's call to not vote for Christians. This Day covered CAN's accusations of a state governor taking sides with the Muslims.
Libyan leader, Muammar Gaddafi, blames the recent religious crisis in Nigeria on America, reported The Guardian.
According to The Day in Lagos, Nigerian government meetings in early June were held to find a peaceful balance in introducing Shari'ah law
The government has reservations about religious youth groups taking the law into their own hands, reported The Guardian.
Christians in the northern Nigeria state of Borno vow to disobey Shari'ah law, according to the U.N. Integrated Regional Information Network. The Guardian reported the Christian Association of Nigeria also threatened to sue.
As Shari'ah is adopted in Nigeria, hotels and brothels close up shop, according to The Guardian.
The Post Express reports The Pentecostal Fellowship of Nigeria plans legal action against states operating by Shari'ah law.
In 1999, the New York Times reported as the first Nigerian state turns to the Shari'ah law."
For more articles, see Yahoo's full coverage on Nigeria.
Previous Christianity Today coverage of religious tensions in Nigeria includes:
Nigeria Officials Press Northern Governors to Scale Back Islamic Law | Churches harassed by Islamic youths purporting to enforce the law. (June 14, 2001)

Five Anglicans in Court After Rescuing Teenagers From Arranged Marriages | Priests claim Christian sisters are being forced into Islam. (June 5, 2001)

The Shari'ah Threat | Muslim Fundamentalist law troubles Christians and some Muslims. (Feb. 2, 2001)

'Focused, Determined, Deliberate' Destruction | Ecumenical leader calls on Nigeria to deal with religious violence between Muslims and Christians. (Oct. 30, 2000)

Nigerian Muslims and Christians Form a Religious Council | Gombe, a north Nigerian state, creates a council of faiths to deal with fears over Islamic law. (Sept. 19, 2000)

Churches Challenge Islamic Law | Christians plan to take Shari'ah to court. (Aug. 15, 2000)

Is Nigeria Moving Toward War? | Deadly riots lead to suspension of Islamic law. (March 31, 2000)

Nigeria On the Brink of Religious War | Northern states adopt Islamic law, increasing Christian-Muslim tensions. (Dec. 16, 1999)

Nigeria's Churches Considering Legal Challenge to Islamic Laws | Third state moving toward implementing Koranic laws (Dec. 17, 1999)

Can Christianity and Islam Coexist and Prosper in Africa? Twice in a decade religious fighting killed hundreds in West Africa's oldest city. (Oct. 25, 1999)

Nigeria's Christian President Calls for 'Moral Rearmament' Constitution rewritten to pledge freedom of belief is absolute. (April 26, 1999)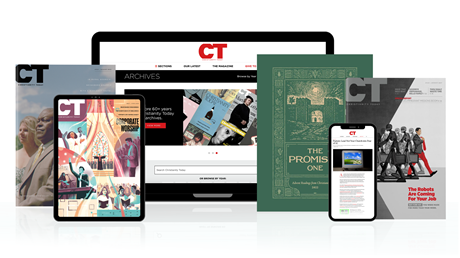 Annual & Monthly subscriptions available.
Print & Digital Issues of CT magazine
Complete access to every article on ChristianityToday.com
Unlimited access to 65+ years of CT's online archives
Member-only special issues
Subscribe
Christians and Muslims at Odds Over Nigerian Constitution
Christians and Muslims at Odds Over Nigerian Constitution