Hindu nationalists in Uttar Pradesh, India's most populous state, continue to train hundreds of young men and women in the use of various weapons, despite increasing opposition from political parties not part of the ruling National Democratic Alliance (NDA) coalition government led by the Bharatiya Janata Party (BJP).
In recent weeks opposition parties have demanded that the federal government halt arms training by the Bajrang Dal, the militant wing of the Hindu nationalist organization Rashtriya Swayamsevak Sangh (RSS), whose political wing is the BJP. Training camps, which have become almost a routine affair, were first held in Ayodhya in June 2000.
Opposition leaders fear that the training is intended to galvanize support for construction of the Ram temple on the site of the centuries-old Babri Mosque, which was demolished by Hindu nationalists in December 1992, and garner support for the BJP in the upcoming state Assembly elections.
Senior officials of the Vishwa Hindu Parishad (VHP, World Hindu Council) have said that construction of the temple could begin anytime after March 12.
Organizers of the weapons training programs contend that the instruction is "self-defense against the anti-Hindu forces, such as the Inter Service Intelligence (ISI, Pakistan's intelligence agency) and foreign missionaries.
"We are preparing these able-bodied persons to fight any eventuality," claimed Ved Prakash Sachchan, joint convener of the state unit of the Bajrang Dal. "With the ISI spreading its tentacles, these people are being trained to challenge the anti-Hindu forces."
Uttar Pradesh, with more than 166 million people, is in northern India and borders Nepal.
In Lucknow, from which Prime Minister Atal Behari Vajpayee was elected to parliament, 162 women were trained to wield daggers and lathis (sticks) during a 15-day camp that concluded on June 14 at Saraswati Shishu Mandir. It was conducted by Rashtriya Sevika Samiti, the RSS's women's wing.
An exercise in Sarojini Nagar, Lucknow, was organized by the Bajrang Dal, allegedly in a state guest house, Star News television reported on June 14. Vijay Kumar Malhotra, BJP spokesperson, denied that training was conducted on government property. "It is not proper to conduct the arms training in government-owned properties," he said.
The Bajrang Dal has been giving self-defense training for some time, he said. In August the organization plans to teach 50,000 youth from all over the state to use the trishul, a sort of trident.
Vikas Babu Mishra, a trainee from Unnao, said he learned "how to beat those who do not respect Hinduism." His friend Sadhu Ram added: "Now we are ready to face any eventuality."
Ashok Singhal, acting president of the VHP, said his organization plans an extensive program beginning with the celebration of the anniversary of the Somnath temple in Gujarat on September 18, to be followed by a Ram Naam Yagna—a ritualistic fire offering to Lord Rama—starting October 16. Those dates correspond with the approximate time of the state Assembly elections, for which no firm date has been set. A Chetavani Yatra— awareness movement or march — from Ayodhya to New Delhi would begin January 21 and visit 10,000 villages.
VHP leaders deny that their programs have anything to do with the elections in Uttar Pradesh. "When is the election? It has not been announced," Senior Vice President Acharya Giriraj Kishore told Newsroom. "The VHP has already announced its program. Only cynics can interpret this as an election gimmick."
Nonetheless, opposition leaders have condemned the BJP government's silence over the activities of the Sangh Parivar, the extended family of RSS affiliates. Jaipal Reddy, a senior member of the Congress Party, warned, "The Bajrang Dal, with the support of the Uttar Pradesh government, is starting a dangerous game in this country. Bajrang Dal and the BJP are playing with fire."
Anand Sharma, a Congress Party spokesperson, said the weapons training "shows the Sangh Parivar does not trust in the Uttar Pradesh government's ability to control the law and order."
But Ashok Yadav, a minister in Uttar Pradesh, said that if anyone takes the law into his own hands, the government will not be silent. The arms training program by the Bajrang Dal so far has not created any trouble, he insisted.
The BJP's interest in reviving the Ayodhya issue was hinted at in the deposition of Union Home Minister Lal Krishna Advani before the Liberhan Commission, which is probing the demolition of the mosque more than eight years ago.
Indian media and political observers noted with surprise when Advani returned to his aggressive style of politics last week, striking postures reminiscent of the days when he rode the rath, or campaign chariot, to Ayodhya to convince Hindus of the need for a temple at the disputed site. Striking a hard line as a Cabinet minister, Advani said he was proud of the movement for a Ram temple, which led to the razing of the 16th century mosque on December 6, 1992.
Two months earlier, his comments were more moderate when he addressed the commission headed by Justice M.S. Liberhan. On April 10, Advani told the commission that the demolition was "unfortunate" and he "seldom felt as dejected as on December 6, 1992." He said the "kar sevaks (activists in the chariot procession) should not have destroyed the structure."
But on June 13, Advani appeared to be on the campaign trail. In Uttar Pradesh, where the ruling BJP is weakened, the state government has reiterated its decision not to pursue prosecution of BJP and VHP leaders, including three Cabinet ministers — Home Minister L.K. Advani, Human Resources Development Minister Murli Manohar Joshi, and Sports Minister Uma Bharatrei — after the Allahabad High Court quashed their case.
"Things are not so good for the BJP," observed Vijay Kumar Malhotra, the party spokesperson.
Some analysts suggest that the party may face its worst rout ever after its five-year rule in the state. Sources in the BJP said internal assessments indicate the party could win only 75 seats in the 403-member Legislative Assembly. The BJP has 158 members in the current Assembly.
"The BJP has reached its saturation point. The party will face the biggest-ever election rout in the coming Assembly election," said Anil Shastri, All India Congress Committee (AICC) general secretary.
There are many reasons for the BJP's dismal prospects. The first is an anti-incumbency wave that appeared during state and national elections in 1993 and 1996. In Uttar Pradesh, bad governance, frequent changes of chief ministers, and internal feuds in the party have dimmed the BJP's chances of victory in the next election.
In the 1999 parliamentary election, the state party managed 29 seats, even though it previously held 53 seats in the earlier Lok Sabha (lower house of parliament). Foreseeing a not-so-bright future, the national leadership is considering a variety of possible alliances in the state. The BJP has almost 50 legislators as alliance party members in the Assembly, and the chief minister had to make all of them ministers in order to run the government.
"We will have all possible alliances in Uttar Pradesh. As the election comes closer, the picture will be clearer," said Kushabhau Thakre, former president of the BJP.
Related Elsewhere
Party leaders admit Uttar Pradesh victory is going to be an uphill task, according to The Economic Times.
Recent May elections in 5 India states didn't go well for the Bharatiya Janata Party and led to party meetings to chart new post-election strategy.
Article continues below
VOA News reported on the case against political leaders in the razing of the Uttar Pradesh mosque.
Elections India includes an explanation of the electoral system of India, a breakdown of the recent state elections and a listing of the parties.
The official Web site of the Bharatiya Janata Party gives party history.
For more articles, see Yahoo's full coverage area on India.
Previous Christianity Today articles on India include:
India Election Results Rattle Ruling Nationalists | Hindu BJP "getting irrelevant day by day" say rivals.(June 13, 2001)

Catholic Protesters Make Language an Issue in Choice of Indian Bishop | Retiring Archbishop says the campaign is the work of only a handful of people. (June 13, 2001)

Christians Say Sikh Book Threatens Centuries of Harmony Between Faiths | Author arrested on three counts, including "derogatory language." (June 11, 2001)

Militants Blamed for Death of Three Missionaries in India | 5,000 attend funeral, Catholic schools close in mourning. (June 7, 2001)

Churches Adopt Entire Villages in Devastated Gujarat to Help the Homeless | Charities aim to meet basic needs after January's western India earthquake (June 7, 2001)

Communist-Backed Orthodox Priest Loses Election for Kerala Assembly | Nooranal's electoral campaign annoyed some Christians with support of Communists (June 7, 2001)

Despite Tensions, Indian Churches Agree to Talks With Hindu Groups | Mainline churches will join talks, but other Christians say "partisan" meeting is dangerous. (Apr. 11, 2001)

Christians Help Overlooked Villages | Many Christian agencies are still doing earthquake relief among India's poorest victims. (Apr. 5, 2001)

In Southern India, Orthodox Priest Has Communist Support in State Election | Popular priest says he's independent despite strange bedfellows, but many Christians are wary. (Apr. 4, 2001)

Christians Call for India's Prime Minister and Government to Resign in Wake of Scandal | Web site releases tapes of party president taking bribes from men posing as arms dealers. (Mar. 22, 2001)

India Relief Abuses Rampant | Radical Hindus hijack supplies in quake intervention. (Mar. 20, 2001)

In Orissa, You Must Ask the Government If You Want to Change Religion | Christian church leaders say they're trying to ignore the controversial law, but police aren't doing the same. (Mar. 12, 2001)

New Delhi Conference Condemns 'Immense Suffering' in Caste System | National Campaign for Dalit Human Rights plans to appeal to United Nations. (Mar. 9, 2001)

Weblog: Take Up Arms Against Missionaries, Says Hindu Leader | Clouds darkening over India (Mar. 6, 2001)

Churches Angry that Indian Census Ignores 14 Million Christian Dalits | Only Hindu, Sikh, and Buddhist members of "untouchable" caste being counted. (Mar. 2, 2001)

Churches Have Not Worked to End Dowry Practice | India's women are seen as less valuable than men in a society that supports bride burnings and "suicide." (Feb. 20, 2001)

India's Christians Face Continued Threats | We must preach what we believe in spite of Hindu pressure, says Operation Mobilization India leader. (Feb. 15, 2001)

India's Quake Survivors Need Counseling | Earthquake survivors are desperate for more than material aid, Indian bishop warns. (Feb. 9, 2001)

Quake Rocks Hindu Hotbed | Agencies appeal for funds to aid victims. (Feb. 8, 2001)

Politician Who Saw God's Hand in Gujarat Quake Forced to Resign | Civil aviation minister had told Christians that quake was God's judgment against persecution of Christians. (Feb. 5, 2001)

Militant Hindus Assault Christians | Persecution of religious minorities stirs Christian outrage against government inaction. (Jan. 31, 2001)
Article continues below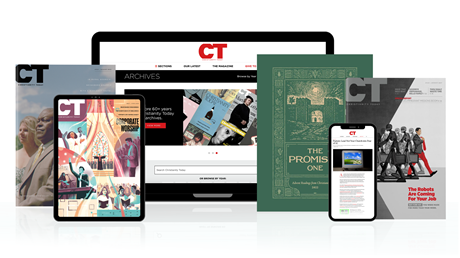 Annual & Monthly subscriptions available.
Print & Digital Issues of CT magazine
Complete access to every article on ChristianityToday.com
Unlimited access to 65+ years of CT's online archives
Member-only special issues
Subscribe
Read These Next
Trending

American Christians Should Stand with Israel under Attack

While we pray for peace, we need moral clarity about this war.

From the Magazine

The Unusual Epistle that Helps Me Counsel on Sexuality

Jude has strong words for immorality in the church. Yet he advocates for mercy for those who doubt.

Editor's Pick

Don't Miss These African Christmas Hits

Jam out this season to highlife, Afrobeats, jazz, a cappella, R & B, rap, dance, and hip-hop artists from Nigeria, South Africa, and more.
Foes Claim BJP is Using Arms Training to Win Crucial Election in India
Foes Claim BJP is Using Arms Training to Win ...