A Zimbabwean Catholic archbishop, Pius Ncube of Bulawayo, 288 miles southwest of Harare, says that the church risks losing the trust of the public if it supports a government which is unjust and bent on the use of violence.
Writing in the latest edition of Catholic Church News, a magazine published by the Zimbabwe Catholic Bishops' Conference (ZCBC), Archbishop Ncube said the church must not condone injustice and should be willing to make itself unpopular by challenging unjust structures.
Many Zimbabweans believe that churches and related organizations have failed to challenge the policies and practices of the government, led by President Robert Mugabe. But Archbishop Ncube has frequently criticized the Mugabe government. His latest statement is a thinly veiled criticism of the political troubles in this southern African nation.
Since February last year, Zimbabwe has experienced many serious outbreaks of violence, much of it led by supporters of President Mugabe's ruling Zanu PF and by people claiming to be veterans of Zimbabwe's struggle for independence in the 1970s. The violence has been directed at white farmers, white-owned companies and supporters of the mainly black opposition Movement for Democratic Change (MDC).
At least 30 people have been killed in the violence. The government, which is expropriating white-owned farms to settle landless blacks under a land redistribution program, has been accused of condoning the violence.
"When the church is afraid of criticizing social injustices, it risks God's reprimand and punishment because it is compromising God's standard and God's Word," Archbishop Ncube said. "The church risks loss of public confidence if it backs a government which is unjust and engages in violence."
Previous statements by Archbishop Ncube have prompted criticisms that he was dabbling in politics. He has reportedly been hounded by Zimbabwe's Central Intelligence Organization (CIO) for his remarks. Last year the archbishop was told he could not conduct a memorial service for the late vice-president, Joshua Nkomo. President Mugabe had apparently threatened to boycott the event if Ncube was to conduct it.
Archbishop Ncube is among the seven Catholic bishops who two weeks ago issued a pastoral letter criticising the Mugabe government's use of violence and its willingness to turn a blind eye to the illegal activities of the war veterans.
Archbishop Ncube's comments in Catholic Church News contrasted strongly with remarks by the new Anglican Bishop of Harare, Nolbert Kunonga, who recently declared his enthusiastic support for the land reform program. The Anglican bishop criticized Western governments for interfering in the affairs of African nations. Many Western nations, particularly Britain, have criticized human rights violations in Zimbabwe over the past year.
"There are churches which back the government, and those which are critical," Ncube told Ecumenical News International. "We are trying to work as peacefully as possible, and we should try to steer a middle course. I believe we should be critical, but if we become too critical, the government might end up not listening to us. So we want to be neutral so that as the church we can be able to mediate."
Related Elsewhere
The Zimbabwe Catholic Bishops' Conference site isn't updated very often. The latest issue of Catholic Church News posted online is from July/August 1999.
Ncbue wrote a similar article on standing against injustice in Harare's Financial Gazette newspaper last year.
The Financial Gazette also profiled Ncbue and his stances against injustice.
Other Christianity Today articles about Zimbabwe include:
Church School Used to Train Militias, Zimbabwe Politician Says | Youths reportedly instructed in political violence techniques in run-up to election (June 5, 2001)

Leading Anglican Priest Protests by Cutting Ties With Church in Zimbabwe | White clergyman upset with appointment of bishop and with President Mugabe (June 5, 2001)

Zimbabwe Christians 'Outraged' at Police Role in Student's Death | Catholic Commission for Justice and Peace calls for peace as students demonstrate over low grants. (Apr. 23, 2001)

Conscience, Not Violence, Must Rule Zimbabwe, Says Catholic Priest | Oskar Wermter warns that country is drifting into civil war. (Apr. 12, 2001)

War Veterans Occupy Church on Zimbabwean White-Owned Farm | "We just want to pray and leave politics alone," says evicted pastor. (Apr. 2, 2001)

Priest Horrified as Zimbabwe Politician Compared With 'Son of Man' | Incident is not the first such comparison in Zimbabwe politics. (Apr. 2, 2001)

Evangelicals Attempt to Defuse Crises | While decrying land redistribution program, president of Evangelical Fellowship of Zimbabwe stepping down after financial dispute. (Mar. 22, 2001)

Catholic Clergy Concerned About Workers on Zimbabwe's White Farms | "This is no longer a free country," says Conference of Religious Superiors. (Mar. 22, 2001)

Clergyman Forced to Leave Zimbabwe After Criticizing Mugabe Government | Authorities revoke work permit of Presbyterian missionary who accused the government being involved in killings. (Mar. 19, 2001)

Zimbabwe Church Officials Tell Mugabe to Respect Judiciary and Rule of Law | Catholics, Baptists, and others criticize presidential pressure on Supreme Court. (Mar. 19, 2001)

Churches Call for Inquiry Into Zimbabwe's Pre-Election Violence | "In the meantime, accept the election results" says Zimbabwe Council of Churches (July 14, 2000)

Zimbabwe President's Party Refuses to Join Church-Sponsored Talks to End Violence | At least 10 dead in country's escalating political violence (May 2, 2000)

Evangelicals Abstain from Zimbabwe's Interfaith Body | Christian group opposes blending of Christianity and traditional African religion. (Apr. 18, 2000)

Church Council Urges Swift Resolution of Zimbabwe's Row over White Farms | Land redistribution must be done "in a systematic, just and transparent manner" (Mar. 23, 2000)

Zimbabwe's Black Anglican Priests Claim Exclusion at White Ceremonies | Four priests resign, alleging widespread racism (Nov. 24, 1999)

Gun-Toting Missionaries Given Light Sentences (Nov. 15, 1999)

Missionaries or Mercenaries? (May 24, 1999)
Article continues below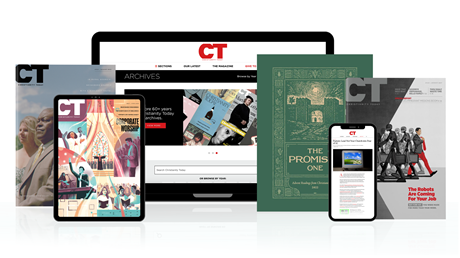 Subscribe to Christianity Today and get access to this article plus 65+ years of archives.
Home delivery of CT magazine
Complete access to articles on ChristianityToday.com
Over 120 years of magazine archives plus full access to all of CT's online archives
Subscribe Now
Zimbabwean Archbishop Warns That Church Must Stand Against Injustice
Zimbabwean Archbishop Warns That Church Must Stand ...