Timothy Neill, a prominent Anglican priest in Zimbabwe and vocal critic of the Mugabe government, has announced that he is cutting all links with the Anglican church in Zimbabwe at the beginning of July.
In an interview with Ecumenical News International, Neill also called on the international community to force Zimbabwe's controversial leader, President Robert Mugabe, out of office at the end of his current term next year. "To me, this man [Robert Mugabe] is a bully, and Zimbabweans need others to help us get the bully off us," Neill said. "It's like at school, you need the help of others to deal with a bully."
He added that the country was slowly drifting towards civil war. "The trouble with that is you don't recover afterwards. It will take years," said Neill.
The 47-year-old white Zimbabwean clergyman now intends to take up other work. While remaining an Anglican, he is cutting ties with the church in his own country as a protest over the recent election of Nolbert Kunonga, a 49-year-old black priest, as Bishop of Harare. Neill, who had also been a candidate for the position, said he did not recognize Kunonga as bishop because his nomination had violated Canon Law.
"My last service will be on the 1st of July," said Neill. "I have already told the diocese's standing committee. Thereafter I will pursue human rights work or leave the country." He said he would move out of St Luke's Church in Greendale, Harare, where he has ministered to an 800-member mainly black congregation since 1985.
He said he was moving into his parents' house in Kambanji, about 10 miles outside Harare. "It's very sad," the priest said. "At my last service, I am going to cry. You can imagine leaving after 16 years at the parish."
Neill was removed as vicar-general of the church in Harare in February when the diocese's standing committee passed a vote of no confidence in him.
"Some [clergy] have said to me: 'Just accept the new bishop, it doesn't matter.' What a dreadful thing to say. Many people have been ruined for trying to work in such a system. The Bible says 'a slanderer divides friends,'" Neill said.
In December, Neill objected to the election of Kunonga to the bishop's post, claiming the procedure had contravened church laws and had been tainted by racism and slander. Neill said that the clergyman who nominated Kunonga should have been disqualified because he had circulated a letter accusing Neill of racism as the church prepared to select the new bishop.
The letter was written by Godfrey Tawonezvi, a priest at St Paul's church in Highfield, Harare, and then sent to Neill and copied to priests and deacons. It read in part: "I note with concern that you are ambitious to be the next Bishop of the Diocese of Harare. My own assessment is that such an ambition by you brings shame to the church of God."
Tawonezvi also accused Neill of perpetuating racial injustice in the diocese, and wanting to become bishop in order to continue dominating blacks.
Neill claimed that Kunonga was part of the smear campaign against him in the lead-up to the episcopal election.
Although Kunonga was not on the final list of candidates for the bishop's position, a 12-member confirmation panel—comprising two bishops and 10 clergymen—unanimously confirmed his election on March 9.
"It was all a Zanu PF thing," Neill said, referring to the political party led by President Robert Mugabe. "As far as I am concerned, there is no Anglican bishop in Harare because the post was not filled canonically."
Bishop Kunonga recently declared his full support for President Mugabe's controversial land reform programme under which the government is seizing land from white farmers and handing it over to landless black citizens. The bishop also accused Western governments of interfering in the affairs of African nations.
Kunonga was consecrated as bishop on April 29, when Neill was abroad visiting a sick relative. Asked by ENI if he would have attended the ceremony, he said: "No. It happened conveniently when I was away. Canon law was broken implicitly. While the law does not specifically make reference to racism and slander, it is implied that the church cannot do its business when those things exist."
Neill said he could not remain as a member of the Anglican church in Zimbabwe. "For a bishop and a priest to function, there must be canonical obedience. When that no longer exists then there is a problem.
"I am not resigning from the Anglican church, but I am going into 'exile' from it in Zimbabwe. I would like to stay here, without ties to the Anglican church, and fight for justice. [And] there is a possibility of an Anglican job in England."
He said his biggest disappointment with the Anglican church was that it had remained silent in the face of serious human rights violations. Neill had been one of the most vocal members of the church, at times running into trouble with the government's Central Intelligence Organization (CIO).
Neill added that the land issue had been tainted by racism. "What the government is doing is xenophobic, motivated by an anti-white theory—that whites want to bring down the Zanu PF government."
The clergyman is a member of the National Constitutional Assembly (NCA), a civic group pushing for the introduction of a new democratic constitution in Zimbabwe.
His parish has also served as a venue for meetings of the opposition Movement for Democratic Change (MDC). He said he had offered the church hall to MDC, Zanu PF and the Zimbabwe Union of Democrats (ZUD) on condition the three political parties renounced violence. "MDC renounced violence, Zanu PF did not do so, and ZUD did not respond to the offer," said Neill. "Zanu PF will not use the hall as long as I am still there."
Last year St Luke's church was stoned after Neill, through the NCA, distributed red cards bearing the message: "Mugabe Must Go Now!"
Related Elsewhere
See our earlier coverage of Neill, "After Months of Bitter Argument, Harare Has a New Anglican Bishop | Allegations of racism, slander, and deception hang over consecration in troubled Zimbabwe" (May 4, 2001)
Kunonga caused a stir last month when he praised Mugabe and condemned the president's critics.
Other Christianity Today articles about Zimbabwe include:
Zimbabwean Archbishop Warns That Church Must Stand Against Injustice | Article in church newspaper is thinly veiled criticism of Mugabe government (June 5, 2001)

Church School Used to Train Militias, Zimbabwe Politician Says | Youths reportedly instructed in political violence techniques in run-up to election (June 5, 2001)

Zimbabwe Christians 'Outraged' at Police Role in Student's Death | Catholic Commission for Justice and Peace calls for peace as students demonstrate over low grants. (Apr. 23, 2001)

Conscience, Not Violence, Must Rule Zimbabwe, Says Catholic Priest | Oskar Wermter warns that country is drifting into civil war. (Apr. 12, 2001)

War Veterans Occupy Church on Zimbabwean White-Owned Farm | "We just want to pray and leave politics alone," says evicted pastor. (Apr. 2, 2001)

Priest Horrified as Zimbabwe Politician Compared With 'Son of Man' | Incident is not the first such comparison in Zimbabwe politics. (Apr. 2, 2001)

Evangelicals Attempt to Defuse Crises | While decrying land redistribution program, president of Evangelical Fellowship of Zimbabwe stepping down after financial dispute. (Mar. 22, 2001)

Catholic Clergy Concerned About Workers on Zimbabwe's White Farms | "This is no longer a free country," says Conference of Religious Superiors. (Mar. 22, 2001)

Clergyman Forced to Leave Zimbabwe After Criticizing Mugabe Government | Authorities revoke work permit of Presbyterian missionary who accused the government being involved in killings. (Mar. 19, 2001)

Zimbabwe Church Officials Tell Mugabe to Respect Judiciary and Rule of Law | Catholics, Baptists, and others criticize presidential pressure on Supreme Court. (Mar. 19, 2001)

Churches Call for Inquiry Into Zimbabwe's Pre-Election Violence | "In the meantime, accept the election results" says Zimbabwe Council of Churches (July 14, 2000)

Zimbabwe President's Party Refuses to Join Church-Sponsored Talks to End Violence | At least 10 dead in country's escalating political violence (May 2, 2000)

Evangelicals Abstain from Zimbabwe's Interfaith Body | Christian group opposes blending of Christianity and traditional African religion. (Apr. 18, 2000)

Church Council Urges Swift Resolution of Zimbabwe's Row over White Farms | Land redistribution must be done "in a systematic, just and transparent manner" (Mar. 23, 2000)

Zimbabwe's Black Anglican Priests Claim Exclusion at White Ceremonies | Four priests resign, alleging widespread racism (Nov. 24, 1999)

Gun-Toting Missionaries Given Light Sentences (Nov. 15, 1999)

Missionaries or Mercenaries? (May 24, 1999)
Article continues below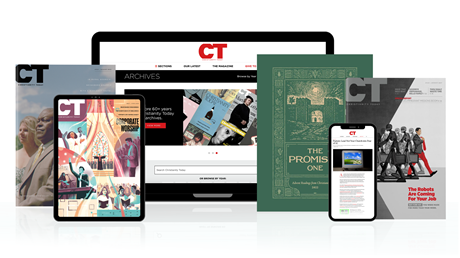 Subscribe to Christianity Today and get access to this article plus 65+ years of archives.
Home delivery of CT magazine
Complete access to articles on ChristianityToday.com
Over 120 years of magazine archives plus full access to all of CT's online archives
Subscribe Now
Leading Anglican Priest Protests by Cutting Ties With Church in Zimbabwe
Leading Anglican Priest Protests by Cutting Ties ...