More than 500 Catholic schools in northeastern India were closed in protest after three missionaries of the Salesian order of Catholic priests and brothers were shot dead by militants on May 15.
All three staff—novice master Father Raphael Paliakara, 46, Father Andreas Kindo, 31, and Brother Shinu Joseph Valliparambil, 23—were shot dead, apparently by militants with automatic weapons on May 15.
The missionaries were of the Salesian novice house at Ngarian hills 20 miles from Imphal, capital of the state of Manipur. It and surrounding states have a complex ethnic mix and dozens of militant groups fighting for rights for their peoples.
"We are all extremely distressed," said Father Thomas Mulayinkal, Salesian superior of the province of Dimapur, which includes the novice house.
Mulayinkal said more than 5,000 people, including 200 priests and three bishops, attended the funeral at the Salesian seminary in Dimapur.
He said the militants "forced their way into the [novice house] putting an AK-47 rifle at the temple of the driver guarding the house, asking him to take them to the superior." Paliakara gave them 30,000 rupees (US$640) which he had in the house, but "they were not satisfied" and shot him. The assistant priest and the brother who rushed in on hearing the shots were also killed.
"Maybe they [the militants] are targeting and punishing us for refusing to heed to their extortion demands," said Mulayinkal.
Father Dominic Lumon, vicar general of the Catholic archdiocese of Imphal, said that in February eight Catholic schools in Imphal Valley decided "not to concede to the extortion demands" of militant groups who had recently demanded the schools pay 500,000 rupees (US$10,700) each.
"After a few days, our schools had to be closed for a month with militant groups refusing to allow us to function without meeting their demand," said Lumon. "It seems they are taking revenge on the church for defying them. They have attacked a house of prayer to show their resentment."
He said that almost everybody, including government officials, was "forced to make regular contributions" to ethnic militant groups.
He pointed out that Father Shajan Jacob, vice principal of a diocesan school in the region, was shot dead last December, and another diocesan priest survived a similar militant attack in February.
Local Christian schools had been looted by armed militants because of the church's reluctance to pay money demanded by militants.
"While Christians are being blamed by some [Hindu groups] for supporting insurgency in the north-east, the tragedy is that it is at the hands of the insurgents that Christian workers are being brutally murdered," the Catholic Bishops' Conference of India (CBCI) said in a statement following this week's murders.
Manipur is one of seven tiny states in India's northeast, which are home to a variety of ethnic groups. They nestle between Bangladesh, Butan, China, Nepal and Myanmar. The seven states have a total population of about 40 million.
While Christians account for only 20 percent of Manipur's 2.3 million people, three of the seven states in the northeast have Christian majorities. This is at the root of Hindu fundamentalist claims that Christian missionaries are assisting dozens of ethnic militant groups in the region.
"This [the triple murder] disproves the charge that Christian missionaries are supporting militant groups here. In fact, we are the first to oppose the extortion demands of the militants," said Father Lumon.
D. C. Haja Darnei, head of the Presbyterian Church in India, most of whose 900,000 members are in northeastern India, also condemned the murders. Darnei said, "it is time for the churches to come together and plan common strategy to deal with such a vital question. This type of extortion happens in many places."
Related Elsewhere
According to BBC News, police suspected the involvement of the United National Liberation Front in the deaths.
The national president of All-India Catholic Union condemns the incident saying it should shock every right thinking citizen of the country.
An Indian Express article looks into the long line of priest murders and threats in Manipur before the triple homicide.
The Catholic Bishops' Conference of India's web site does not include a statement on the triple murder, but there is a condemnation on the earlier murder of Father Shajan Jacob.
Previous Christianity Today articles on India include:
Churches Adopt Entire Villages in Devastated Gujarat to Help the Homeless | Charities aim to meet basic needs after January's western India earthquake (June 7, 2001)

Communist-Backed Orthodox Priest Loses Election for Kerala Assembly | Nooranal's electoral campaign annoyed some Christians with support of Communists (June 7, 2001)

Despite Tensions, Indian Churches Agree to Talks With Hindu Groups | Mainline churches will join talks, but other Christians say "partisan" meeting is dangerous. (Apr. 11, 2001)

Christians Help Overlooked Villages | Many Christian agencies are still doing earthquake relief among India's poorest victims. (Apr. 5, 2001)

In Southern India, Orthodox Priest Has Communist Support in State Election | Popular priest says he's independent despite strange bedfellows, but many Christians are wary. (Apr. 4, 2001)

Christians Call for India's Prime Minister and Government to Resign in Wake of Scandal | Web site releases tapes of party president taking bribes from men posing as arms dealers. (Mar. 22, 2001)

India Relief Abuses Rampant | Radical Hindus hijack supplies in quake intervention. (Mar. 20, 2001)

In Orissa, You Must Ask the Government If You Want to Change Religion | Christian church leaders say they're trying to ignore the controversial law, but police aren't doing the same. (Mar. 12, 2001)

New Delhi Conference Condemns 'Immense Suffering' in Caste System | National Campaign for Dalit Human Rights plans to appeal to United Nations. (Mar. 9, 2001)

Weblog: Take Up Arms Against Missionaries, Says Hindu Leader | Clouds darkening over India (Mar. 6, 2001)

Churches Angry that Indian Census Ignores 14 Million Christian Dalits | Only Hindu, Sikh, and Buddhist members of "untouchable" caste being counted. (Mar. 2, 2001)

Churches Have Not Worked to End Dowry Practice | India's women are seen as less valuable than men in a society that supports bride burnings and "suicide." (Feb. 20, 2001)

India's Christians Face Continued Threats | We must preach what we believe in spite of Hindu pressure, says Operation Mobilization India leader. (Feb. 15, 2001)

India's Quake Survivors Need Counseling | Earthquake survivors are desperate for more than material aid, Indian bishop warns. (Feb. 9, 2001)

Quake Rocks Hindu Hotbed | Agencies appeal for funds to aid victims. (Feb. 8, 2001)

Politician Who Saw God's Hand in Gujarat Quake Forced to Resign | Civil aviation minister had told Christians that quake was God's judgment against persecution of Christians. (Feb. 5, 2001)

Militant Hindus Assault Christians | Persecution of religious minorities stirs Christian outrage against government inaction. (Jan. 31, 2001)
Article continues below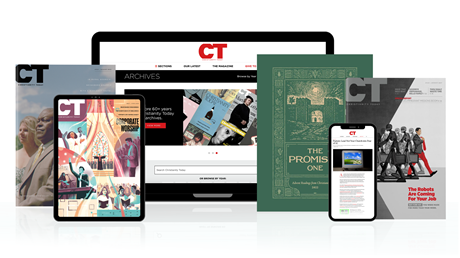 Annual & Monthly subscriptions available.
Print & Digital Issues of CT magazine
Complete access to every article on ChristianityToday.com
Unlimited access to 65+ years of CT's online archives
Member-only special issues
Subscribe
Militants Blamed for Death of Three Missionaries in India
Militants Blamed for Death of Three Missionaries in India