"We're postponing," says White House Office of Faith-Based and Community Initiatives
"We're not ready to send our own bill up," Don Eberly, deputy director of the White House Office of Faith-Based and Community Initiatives (and an occasional CT contributor), tells The Washington Post. President Bush's proposal, he says, "may need to be corrected in some areas." The Post reports that the delay is because what "once seemed to be an innocuous program meant to boost charitable works" got less support from religious conservatives than expected. But unlike other press reports, the Post accurately portrays criticism from the Religious Right as, in Eberly's words, "friendly criticism" by people who still support the program in principle but want some changes. President Bush, meanwhile, spent Friday defending his proposal. Some people "are worried that once government gets in their lives, government will force a change in their religion," the Post quotes the president as saying. "There are some who worry about, once government gets involved, government will force religion on people. And I am mindful of those concerns, and our policy will understand that. We'll fashion a policy—that we have already fashioned—that will, I believe, answer those critics." Weblog has done quite a bit of grousing about how the mainstream media are distorting this story, so let it now commend this Post article, written by Dana Milbank and Thomas B. Edsall, for characterizing both the proposal and the reaction to it accurately. If readers have been confused about what exactly Bush has been proposing and why it is raising concerns, this is a worthy (albeit brief) article to clarify matters.
Ted Turner apologizes for mocking Christians on Ash Wednesday
You've gotta love Ted Turner (actually, you really do; the Bible commands it). His 1990 comment that Christianity is "a religion for losers" is probably the most cited of recent anti-Christian comments (except maybe Michael Weisskopf's note in a 1993 The Washington Post article that evangelicals are "largely poor, uneducated, and easy to command"). He's also been in trouble for calling the Ten Commandments "a little out of date," adding, "If you're only going to have 10 rules, I don't know if [prohibiting] adultery should be one of them." Pope John Paul II, meanwhile, should "get with it. Welcome to the 20th century." After each of these ridiculous comments, Turner apologized, saying that he really didn't believe what he said. His latest gaffe came on Ash Wednesday, at a goodbye party for CNN anchor Bernard Shaw. Noting that three or four of the 300 foreheads of those attending the party had been smudged with ash, the mogul said, "At first I thought you were in the [Seattle] earthquake. I realized you're just Jesus freaks. Shouldn't you guys be working for Fox?" Christian commentators (and some newspaper editorial pages) were quick to pounce. "Once again, Ted Turner has demonstrated his ignorance and his hostility to the religious beliefs of millions of Americans," said Gary Bauer. "I'm not surprised, given his past history, which has repeatedly displayed evidence of religious bigotry." The Family Research Council's Jan LaRue was even more direct: "CNN is getting beaten to death by Fox in the ratings wars. If Turner thinks Christianity is for losers, he is wrong to say that 'Jesus freaks' belong at Fox. It sounds like Christianity is for winners. … Ted's comments also sound like there might be religious discrimination in employment at CNN. Are 'Jesus freaks' not welcome there?" Catholic League president William Donohue also went into full outrage mode (but is he ever not?), calling for "his superiors at AOL Time Warner to denounce Turner for his relentless attacks on Christians. Indeed, they might want to take a page from professional baseball and ship Turner off for some sensitivity training." On Friday, Turner apologized. Again. "I apologize to all Christians for my comment about Catholics wearing ashes on their foreheads on Ash Wednesday," the CNN cofounder said. "I do not believe in any form of prejudice or discrimination, especially religious intolerance. Since these are my beliefs, please accept my apology for any pain my thoughtless comment may have caused Catholics and all Christians." Donohue was reluctant to accept the apology, but eventually did. "We at the Catholic League are admittedly torn by what has happened. On the one hand, our religion teaches us the virtue of forgiveness and the necessity of penance. On the other hand, we don't like being played for a fool," he said. "Let's put it this way: We'll bite our lip and drop the issue, skeptical though we are." Christians might do well to remember that they're upset over a twisting of the meaning of Ash Wednesday and Lent—a time of repentance and asking for forgiveness from God—and the commandment to "forgive as the Lord forgave you" (Colossians 3:13). (For more on the meaning and history of Lent and Ash Wednesday, see Mark Noll's excellent piece for UPI, in which he also discusses the signficance of Ash Wednesday in postmodern times.)
Latest Holy Land Experience controversy: No charismatics allowed
"Business has been so good" at Orlando's Holy Land Experience tourist attraction, The Orlando Sentinel's Mark I. Pinsky reports, that the park "will have to compete in Central Florida's already tight labor market to double [its] overworked staff, from 75 to 150 employees. But [park founder Marvin] Rosenthal, an independent Baptist minister, acknowledged that Holy Land would not hire charismatic Christians for any position at the attraction, including selling hot dogs at the Oasis Café." That decision has caused a bit of confusion. The Sentinel reports that Clark Whitten, pastor of Calvary Assembly of God Church in Winter Park, would advise his 6,000 members not to go to the park. But Charisma News Service, part of the Orlando-based Strang Communications, reports that Whitten has "no plans to advocate a boycott of the theme park." Likewise, Charisma News Service reports that, according to the park's director of marketing and public relations, some charismatics are already working there. The park was earlier the focus of controversy when reports said it was targeting Jews for evangelism.
Related Elsewhere
See our past Weblog updates:
March 9 | 8 | 7 | 6 | 5

March 2 | 1 | February 28 | 27 | 26

February 23 | 22 | 21 | 20 | 19

February 16 | 15 | 14 | 13 | 12

February 8 | 7 | 6 | 5

February 2 | 1 | January 31 | 29

January 26 | 25 | 24 | 23 | 22

January 19 | 18 | 17 | 16 | 15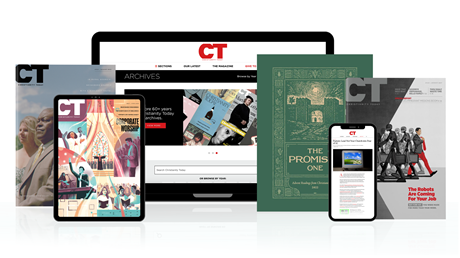 Annual & Monthly subscriptions available.
Print & Digital Issues of CT magazine
Complete access to every article on ChristianityToday.com
Unlimited access to 65+ years of CT's online archives
Member-only special issues
Subscribe
A Seeming Lack of Support from Religious Conservatives Forces White House to Postpone Faith-Based Initative
A Seeming Lack of Support from Religious ...