Nuns raped by priests, says NationalCatholicReporter
"Several reports written by senior members of women's religious orders and by an American priest assert that sexual abuse of nuns by priests, including rape, is a serious problem, especially in Africa and other parts of the developing world," begins an article in this week's National Catholic Reporter. "The reports, five in all, indicate that in Africa particularly, a continent ravaged by HIV and AIDS, young nuns are sometimes seen as safe targets of sexual activity. In a few extreme instances, according to the documentation, priests have impregnated nuns and then encouraged them to have abortions." Vatican spokesman Joaquin Navarro-Valls admitted, "The problem is known, and is restricted to a geographically limited area." At the center of the article is a 1994 report by physician and nun Maura O'Donohue, who was then AIDS coordinator for the Catholic Fund for Overseas Development. "Sadly, the sisters also report that priests have sexually exploited them because they too had come to fear contamination with HIV by sexual contact with prostitutes and other 'at risk' women," her report stated (but she turned down any interviews with National Catholic Reporter). Countries listed in the report include Botswana, Burundi, Colombia, Ghana, India, Ireland, Italy, Kenya, Lesotho, Malawi, Nigeria, Papua New Guinea, the Philippines, South Africa, Sierra Leone, Tanzania, Tonga, Uganda, the United States, Zambia, Zaire, and Zimbabwe. Expect the fallout to continue for a while. (More media coverage of the National Catholic Reporter article includes that from The New York Times, Reuters, Associated Press, BBC, The Irish Times, and The Independent)
Closer to home …
Surburban Seattle's Overlake Christian Church, which has about 4,500 members, is again being rocked by charges of sexual misconduct. A 37-year-old man who volunteers in midweek services to work with children in grades five through seven has been arrested for investigation of child molestation. What makes the allegations even sadder is that the church, which once had more than 6,500 members, is still recovering from a three-year controversy over allegations that senior pastor Bob Moorehead had abused several men in the church. Moorehead resigned in 1998, but the actions of the church's board of elders continued to cause controversy for more than a year later.
Thanks but no thanks, several Copts say to U.S. Commission on International Religious Freedom
As delegates from the U.S. Commission on International Religious Freedom travel to Cairo this week to meet with Muslim and Coptic Christian leaders and officials from the Foreign Ministry, some are telling the Yankees to go home. "This type of American moves that have been recurrent and periodical since the enactment, in October 1999, of the law on religious freedoms in the world cannot be dissociated from the American trends to intervene in the internal affairs of other countries in the world," said a statement by the Egyptian National Group, which identifies itself as "a non-governmental gathering of both Christian and Muslim writers, intellectuals, academics, researchers, and journalists." Other Copts are voicing similar concerns. The Commission delegates, which include USCIRF Chairman Elliott Abrams, are expected to pay particular attention to the recent judicial decision to acquit the Muslim suspects accused of killing 21 Christians in the El-Kosheh massacre.
Some don't find subway hymn singer's noise so joyful
Washington Post columnist Bob Levey tells the tale of one man's strange ministry under the streets of Washington, D.C.: "Six forty-five a.m. on the Metro. A time to sleep, read, mull. But the doors open at some stop or other and here comes a man who's singing a hymn. He's wearing a sports coat and nice pants. He doesn't beg for money. He doesn't try to proselytize. He simply sings his hymn. When the train docks at the next stop, he gets off, then immediately back on in the next car, where he begins to sing again." But some aren't so happy. One guy recently complained to the train operator, and shouted at Hymn Guy, that the Constitution provides for separation of church and state. ("Last time I checked, Metro was neither a church nor a state," Levey dryly notes "But no one made that argument on the early morning in question.") And Metro police are investigating Hymn Guy as the results of two official complaints from other Metro riders. There is "a fine line between freedom of expression and First Amendment rights and, of course, disorderly conduct," Cheryl said. Levey adds his two cents: "I really hope the hymn singer isn't going to become a poster child for political correctness. This isn't about religious freedom. This isn't about whether we have enough music in our public places. This isn't about whether hymns are more soothing than other kinds of tunes. This is about whether a guy who wants to read a newspaper in peace or look out the window in peace should have the right to do so. I say that's an easy yes." (A Washington Post online chat also discussed Hymn Guy, also known as "The Singing Korean")
Related Elsewhere
See our past Weblog updates:
March 20 | 19

March 16 | 15 | 13 | 12

March 9 | 8 | 7 | 6 | 5

March 2 | 1 | February 28 | 27 | 26

February 23 | 22 | 21 | 20 | 19

February 16 | 15 | 14 | 13 | 12

February 8 | 7 | 6 | 5

February 2 | 1 | January 31 | 29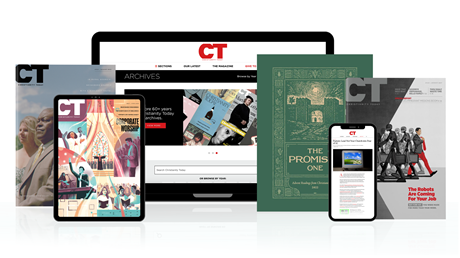 Subscribe to Christianity Today and get access to this article plus 65+ years of archives.
Home delivery of CT magazine
Complete access to articles on ChristianityToday.com
Over 120 years of magazine archives plus full access to all of CT's online archives
Subscribe Now
Priests Around the World Are Raping Nuns
Priests Around the World Are Raping Nuns