CNN backs down after Mormons complain
The Mormon Church—oops, make that the Church of Jesus Christ of Latter-day Saints—is really ramping up its public relations engine as the 2002 Olympic Games in Salt Lake City get closer. (Church officials say its recent request not to call it "the Mormon Church" is, for the most part, coincidentally timed.) At the same time, journalists are gearing up for the games by paying closer attention to the church. And when those two efforts intersected at CNN.com this month, sparks flew. CNN Interactive senior writer Jamie Allen wrote a story for the site's career area on working in Salt Lake City. She quoted from several people who'd left the city because of the heavy Mormon influence there, but concluded, "It's quite possible to live there and excel as a careerist, even if you don't follow the principles of the LDS Church." But the LDS Church found Allen's smoking gun of bad journalism. She'd written a note to ProfNet (an expertise database for journalists) asking if they knew of anyone "moving from Utah because of the Latter-day Saints," specifically a "career-minded person who lived or worked in Utah, but moved because he or she felt the Latter-day Saints church held too much power." As an open letter to Allen from Bruce Olsen, managing director of the church's public affairs department, notes, that does raise some questions of journalistic ethics. "Any journalist worthy of the name would have asked for people's experience in doing business in Utah, and then allowed the research to drive the story," Olsen wrote. "Instead, you had made up your mind what story you wanted to write." Journalists, especially those under time pressures, do this regularly. But it's still considered unethical, and most journalists would prefer they didn't get caught doing it so brazenly. Allen also suggested religious discrimination in Allen's writing: "I wonder how comfortable you would feel if you replaced the phrase Latter-day Saints with other religious groups. For example, 'moving from New York because of the Jews' or 'moving from Atlanta because of the Baptists.' When did it become politically correct to disparage members of The Church of Jesus Christ of Latter-day Saints? This is not an issue the Church takes lightly." CNN.com pulled the story.
Meanwhile, there's yet another brouhaha brewing between journalists, the Olympic Committee, and the Mormon Church (yes, now Weblog is doing that just as a lark). It seems that the Utah Travel Council has been allowing, even encouraging, Mormons to use its tours of visiting journalists to promote the church. Olympic organizers quickly announced that they would no longer refer reporters to the tourism agency. "It was inappropriate for them to disseminate church materials during the tours," Salt Lake Organizing Committee spokeswoman Caroline Shaw announced. "SLOC will not make any future references to the Utah Travel Council until we clarify the situation." Speaking of the SLOC, committee president Mitt Romney, a Mormon, called a news conference Friday to complain that he was spending too much time responding to "bizarre" stories about Utah's Mormon influence. He may have been referring to a package in TheSaltLakeTribune examining at length the church's role in the Olympics. Included in that package was the reaction of non-Mormon religious leaders, who say they've had minimal input but didn't expect to have any. The cornerstone piece examines how involved the church really is: "While some reporters have been amused by the church's efforts to market Mormonism through the media during the 2002 Winter Games, a few have been taken aback by the intensity of the campaign," the paper reports. "LDS Church officials insist they are merely contributing to the Olympic undertaking as a good member of the community. But some observers question if the Mormon public relations overtures cross the line from civic booster bystander to subliminal if not overt proselytizing, fulfilling the faith's mission to spread news of the 'restored gospel' worldwide."
Other articles on religion and journalism:
For a small Amish newspaper, bad news is no news | A 110-year-old newspaper aimed at Amish and Mennonite communities ignores the confusing and violent items that mainstream media seems to feed on and instead focuses on simple things that affect the lives of its target audience. (The New York Times)
Onward Christian readers | Cambridge religious magazine regenerates spirited debates about controversial life issues (Boston Herald)
Earlier: Books & Culture Corner: Are You Re:Generated? | Inside one of the best religious publications on the planet (that's not Christianity Today). (Christianity Today, Dec. 4, 2000)
The Lord's Table:
Eucharist with fruit and cheese | Germany's Lutheran "Kirchentag" reduces mass communion to a "Saettigungsmahl" (a filling meal) and a "Feierabendmahl" (a leisure-time meal). (UPI)
C of E may urge Catholics to end communion ban | Officials offer "a courteous but robust response" to One Bread, One Body, which was issued jointly by Catholic bishops in Britain and Ireland in 1998. (The Sunday Times, London)
Related Elsewhere
See our past Weblog updates:
March 21 | 20 | 19

March 16 | 15 | 13 | 12

March 9 | 8 | 7 | 6 | 5

March 2 | 1 | February 28 | 27 | 26

February 23 | 22 | 21 | 20 | 19

February 16 | 15 | 14 | 13 | 12

February 8 | 7 | 6 | 5

February 2 | 1 | January 31 | 29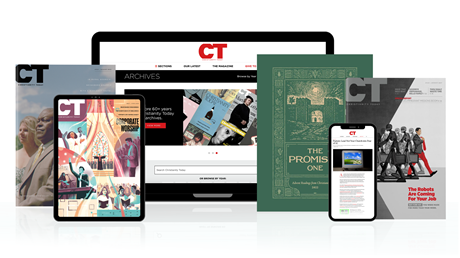 Subscribe to Christianity Today and get access to this article plus 65+ years of archives.
Home delivery of CT magazine
Complete access to articles on ChristianityToday.com
Over 120 years of magazine archives plus full access to all of CT's online archives
Subscribe Now
Mormons Training to Take the Gold in Olympic Proselytism
Mormons Training to Take the Gold in Olympic Proselytism