Antiabortion "Nuremburg Files" site is free speech, says court
Two years ago, a federal jury in Oregon assessed $109 million in damages against the organizations and people behind The Nuremberg Files Web site. The site, readers will recall, publishes the names, addresses, and photos of abortionists, crossing out those who have been killed. Yesterday, a three-judge panel of the 9th U.S. Circuit Court of Appeals overturned the Oregon verdict, saying the site never actually threatened the doctors. "If their statements merely encouraged unrelated terrorists, then their words are protected by the First Amendment," wrote Judge Alex Kozinski in the unanimous ruling (PDF | HTML). San Francisco attorney Susan Popik, who argued on behalf of Planned Parenthood and other organizations against the creators of The Nuremberg Files, said yesterday's verdict "give[s] extremists carte blanche to make threats that they can orchestrate the carrying-out of by others." One of the defendants simply expressed relief and delight: "We did nothing but express our view, however radical it might seem … Not only do abortion advocates want to have their rights but they want to shut up everybody that calls it murder."
More on life ethics:
Visual Bible: Now you see it, now you don't
The Visual Bible, an effort to producing a word-for-word film version of the Bible, may not be visible much longer. A press release yesterday announced that it's circling the drain. Actually, the press release put it in nicer terms, saying it has "not yet been able to conclude financing to complete the production of the books Mark, Luke and John. In anticipation of completion of the production financing, Visual Bible utilized substantially all of its working capital to finance production activities and, in addition, incurred substantial additional liabilities. Accordingly, Visual Bible finds itself in a seriously deficient cash position and has defaulted in the payment of certain of its obligations." Some group named Pan Zone (Weblog has never heard of it, and it's not showing up on any search engines) fronted the company $1.6 million—with an agreement to provide another $1.7 million later—in exchange for "significant amounts of Visual Bible common stock," but Visual Bible says they still need another $5 million. In the meantime, the CEO, CFO, and other directors and officers are out. Yet another strange step in the journey of this company, which was acquired late last year by a former a uranium mining company. Sounds like it's been acquired again. Wow. The creation of the original Bible wasn't much more complicated than this …
Other stories:
Persecution:
Church and state:
Pop culture:
Homosexuality and the church:
Sex and dating:
Church life:
Related Elsewhere
See our past Weblog updates:
March 28 | 27 | 26

March 23 | 22 | 21 | 20 | 19

March 16 | 15 | 13 | 12

March 9 | 8 | 7 | 6 | 5

March 2 | 1 | February 28 | 27 | 26

February 23 | 22 | 21 | 20 | 19

February 16 | 15 | 14 | 13 | 12

February 8 | 7 | 6 | 5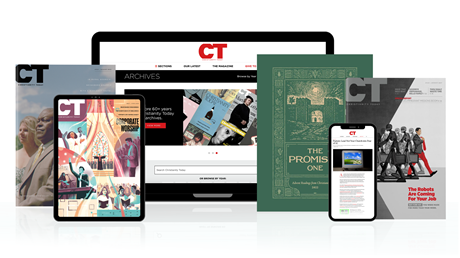 Subscribe to Christianity Today and get access to this article plus 65+ years of archives.
Home delivery of CT magazine
Complete access to articles on ChristianityToday.com
Over 120 years of magazine archives plus full access to all of CT's online archives
Subscribe Now
Appeals Court Overturns $109 Million Judgment Against Nuremburg Files Site
Appeals Court Overturns $109 Million Judgment ...