Gaylord wants to get rid of Word music
In Gaylord Entertainment's third-quarter financial statement (like almost every other company, earnings were down significantly), the company announced "it is in discussions with various parties that may lead to the divestiture of Word Entertainment, its Christian music label." Actually, Word Entertainment has several labels under it, including Squint, Rocketown, Myrrh, Integrity, and even VeggieTales' BigIdea Productions. It's a huge part of the Christian music world, with artists from Amy Grant and Sandy Patti to Sixpence None the Richer (not to mention Kenny Rogers, Kim Alexis, and John Tesh). It's Songs4Worship CD set is one of the most popular Christian recordings ever, thanks to a huge TV ad campaign. But apparently Word just isn't making enough money for Gaylord. "This potential sale will result in a further streamlining of the company's operations and allow the management team to focus their attention on the more profitable hospitality and entertainment businesses," the company's press release said.
What's really interesting about all of this is that Gaylord has three separate lawsuits against Thomas Nelson regarding Word Entertainment. Two of the suits are over a multimillion-dollar dispute stemming from Nelson's 1996 sale of Word Records and the Word trademarks to Gaylord. The most recent claims that Nelson "engaged in false advertising, unfair competition and breach of contract" in a recent ad campaign touting the renaming of Nelson's Word Publishing to the W Publishing Group. Weblog thought it was hilarious: Max Lucado saying, "Word no longer inspires me." Chuck Swindoll saying, "Word won't be getting any more grace from me." Funny, funny stuff for Christian ads. Except Gaylord didn't think so. It will be interesting to see what happens with the lawsuits if they do end up selling Word.
Christian band backs out of Abercrombie & Fitch deal
Relient K says it's asking clothing retailer Abercrombie & Fitch to remove all of the band's music from its store and Web site. As noted by Weblog a couple weeks ago, the band had been touting a promotional deal with the retailer. "I felt like the line we were drawing was consistent with what we had been doing for years, and that we were entering into a domain that we couldn't control—a secular domain—in order to offer a choice to consumers," Gotee Records president Joey Elwood tells Agape Press (a news service associated with the American Family Association). "But I and my partner and the band are walking in faith that there's a larger work at hand here that these other organizations are trying to accomplish—and we do not want to get in the way of that." Those "other organizations" include the American Family Association, Focus on the Family, Concerned Women for America, American Decency Association, and other organizations who are targeting the A&F for its racy catalogs.
Christian singer pleads guilty to rape, molestation, and sodomy
Last week, Ja'Marc Davis, leader of the Christian dance band Raze, pleaded guilty to three felony sex offenses. In exchange for his plea, seven related counts were dismissed. Prosecutors contend that Davis had sexual contact with a then-14-year-old backup dancer for about one-year beginning in 1998. For the crimes, the Tulsa County District Attorney recommended a 10-year sentence. Davis is out on bail until his December 13 sentencing. He hasn't performed with the band since his arrest March 1 (which was supposed to be the first night of the band's tour), but Raze won two Dove Awards in an April ceremony. Neither the Raze Web site nor the Forefront Records site has a statement on what's next for the band.
More articles
Ministry after 9/11:
Shelter Now workers:
Interfaith dialogue:
Religious liberty:
Religious displays:
Evangelism and missions:
Church life:
Related Elsewhere:
See our past Weblog updates:
November 7 | 6 | 5

November 2 | 1 | October 31 | 30 | 29

October 26 | 25 | 24 | 23 | 22

October 19 | 18 | 17 | 16 | 15

October 12 | 11 | 10 | 9 | 8

October 5 | 4 | 3 | 2

September 28 | 27 | 26 | 25 | 24

September 21 | 20 | 19 | 18 | 17

September 14b | 14a | 13 | 12 | 10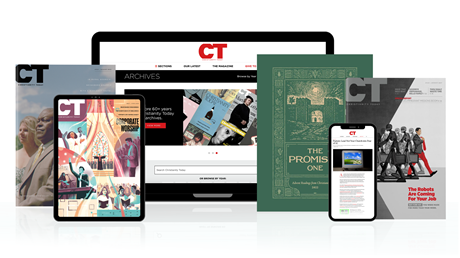 Subscribe to Christianity Today and get access to this article plus 65+ years of archives.
Home delivery of CT magazine
Complete access to articles on ChristianityToday.com
Over 120 years of magazine archives plus full access to all of CT's online archives
Subscribe Now
Word on the Street: Christian Music For Sale
Word on the Street: Christian Music For Sale