Christian groups are concerned that a plan to curb the flow of foreign funds to organizations in India could threaten Christian bodies and other non-governmental organizations (NGOs).
In a move ostensibly aimed at cutting off financing of terrorist groups from outside sources, the Indian government plans to replace the Foreign Contribution Regulation Act (FCRA) with stringent legislation to curb foreign donations, according to recent news reports.
But Christian bodies fear that more restrictive legislation could lead to a clamp down on foreign donations to legitimate Christian and other organizations unpopular with the government.
"It is quite clear that the government is capitalizing on the current scare about terrorism," said the All India Christian Council (AICC), a lay ecumenical forum, in a recent statement.
"Several ministers and senior government leaders had made it clear that the FCRA [amendment] was being targeted at Muslims and Christians," AICC said in a written appeal to President Kocheril Raman Narayanan last month. The council asked the president not to approve the legislation on foreign contributions.
Although the federal cabinet has not yet recommended an amendment to existing legislation, AICC secretary general John Dayal said he feared a new bill could be introduced in parliament as early as the end of this month.
Ipe Joseph, general secretary of the National Council of Churches in India (NCCI)—a forum of 29 Orthodox and Protestant churches—said: "We are very much concerned if what is reported in the media is true."
"The Union government will soon move a new FCRA to plug loop-holes in existing legislation and enhance [the government's] abilities to monitor the flow of foreign funds to missionaries and fundamentalist organizations," the English-language daily Times of India reported in October.
The federal government, the news report continued, has "decided to repeal the existing FCRA, 1976, and replace it by a law with more stringent provisions to check proselytization by foreign Christian missionaries in India and also the transfer of money from foreign-based Muslim and Buddhist organizations to subversive elements and religious fundamentalists."
Churches with a Protestant missionary background are especially concerned about the changes the government might introduce, Joseph said, as they rely on support from abroad. If the laws become more stringent, he said, "government officials could create trouble for Christian action groups and even churches."
Stanley William, director of Weaker-sections Integral Development Agency, a charity of the United Evangelical Lutheran Church of India, said: "We are anxiously waiting to see what the amendments will be. The government might try to exploit the present terror phobia to push through the amendments," William said.
Father John Noronha, executive director of Caritas India, the social action wing of the Catholic Bishops' Conference of India, said, "What we need is not a draconian law, but proper implementation of the FCRA. The existing law has sufficient provisions to find out the purpose of foreign donations and how these are utilized by the beneficiaries."
If in the name of fighting terrorism the laws become harsher, Noronha said, it will become difficult for genuine NGOs to receive funds for their work. "That might even force some of the genuine NGOs to break the law to keep their work going," he cautioned.
Related Elsewhere:
India Infonline has a very extensive section on the Foreign Contribution Regulation Act.
According to the Times of India, receipt of "foreign funds will be under the constant watchful supervision of both- the central and state governments."
Recent Christianity Today articles on Christians in India include:
Christians Encouraged as 50,000 Dalits Leave Hinduism | Low-caste Hindus see conversion as their only escape from oppression. (October 11, 2001)

'Malicious' Sikh Book Banned | The Punjab government forbids publication, sale, and possession. (October 1, 2001)

India's First Dalit Archbishop Holds 'No Grudge' Over Predecessor's Attack | Once "untouchable" Dalits make up bulk of country's Christians. (May, 11, 2001)
Plans to Resolve India's Interfaith Tensions Face Delays and Accusations | Did India's National Commission for Minorities plan a meeting to discredit Christians? (July 20, 2000)
India Election Results Rattle Ruling Nationalists | Hindu BJP "getting irrelevant day by day" say rivals. (June 13, 2001)

Catholic Protesters Make Language an Issue in Choice of Indian Bishop | Retiring Archbishop says the campaign is the work of only a handful of people. (June 13, 2001)

Christians Say Sikh Book Threatens Centuries of Harmony Between Faiths | Author arrested on three counts, including "derogatory language." (June 11, 2001)

Militants Blamed for Death of Three Missionaries in India | 5,000 attend funeral, Catholic schools close in mourning. (June 7, 2001)

Churches Adopt Entire Villages in Devastated Gujarat to Help the Homeless | Charities aim to meet basic needs after January's western India earthquake (June 7, 2001)

Communist-Backed Orthodox Priest Loses Election for Kerala Assembly | Nooranal's electoral campaign annoyed some Christians with support of Communists (June 7, 2001)

Despite Tensions, Indian Churches Agree to Talks With Hindu Groups | Mainline churches will join talks, but other Christians say "partisan" meeting is dangerous. (Apr. 11, 2001)

Christians Help Overlooked Villages | Many Christian agencies are still doing earthquake relief among India's poorest victims. (Apr. 5, 2001)

In Southern India, Orthodox Priest Has Communist Support in State Election | Popular priest says he's independent despite strange bedfellows, but many Christians are wary. (Apr. 4, 2001)

Christians Call for India's Prime Minister and Government to Resign in Wake of Scandal | Web site releases tapes of party president taking bribes from men posing as arms dealers. (Mar. 22, 2001)

India Relief Abuses Rampant | Radical Hindus hijack supplies in quake intervention. (Mar. 20, 2001)

In Orissa, You Must Ask the Government If You Want to Change Religion | Christian church leaders say they're trying to ignore the controversial law, but police aren't doing the same. (Mar. 12, 2001)

New Delhi Conference Condemns 'Immense Suffering' in Caste System | National Campaign for Dalit Human Rights plans to appeal to United Nations. (Mar. 9, 2001)

Weblog: Take Up Arms Against Missionaries, Says Hindu Leader | Clouds darkening over India (Mar. 6, 2001)

Churches Angry that Indian Census Ignores 14 Million Christian Dalits | Only Hindu, Sikh, and Buddhist members of "untouchable" caste being counted. (Mar. 2, 2001)

Churches Have Not Worked to End Dowry Practice | India's women are seen as less valuable than men in a society that supports bride burnings and "suicide." (Feb. 20, 2001)

India's Christians Face Continued Threats | We must preach what we believe in spite of Hindu pressure, says Operation Mobilization India leader. (Feb. 15, 2001)
Article continues below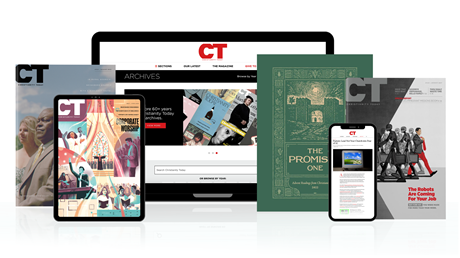 Annual & Monthly subscriptions available.
Print & Digital Issues of CT magazine
Complete access to every article on ChristianityToday.com
Unlimited access to 65+ years of CT's online archives
Member-only special issues
Subscribe
Law Could Curb Foreign Donations To Churches, Indian Christians Worry
Law Could Curb Foreign Donations To Churches, ...