Hal Lindsey (of Late Great Planet Earth fame) recently said, "The Battle of America has begun! So be it!" Evangelist John Hagee told his congregation in San Antonio, Texas, "You can hear the Four Horsemen riding to Armageddon." New York minister David Wilkerson preached on September 16, "One network anchor declared, 'Think of it, our two symbols of power and prosperity have been smitten in one hour.' Little did he know, he was quoting Revelations 18:10: 'Alas that great city Babylon, that mighty city! For in one hour is thy judgment come.'"
These would-be prophets could be right, but history is definitely not on their side. Obviously, every other prediction regarding the imminent end of the world has been wrong. That's why historical insights must be added to the mix of messages currently bombarding us. I excerpted the following from Christian History issue 61: The End.
Justin Martyr (c. 100-c. 165) and Irenaeus of Lyons (c. 130-c. 200) spoke of the Millennium as a far-off event they hoped for someday. Its only importance to Christian living was as a reminder of the hope that should guide a Christian's life. Justin also believed that the faithful departed would rise from the dead and reign with Christ for a thousand years in a rebuilt Jerusalam, but he allowed for other interpretations: "I and many others are of this opinion, and believe that such will take place … but, on the other hand, many who belong to the pure and pious faith, and are true Christians, think otherwise."
In City of God, Augustine (354-430) viewed the thousand years of Revelation 20 not as some special future time but "the period beginning with Christ's first coming," that is, the age of the Christian church. Throughout this age, the saints reign with Christ—not in the fullness of the coming kingdom prepared for those blessed by God the Father, but "in some other and far inferior way." This position, often called "amillennial," became the view of most Christians in the West, including the Reformers, for almost 1,500 years.
Hildegard of Bingen (1098-1179) predicted that lay princes would forcibly take away land and riches clergy had amassed, and Christendom would enter an era of millennial prosperity and peace. Though disarmament would entice pagans to attack Christian nations, she believed Christians would eventually win. Ultimately, the Roman emperor would lose almost all authority, and the pope would only rule Rome. (She was wrong about the peace, but not far off regarding the princes and the pope.)
Joachim of Fiore (c. 1135-1202) compared Christendom to Babylon because everyone wanted money, power, and worldly fame. Shortly after 1200, he speculated, two anti-Christian forces, possibly Muslims and heretics, would attack, defeat, and severely persecute Christians. Thus purified, a reforming pope and monastic orders would create a holier world in which people would attain unsurpassed understanding of the hidden meaning of the Scriptures. For an indeterminate period, Christians would dominate the world in peace.
Fifteenth-century Spanish monarchs Ferdinand and Isabella nurtured hope of a final crusade to liberate Jerusalem from Muslim control. Deterred by a lack of funds, they were attracted by Christopher Columbus's proposal that finding a shorter route to the fabled wealth of the East would give them upfront financing against the infidel—and prepare for Christ's coming at Jerusalam.
Columbus (1451-1506), for his part, believed that the world would end in 1656. (How he arrived at that date is a long story, but it involves Joachim of Fiore.) One requirement of the Lord's return was preaching the gospel "in all the world." If there were a shortcut to the East by sea, missionaries could be sent there faster. In the Book of Prophecies he assembled, Columbus quoted ancient writers like Augustine and Stoic philosopher Seneca to show how the discovery of the Western islands had been the foretold prelude to God's final victory. "God made me the messenger of the New Heaven and the New Earth," he wrote.
In the Reformation era, Martin Luther reportedly said, "We know no more about eternal life than children in the womb of their mother know about the world they are about to enter." John Calvin concurred, dismissing the millennial speculations of some of his contemporaries: "Their fiction is too childish either to need or to be worth a refutation. And the Apocalypse [Revelation], from which they undoubtedly drew pretext for their error, does not support them."
American theologian Jonathan Edwards (1703-1758) held a completely different view. A postmillennialist, he entertained fervent hopes that God might do something special among the people of New England. Impressed by New England's spiritual awakening in the early 1740s, he wrote, " 'Tis not unlikely that this work of God's Spirit, that is so extraordinary and wonderful, is the dawning, or at least a prelude, of that glorious work of God, so often foretold in Scripture. … And there are many things that make it probable that this work will begin in America." After the Great Awakening, Edwards became more cautious and dated the Millennium (a term he used rarely) somewhere around the year 2000.
Other dates receiving votes for God's scheduled return include March 21, 1844, and October 22, 1844 (William Miller), the years immediately following 1906 (Anna Hall, William Seymour, and many other early Pentecostals), 1988 (Hal Lindsey), 1992 (the Korean Hyoo-go movement), and 1994 (Harold Camping, president of Family Radio).
I still believe that Bible verses about the end times apply to our lives, though. Especially this one: "Therefore keep watch, because you do not know the day or the hour" (Mt. 25:13).
Elesha Coffman is managing editor of Christian History magazine, a Christianity Today sister publication.
Related Elsewhere
More Christian history, including a list of events that occurred this week in the church's past, is available at ChristianHistory.net. Subscriptions to the quarterly print magazine are also available.
Christianity Today's Opinion Roundup questioned whether most Christians were trying to fit the terror attacks into end-times scenarios.
Mainstream media articles on post-9/11 prophecy include:
End-times prophecies continue | Fresh apocalyptic scenarios are popping up with a new intensity (Associated Press)

What we deserve? | Some Americans believe the Second Coming is close at hand—and that the terrorist attacks were God's warning (Beliefnet)

Scripture scholars, pastors play down end-times speculation | Current crisis not prophesied in Bible, some Christians say (The Dallas Morning News)

Thomas Nelson rushes new prophecy book on attack | John Hagee's The Battle for Jerusalem gets new chapter, retitled "Attack on America: New York, Jerusalem and The Role of Terrorism In The Last Days" (The Pittsburgh Post-Gazette)

Bible sales skyrocket following attacks | Books on prophecy also selling well (WKMG, Orlando)
Christian History Corner appears every Friday at ChristianityToday.com. Previous editions include:
'He Does Not War' | In the Anabaptist tradition, a Christian must never fight back. (Sept. 28, 2001)

A Time For War? | Augustine's "just war" theory continues to guide the West. (Sept. 21, 2001)

The House That Jack Built | C.S. Lewis and six of his literary friends open their doors to students and researchers at Wheaton College's impressive new Wade Center facility. (Sept. 14, 2001)

Raiders of the Lost R | Documentary on School skips religious history, giving a skewed account of American education. (Sept. 7, 2001)

Explaining the Ineffable | In Heaven Below, a former Pentecostal argues that his ancestors were neither as outlandish as they seemed nor as otherworldly as they wish to seem. (Aug. 31, 2001)

Eyewitness to a Massacre | The bloodbath that started on August 24, 1572, left thousands of corpses and dozens of disturbing questions. (Aug. 24, 2001)

Live Long and Prosper | Though a recent survey raises questions, the health benefits of faith have been documented for centuries. (Aug. 17, 2001)

Divided by Communion | What a church does in remembrance of Christ says a lot about its history and identity. (Aug. 10, 2001)

Thrills, Chills, Architecture? | The most exciting adventure at St. Paul's Cathedral would be a time-traveling jaunt through its history. (August 3, 2001)

Deep and Wide| A dive into Reformation imagery yields striking new insights, while a drive-by church history overview largely disappoints. (July 27, 2001)

Shelling the Salvation Army | If William Booth's church could handle sticks and stones in the 1880s, it should withstand the recent barrage of hateful words. (July 20, 2001)

Historical Hogwash | Two books—one new, one newly reissued—debunk false claims about the "real" Jesus. (July 13, 2001)

Ghosts of the Temple | Soon after Jerusalem fell, the Roman Colosseum went up. Coincidence? (July 6, 2001)
Article continues below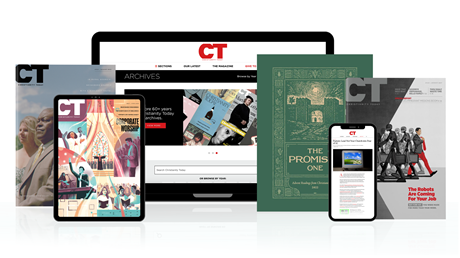 Annual & Monthly subscriptions available.
Print & Digital Issues of CT magazine
Complete access to every article on ChristianityToday.com
Unlimited access to 65+ years of CT's online archives
Member-only special issues
Subscribe
Apocalypse Not
Apocalypse Not