Sitting in his Columbia, Mo., office, Boone Hospital Chaplain Dick Millspaugh drafted e-mails and memos Tuesday (Sept. 11) to employees and patients about special worship services at the hospital and in the community to address a time of national crisis.
In some ways, that may be the easiest part of his job.
"This is going to reinforce a kind of vulnerability that we as Americans have not had to face before," said Millspaugh, who also is president of the Association of Professional Chaplains.
"We have a national identity but most of us also have a spiritual identity. It will be a time when we all will be searching for what are our deeper roots."
As the country reels from the catastrophic attacks on its metropolitan centers, chaplains and other religious leaders are offering advice on how to cope.
Chaplain David DeRevere, executive director of the International Conference of Police Chaplains, advises: "Number 1, stay calm. Number 2, spend some time in prayer, and Number 3, talk with other people that you know and … turn to a neighbor and give them a hug."
As religious leaders address the crisis, they're recommending prayer for both the victims and the perpetrators.
"I think in this case, the best thing for us to do is just wait and pray, and pray for those who are dead and those who are yet alive but are dead inside to even order this kind of thing," said the Rev. George Langhorne, director of chaplaincy and pastoral counseling for American Baptist Churches USA.
Gil Stricklin, president of Marketplace Ministries, a Dallas-based network of workplace chaplains, said the crisis will prompt everything from spontaneous prayers—in offices as well as churches—to individual introspection.
"We know that life is very fragile, that when we go to work in the morning, we have no guarantee that we'll come home that day," said Stricklin, a Southern Baptist. "I think also it will help people to take. … stock in their own lives and say if I was in the Twin Towers today would I have been ready to face death?"
Campus clergy also were on the job, ready to aid those affected by the crisis with worship services and counseling.
"We're mobilizing all of our resources at Boston College to have a pastoral response for our faculty, students and staff," said the Rev. James Erps, director of campus ministry, after a morning meeting with all the college's vice presidents. "That's one of the great things about a Catholic university. We don't have all the answers, but we do have a faith response that keeps us grounded in crisis."
Erps and others said part of coping with the crisis will be making efforts to retain some normalcy in people's lives: family activities, time for themselves and continuing religious and spiritual practices.
"One of the things that happens when we get stunned, when we're in such shock is we forget the resources that we've traditionally used and so part of a chaplain's job is to help search out with that person what is it that's helped you in the past in trauma in your lives," said Millspaugh, a United Methodist, whose Schaumburg, Ill., association represents 3,700 chaplains from a range of specialties and faith groups.
But even as people attempt to hold onto the familiar, clergy will be helping them address the complex concept of evil.
"This is evil personified," said Archbishop Edwin O'Brien, spiritual leader of the Archdiocese for the Military Services, USA. "I can't imagine any evil greater. I have every confidence that the God we pray to will sustain those who have been mortally and seriously hurt, and sustain those who love them, even though it will be in tears and in great pain."
Jerome Epstein, executive vice president of the United Synagogue of Conservative Judaism, cautioned that angry reactions should be tempered.
"It's right to be angry, right now," he said. "It's right to be distressed right now, it's OK, it's appropriate. But one has to contemplate how one is going to respond to terrorism. Are we going to respond in kind, or respond in some affirming way?"
DeRevere, a United Church of Christ minister who served as a volunteer chaplain for the FBI in the aftermath of the inferno at the Branch Davidian complex in Waco, Texas, and oversees police chaplains still helping people recover from the Oklahoma City explosion, said chaplains and Americans in general will be grappling with this crisis for years to come.
"This is a long-term deal," he said.
G. Jeffrey MacDonald in Boston and Kevin Eckstrom in Washington contributed to this report.
Related Elsewhere:
In April 1999, Nick Lillo faced a similar task of coping when his church, Littleton, Colorado's Centennial Community Church, was overwhelmed with news of the Columbine High School shootings.
Also appearing on our site today in response to the terrorist attacks:
Church Leaders Around World Deplore 'Unspeakable Horror' of Attack | Christians urged to unite in prayer as they unite in shock and denunciation.
Fear and Hate | In times like this, as in all other times, Christians have a responsibility to love above all else.
This afternoon, President Bush spoke on the tragedy from Barksdale Air Force Base and upon first hearing of the attack this morning in Sarasota, Fla. asked for a moment of silence for the victims.
For coverage of today's attacks on New York City and Washington, D.C., see Yahoo full coverage.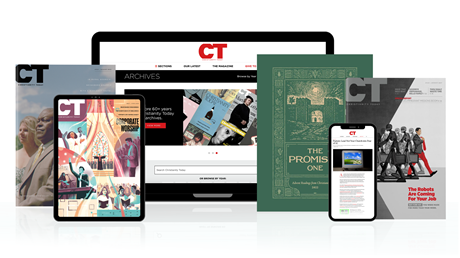 Subscribe to Christianity Today and get access to this article plus 65+ years of archives.
Home delivery of CT magazine
Complete access to articles on ChristianityToday.com
Over 120 years of magazine archives plus full access to all of CT's online archives
Subscribe Now
Experts Say Spiritual Roots Will Aid in Coping With Catastrophe
Experts Say Spiritual Roots Will Aid in Coping With Catastrophe