Between Friday's National Day of Prayer and Remembrance and Sunday's National Day of Mourning and Prayer, the newspapers are full of religion coverage. And for good reason: from all reports, churches around the country are seeing attendance levels that dwarf even Christmas and Easter figures. The New York Times reports that Willow Creek Community Church in South Barrington, Illinois, had about 6,000 more attendees than usual for its six weekend services, bringing its total to 23,000. Wednesday and Thursday services, normally attended by 6,000, saw a 50 percent increase. At Trinity Church Wall Street, which had to move its services away from its damaged structure that used to stand in the World Trade Center's shadow, vicar Samuel Johnson explains why so many are attending: "Human words are inadequate, and so we come together to turn to the word of God."
Some see the attendance as a sign of possible revival. "It strikes me that this whole country, in order to learn to stand again, is going to its knees," Alex Joseph of St. Teresa of Avila parish in Perrysville, Pennsylvania, tells the Pittsburgh Post-Gazette.
Other media reports suggest people are turning to God not looking for solace, but for blame. "Many may be angry with God this morning," Johnson said. "That anger is all right. God can handle it. God expects it. That God would permit evil is a mystery. But evil is real. If you doubt it exists, just walk up the street."
With millions of people asking where God was on Tuesday, The Boston Globe puts the question to several local religious leaders. Their consensus is generally that God was where he always has been—it's people who've acted on their free will and turned away from God that are the problem. It's true, but it doesn't necessarily ease the pain, as the Baltimore Sun reports:
As the Rev. Brian Jordan walked back to his friary after comforting the wounded and blessing the dead at the World Trade Center disaster site Tuesday, he was confronted on Sixth Avenue by a frantic man.
"Why did God permit this catastrophe to happen?" the man screamed at the brown-robed Franciscan priest.
Jordan tried to calm him. "God did not do this," he said. "It was evil acts done by men."
The man, uncomforted, turned and walked away, cursing God.
Indeed, for the ministers themselves, the answers didn't come easy. "This was the hardest sermon I've ever had to write," Don Harp of Peachtree Road United Methodist tells The Atlanta Journal-Constitution, "I had to put aside my personal feelings; I more or less agree with (U.S. Sen.) Zell Miller that we ought to just bomb them. But that's not what a Christian minister should be telling his congregation at a time like this." (According to The Washington Post, some ministers disagree: "Prayer services also allow laypeople and clergy to contemplate the prickly question—from a religious point of view—of whether the United States should retaliate with military force against any country found to have supported the terrorist acts or harbored their planners," reports Bill Broadway.)
Other pastors drew from experience. At Wedgwood Baptist Church in Fort Worth, where Larry Gene Ashbrook killed seven people almost exactly two years ago, the congregation sang (hesitantly at first), "He's got Osama bin Laden in his hands."
Meanwhile, almost every newspaper in the country sent reporters to church yesterday, and reports are available from Atlanta, Baltimore (also here), Boston, Denver, Detroit (also here), Houston, and San Diego. There are several roundups of services around the country—and around the world—as well. Some media note that a choir sang that great hymn of the faith "Blowin' in the Wind" before Pope John Paul II's Sunday sermon in Frosinone, Italy.
Many other newspapers, including the Baltimore Sun, Chicago Tribune, Reuters, and of course The New York Times and New York Daily News, give overviews of services in New York City. One of the most harrowing details is found in the New York Post, which notes that the wrought-iron fence around St. Paul's Chapel, Manhattan's oldest church, is strewn with the shoes of firefighters who were changing into boots—and will never be back to retrieve them.
But churches weren't the only place Americans found spiritual comfort this weekend. The Washington Post has a report on the ministry of military chaplains during this time, and no doubt other workplace chaplains (which the Atlanta Journal-Constitution reports are rapidly increasing) are also being called upon.
Sandwiched between the two days of prayer came the AmericaPrays prayer vigil, which included sermons by Franklin Graham, Bruce Wilkinson, James Dobson, and Max Lucado. (Streaming video is available here.) Franklin Graham's message was markedly different from his father's at the National Cathedral. "We're fighting an enemy that is elusive," he said. But where Billy avoided referring to anyone specific, calling evil a "mystery," Franklin instead specifically lambasted Muslim extremists who "hate the United States because they see us as a Christian country. They hate the fact that America supports Israel and so I believe Christianity itself is under attack."
INJOY, the sponsoring organization of the AmericaPrays vigil, is trying to raise $1 million for relief efforts. This will add to an already tremendous pot. The Los Angeles Times reports that by Thursday night, U.S. companies and individuals had already pledged $40 million to relief efforts.
One relief agency you might not hear much about over the next few days is Operation Blessing. The organization, which is providing food to rescue workers, is headed by broadcaster Pat Robertson—who's in the doghouse for comments made on his 700 Club broadcast by Jerry Falwell. It only took a few paragraphs for columnists to go from "don't attack Muslims" to "attack religion in general."
"This is not a clash of civilizations—the Muslim world versus the Christian, Hindu, Buddhist and Jewish worlds," wrote Thomas L. Friedman (apparently criticizing Samuel P. Huntington's The Clash of Civilizations) in The New York Times. "The real clash today is actually not between civilizations, but within them—between those Muslims, Christians, Hindus, Buddhists and Jews with a modern and progressive outlook and those with a medieval one."
Gordon McLauchlan was even more direct in the New Zealand Herald:
If all these people are right about God and they are all monotheists—then one can assume that, if we could identify and catch him, he would have to be tried for crimes against humanity. … What a shame we couldn't get all people to put God on hold for a while, and rebuff visions of the next world in a bid to put this one right. Then the psychopaths and the exclusivists would be seen to be what they are—murderers and bigots—and not be able to cite an invisible higher power as vindication for their violence and thus to hide behind the image of their God.
And again, from John Balzar in the Los Angeles Times: "These two clerics [Falwell and Robertson] share something basic with radical religious leaders on the other side of the world: fundamentalism. … The same hate-fear that drives fundamentalists in Afghanistan also works on the hearts of Christian fundamentalists in the U.S." Balzar does, however, qualify his remarks:
I suppose I must add, so the letter writers don't work themselves into fits, that I am not equating U.S. Christian fundamentalists with Islamic terrorists. Neither am I equating Islamic fundamentalists, or for that matter Jewish fundamentalists, with terrorists. I am saying that Christian fundamentalists see things much as other fundamentalists do. Terrorism arises not from fundamentalism but from extreme fundamentalists, who take it upon themselves to fight for the only order that makes sense to them. Holy warriors.
"Religious leaders have an opportunity to nourish souls starved for hope with a dose of community and faith," writes Mike Thomas of the Orlando Sentinel. "But not Jerry Falwell and Pat Robertson, two men who have found a different kind of opportunity. The death of thousands has provided them an opportunity to promote even more hatred. If God is the terrorist they portray him to be, then Middle Eastern zealots are the least of our worries. … Religion is the best and worst thing to happen to this planet. That is evident as we now watch it kill and divide, but also heal and unite."
Similarly, in a Salon.com article arguing that Friday's displays of public religion were justifiable, Joan Walsh calls Robertson and Falwell "America's counterpart to the Taliban. … The only silver lining of this tragedy is that it's bringing out the invidious agenda of the Christian right, where it can be repudiated."
A Pittsburgh Post-Gazette editorial calls Falwell's remarks "obscene" and "blasphemous." The Atlanta Journal-Constitution has a similar denunciation. Want more? There's more. Lots more.
And it's not just the media on the offensive. The Los Angeles Times reports that Ed Bacon, rector of All Saints Episcopalian Church, spent at least some of his sermon yesterday criticizing Falwell and Robertson. "If we expect Islamic leaders to condemn the evil of terrorism … we Christians will, in turn, have to speak out to those who spew the bile of hate speech and hate crime," he said.
Yikes. Fortunately, there's also the sermon of Nathan D. Baxter, dean of Washington National Cathedral, quoted in The Washington Post: "We must remember that evil does not wear a turban, a tunic, a yarmulke or a cross. Evil wears the garment of a human heart, a garment woven from the threads of hate and fear."
"In no way has any guest on my program suggested that anyone other than the Middle East terrorists were responsible for the tragic events that took place on Tuesday," says Robertson, who claims Falwell was quoted out of context. Falwell makes a similar argument. "I sincerely regret that comments I made during a theological discussion on a Christian television program were taken out of their context and reported, and that my thoughts—reduced to sound bites—have detracted from the spirit of this time of mourning," he says on Falwell.com. "My mistake on the 700 Club was doing this at the time I did it, on television, where a secular media and audience were also listening. And as I enumerated the sins of an unbelieving culture, because of very limited time on the 700 Club, I failed to point the finger at a sleeping, prayerless and carnal church. We believers must also acknowledge our sins, repent, and fast and pray for national revival."
But as Dick Meyer notes on CBS News, "These aren't quotes taken out of context. Falwell and Robertson did not misspeak. These are their considered beliefs. It almost seems in poor taste even to respond to these offensive pronouncements. They are profoundly disrespectful of tragic losses and they are insulting."
Related Elsewhere
See our past Weblog updates:
September 14b | 14a | 13 | 12 | 10

September 7 | 6 | 5 | 4

August 31 | 30 | 29 | 28 | 27

August 24 | 23 | 22 | 20

August 17 | 16 | 15 | 14 |13

August 10 | 9 | 8 | 7 | 6

August 3 | 2 | 1 July 31 | 30

July 27 | 25 | 24 | 23

July 20 | 19 | 18 | 17 | 16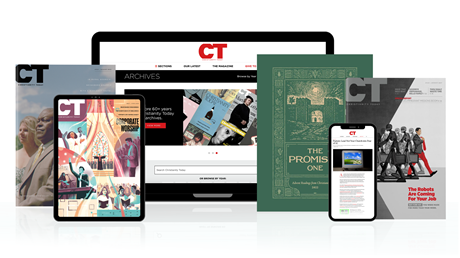 Annual & Monthly subscriptions available.
Print & Digital Issues of CT magazine
Complete access to every article on ChristianityToday.com
Unlimited access to 65+ years of CT's online archives
Member-only special issues
Subscribe
America on the Offensive
America on the Offensive